Inflation has made grocery shopping for necessary items impossible. There is one place where you can buy essential things the cheapest; at Aldi. Shoppers have been scoping out the cheapest places to buy their groceries ...
more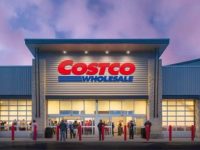 Fall is here and some of the best seasonal deals at Costco aren't where you'd think to look first. Costco has some great hidden deals this season. Limited edition S'mores Pepsi collection: Where can I ...
more
Aldi has been growing rapidly because customers love the high quality food at affordable prices. Here are some tips to score additional savings next time you grocery shop at Aldi. September 13- Positive Thinking Day! ...
more
People are having a hard time finding their favorite hot sauce. That is because of the complaints about the siracha were received by California's Department of Public Health. Star Wars breakfast cereal, Kellogg's Frosted Flakes ...
more
5 grocery items are at their lowest price. After hearing about how prices on everything continue to go up. This article brings good news. These grocery items are cheaper than ever right now. Costco: New ...
more
This company is raising its grocery item prices. In recent articles we have talked about price increases at the grocery store. This will be another one. Kraft Heinz is now going to be raising their ...
more
Product delays are causing issues for ALDI. Many grocery store have been affected during this pandemic. Including ALDI and somethings might be missing you're next visit. Grocery shopping: How to save money What will ALDI ...
more
How to save your money while grocery shopping. With prices of groceries continuing to rise. You might be looking for ways to save during your grocery trips. We've got your covered. RECALL: Multiple grocery store ...
more
For all you snack lovers, this is not going to be good news. Some of our favorite snacks to grab at the store are going to continue to be hard to find. Snacks that will ...
more
You've probably noticed on your recent trips to the grocery store that prices are getting higher. Due to the pandemic, increased demand, supply shortages we are undergoing another grocery inflation. Grocery prices increased 6.5%. This ...
more
Aldi's launches its first cashierless store. Stores such as Walmart and Tops have had cashierless options for quiet sometime. Aldi's is following their footsteps by launching their first cashierless store. Cryptocurrency: Walmart to release NFTs ...
more
Here's what you should expect to see in every grocery store this year. While as of right now your typical shopping trip consists of grabbing a cart and picking out food items. The same way ...
more