Stimulus direct aid payments to Americans were crucial during the coronavirus pandemic. There has been ample criticism of the stimulus payments that went out between April 2020 and March 2021. New stimulus payments are being considered by Congress now. Now, for another stimulus update that will impact hundreds-of-thousands of taxpayers.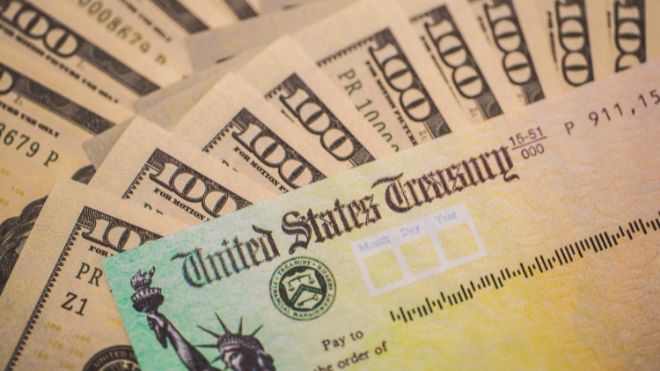 The first round of economic relief stimulus payments went out in April 2020. They were worth $1,200 each. The second round of payments went out between December 2020 and January 2021. These were worth $600. The most-recent round of stimulus payments went out in March 2021 totaling nearly $3 trillion in federal government spending.
Now, the IRS is coming back to Americans — expecting hundreds of thousands to repay $600 or $1,400 stimulus checks.
Why is the IRS trying to get back stimulus checks?
Thousands will need to repay economic relief payments sent out in 2021. They largely have to do with Internal Revenue Service errors and overpayments due to increasing income as the pandemic waned.
Here are the reasons why the IRS could force you to repay your $600 or $1,200 stimulus check from 2021:
You earned too much money in 2021
Congress attached income limits to all three stimulus checks sent out during the pandemic. Americans eligible for stimulus payments needed to earn less than $75,000 per year if they were single, or less than $150,000 for married couples.
Stimulus payments were based on 2019 and 2020 reported income. Many Americans who were out of work, or working less during the pandemic qualified, but then lost that status later in the year.
You received a check on behalf of someone who died
Throughout the pandemic — widows and widowers reported receiving stimulus check payments on behalf of their spouses. This was because of the process the IRS used to determine eligibility for economic relief payments. 
If you received one of these payments — responsibility will be on the surviving taxpayer to get the funds back to the IRS.
Non-citizens who received payments in error
Congress did not setup any stimulus payments for undocumented workers. These programs were setup by individual states. Thousands of people who were not eligible for stimulus checks reported receiving them. That's why the IRS is working through the process of reclaiming those funds from individuals who file taxes. 
RELATED: Stimulus update in recent coverage
---
---