Home »
Auburn City Council
Retired Auburn firefighter Terry Winslow will run for Auburn City Council next year. He's the first candidate to emerge since Councilor Jimmy Giannettino announced a bid for mayor. Winslow enjoyed a 20 year career with ...
more
Auburn Mayor Michael Quill will not seek re-election. "There comes a time when you have to step away," he said at a city council meeting on Thursday. The mayor said he would serve out the ...
more
In my weekly visit with Auburn City Clerk Chuck Mason, we discuss the first regular City Council meeting of the new year. The Council approved some board appointments, set a schedule for discussing and passing ...
more
The Cayuga County Board of Elections confirmed two victories for Democrats in last Tuesday's elections after absentee ballots were counted. A total of 488 ballots were counted by residents who cast absentees ahead of the ...
more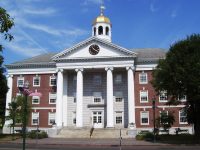 On Thursday, Auburn City Council moved forward with a plan to create a municipal ambulance service to replace the third-party contract that has been utilized for years. The vote fell along party lines, according to ...
more