The Newark Pilots have named Brian Greisman as their new head coach for the 2022 season. For the last two years, he has been the pitching coach at Cleveland Community College, while also serving as ...
more
Baseball season will be here before you know it. The Perfect Game Collegiate Baseball League released the 2022 schedule on Wednesday. The Auburn Doubledays will open their season on Friday, June 3 at home against ...
more
Newark, N.Y. - The Newark Pilots fell to the Jamestown Tarp Skunks, 6-4, in the 2021 season opener Friday night at Colburn Park.  The Pilots led 4-2 going into the ninth, but Jamestown put up ...
more
The Perfect Game Collegiate Baseball League has announced the 2021 schedule. The 48-game regular season will begin June 3, with the postseason starting July 30. The Geneva Red Wings will host the Newark Pilots on ...
more
Two former Perfect Game Collegiate Baseball League (PGCBL) players were chosen on the second day of the 2020 MLB First-Year Player Draft on Thursday, as former Newark Pilot Zavier Warren and former Geneva Red Wing ...
more
In conjunction with Perfect Game USA, Perfect Game Collegiate Baseball League (PGCBL) President Robert Julian announced the cancellation of the 2020 season on Wednesday evening. "It is with sadness, but a recognition of the health ...
more
Despite being in its winter hibernation, baseball still finds a way to remain relevant throughout the cold months. The Newark Pilots won't be back in action until late spring, but when they do, they'll have ...
more
The West Division All-Stars rallied to score two runs in the bottom of the eighth inning to force a 5-5 draw in the 2019 PGCBL All-Star Game in Saugerties, New York. The All-Star Game was ...
more
Guess who's back? Back again? Moonlight's back. Tell a friend. Allen "Moonlight" Murphy will return to Colburn Park this summer for his second stint as a Newark Pilot. He also says he still hopes to ...
more
When someone outside the county hears the name Dan Wilkinson, they may think of a man once called "Big Daddy," a 6'4'' defensive tackle drafted first overall by the Cincinnati Bengals in 1994. But around ...
more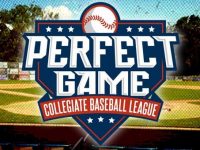 The Perfect Game Collegiate Baseball League has officially announced its new playoff structure, finalizing the road the league's 13 teams will need to travel to claim the PGCBL Championship. In the new format, seven teams ...
more