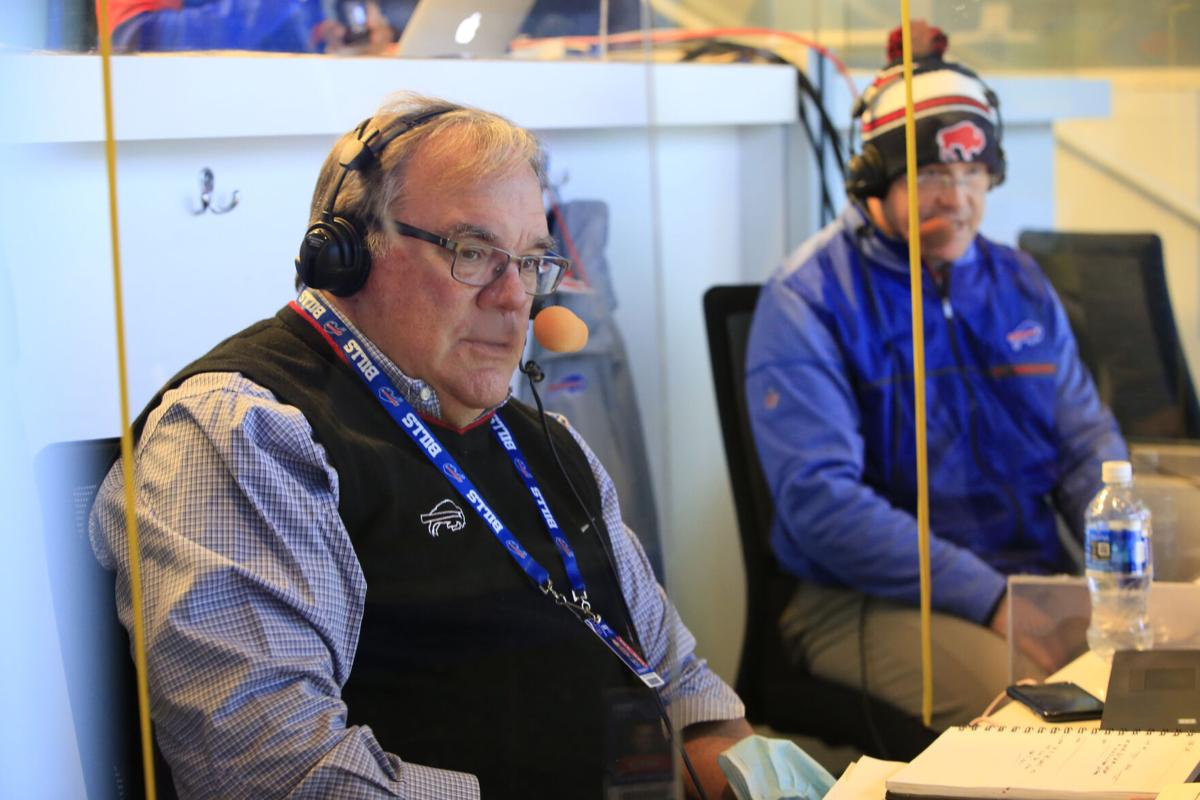 With the Buffalo Bills a few weeks from their first preseason game and the Sabres two months away from preseason games, several broadcasting questions surround the teams.
Will WGR radio play-by-play announcer John Murphy and Eric Wood go to road games involving the Bills or call them from Highmark Stadium as Murphy and Steve Tasker did last season before the stadium's name change?
Will the Sabres announcers go on the road to call games or do them from home?
What is the status of play-by-play announcers Dan Dunleavy and Rick Jeanneret?
Here are the answers in order.
According to sources, the plan is for Murphy and Wood to go on the road to call games this season, unless things change because of the spread of Covid-19. The Bills open the preseason on Aug. 13 at Detroit.
According to sources, unless there is a last-minute change of heart the Sabres announcers won't be traveling to road games again this season, which is believed to be consistent with the plans of most NHL teams because of Covid and the cost savings.
"I've been led to believe we will not," said Dunleavy. "I'm not aware of any final decision."
He said he has lobbied against doing the road games at home in conversations with Mark Preisler, the executive vice president of Pegula Sports and Entertainment.
Dunleavy believes announcers have to be there to see everything in play and away from camera range, as well as to soak up the atmosphere inside arenas.
"I feel we should be there, but it is not my decision to make," he said. "There is a flatness" when the announcers aren't there.
Dunleavy recently agreed to call Sabres games for his ninth season. However, he doesn't know how many games he will work in the upcoming season.
"I have a sense I'll be calling more games than I've ever had," said Dunleavy. He said his previous season-high is 42 games.
Dunleavy's expectations don't shed any light on Jeanneret's future. He called 20 games of last season's abbreviated schedule.
At the end of the Sabres final game in May carried by MSG, Jeanneret thanked the behind-the-scenes personnel who have worked with him before adding: "I hope to have the opportunity to work with them again."
The 79-year-old Hall of Famer and Preisler haven't talked since the end of the season, which is somewhat surprising since a deal with Dunleavy has been made.
I expect the Sabres will offer Jeanneret to call some games, if only because not to allow him to do so would be a terrible public relations move.
If that happens, the puck would be in Jeanneret's corner whether to accept the terms offered.

Kyle leads sports coverage and hosts the Concrete Jungle podcast. Have a lead or question? Send it to [email protected].