Governor Andrew Cuomo stopped short of moving any particular region into a new 'zone' on Friday, but he did outline what changes are coming on that front, as well as the timeline for making a decision.
The major takeaway: Yellow, orange, and red zones have new metrics guiding them. On Monday, we will know what regions or places are entering yellow, orange, or red restriction.
Here's how the changes will be determined:
– Red Zones are those that will reach 90% hospital bed capacity in 21 days.
– Orange Zones are those that have a 4% rate of positivity over the last 10 days, or will hit 85% in terms of hospital bed capacity.
– Yellow Zones will be triggered when there's a 3% positive rate over 10 days and a cluster is top 10% for hospital admissions per capita over the previous 7-days, as well as week-over-week growth in daily admissions.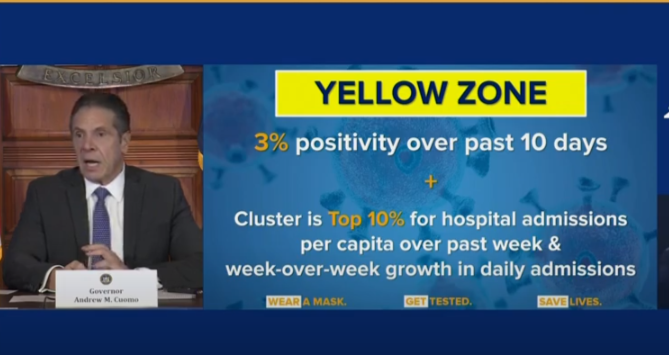 The yellow zone explanation was confusing at best from Governor Cuomo, who also shared information on where COVID-19 is being transmitted most-frequently. The numbers were important because after Friday's press conference it became clear that the economic restrictions in each of the above zones would not be as it has been to date.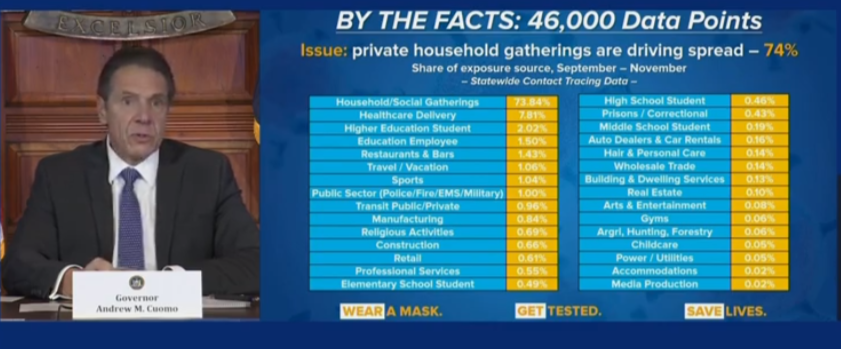 Gov. Cuomo said that household and social gatherings represent 73% of all transmission. Healthcare delivery came in second representing 7.81% of all transmissions. The Governor said again on Friday that gyms and salons are not part of significant spread. The data he released showed that gyms represent 0.06% of transmission, while hair and personal care represent 0.14%.
"Hospitalizations are our biggest cause for concern," Gov. Cuomo said. "It's the ultimate cause for concern." He shared some good news about hospitalizations across the New York, even as the Finger Lakes had the highest rate of hospitalization out of the entire state. The state's ICU rate is down 30% from the spring, and there have been 50% fewer intubations this fall. The length of stay at hospitals is also down significant from 11 days in the spring – to 5 days now.
"The medical community has made the most progress over the last few months, the death rate has fallen from 23% to 8%." For the time being, all eyes will be on the upcoming announcement after this weekend's data is analyzed.
What could change on Monday?
– Any region that enters 'Red Zone' will be put on PAUSE. That means all non-essential businesses will be closed until the region moves down in the scale.
– Businesses like gyms and salons will be allowed to operate in an 'Orange Zone'. However, they will have amplified expectations on them. Indoor dining in Upstate New York will also be reduced to 25% in these zones.
– The rules do not appear as though they will change in a 'Yellow Zone' even though the definition of one has become significantly more confusing.
WATCH: Gov. Cuomo says new zones being declared Monday during briefing (video)
---
---

Josh is the president and publisher of FingerLakes1.com. Have a question? Send them to [email protected].