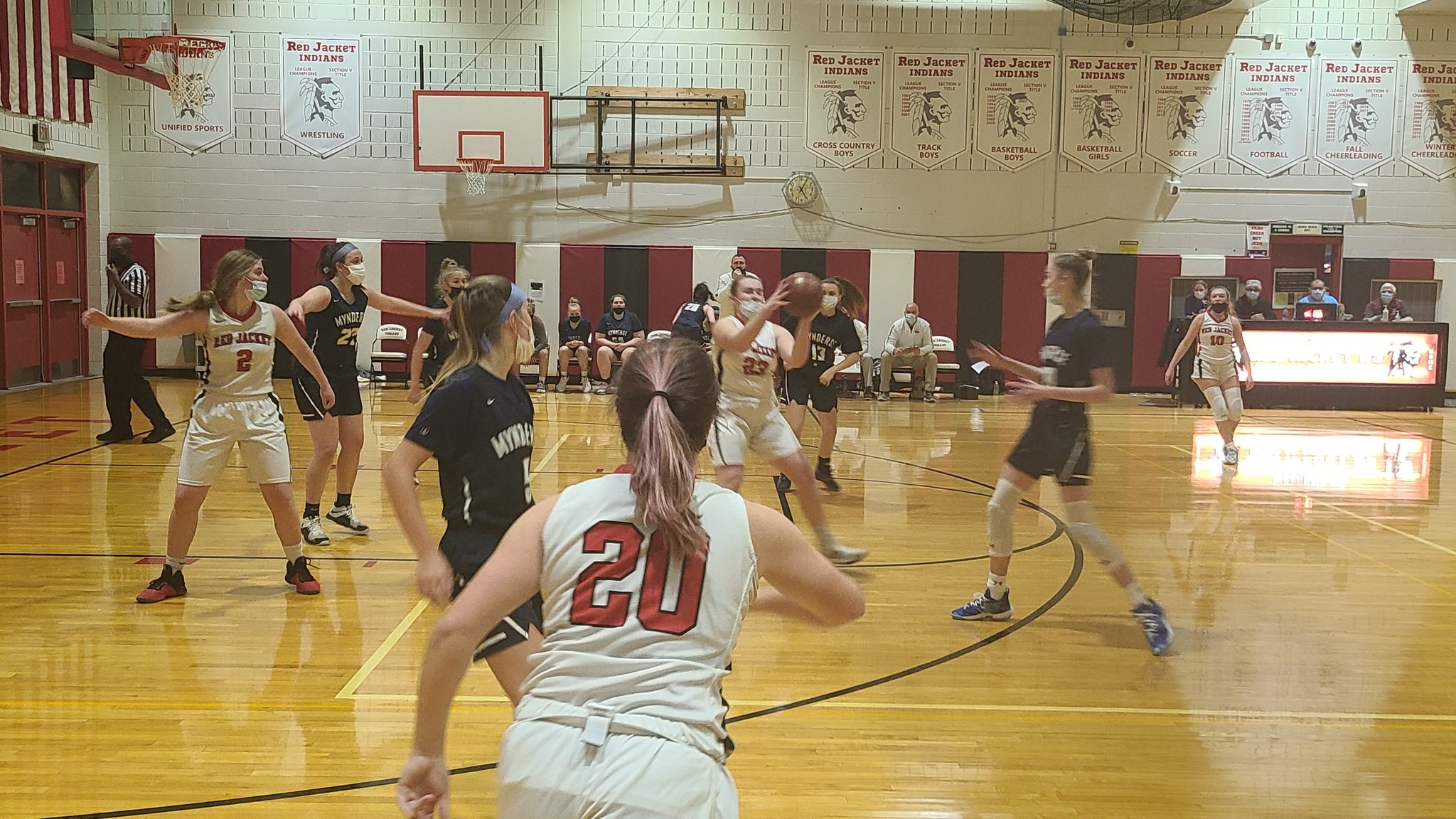 The 2021-22 Wayne-Finger Lakes high school girls basketball season got underway Friday night with the first round of the Red Jacket Thanksgiving Tip-Off Tournament in Manchester. 
And the 2021-22 W-FL High School Basketball season is officially underway as Mynderse vs. Red Jacket in the Thanksgiving Tip-Off Tournament first round in Manchester. Follow all the action on FingerLakes1. com all season long. @SecVAthletics #fl1sports pic.twitter.com/teUxEoQaBi

— FingerLakes1.com (@FingerLakes1) November 26, 2021
The first game featured Mynderse and Red Jacket. The Blue Devils defeated the Indians, 48-18. Mynderse (1-0) was led by a trio of double figure scorers. Sophomore Maddie Verkey led the way with 14 points (4 three pointers) and 4 steals. Haley Mosch and Bridget Miller added 10 points a piece. Kelly Kohberger pitched in with 6 points, 4 steals, and 4 assists. Bridget Miller also cleared 8 rebounds. Red Jacket was led by Emily Record's 9 points.
The nightcap featured Midlakes and Alexander. The Screaming Eagles dominated from the start and cruised to a 82-34 win over the Trojans.
Midlakes used a balanced attack with eight girls scoring at least 7 points. The Eagles pressured defense got them off to a quick start and the they led 33-5 after the initial quarter. Grace Murphy had 14 points and 6 rebounds, Camryn Ford had 13 points, 6 assists, Callie Walker had 13 points and 8 rebounds, Cate Peacock had 9 points and 6 assists, Mary Givens had 10 points. Kate Mahoney and Stella DelPapa both chipped in 8 points for the Screaming Eagles.
Alexander was led by Alyssa Kramer and Natalie Whitmore who each had 12 points.
https://www.instagram.com/p/CWwwF3qrAPd/?utm_source=ig_web_copy_link
Alexander and Red Jacket will play in the tournament consolation game at 2:30 on Saturday followed by the championship game between Midlakes and Mynderse at 4:30.

Kyle leads sports coverage and hosts the Concrete Jungle podcast. Have a lead or question? Send it to [email protected].