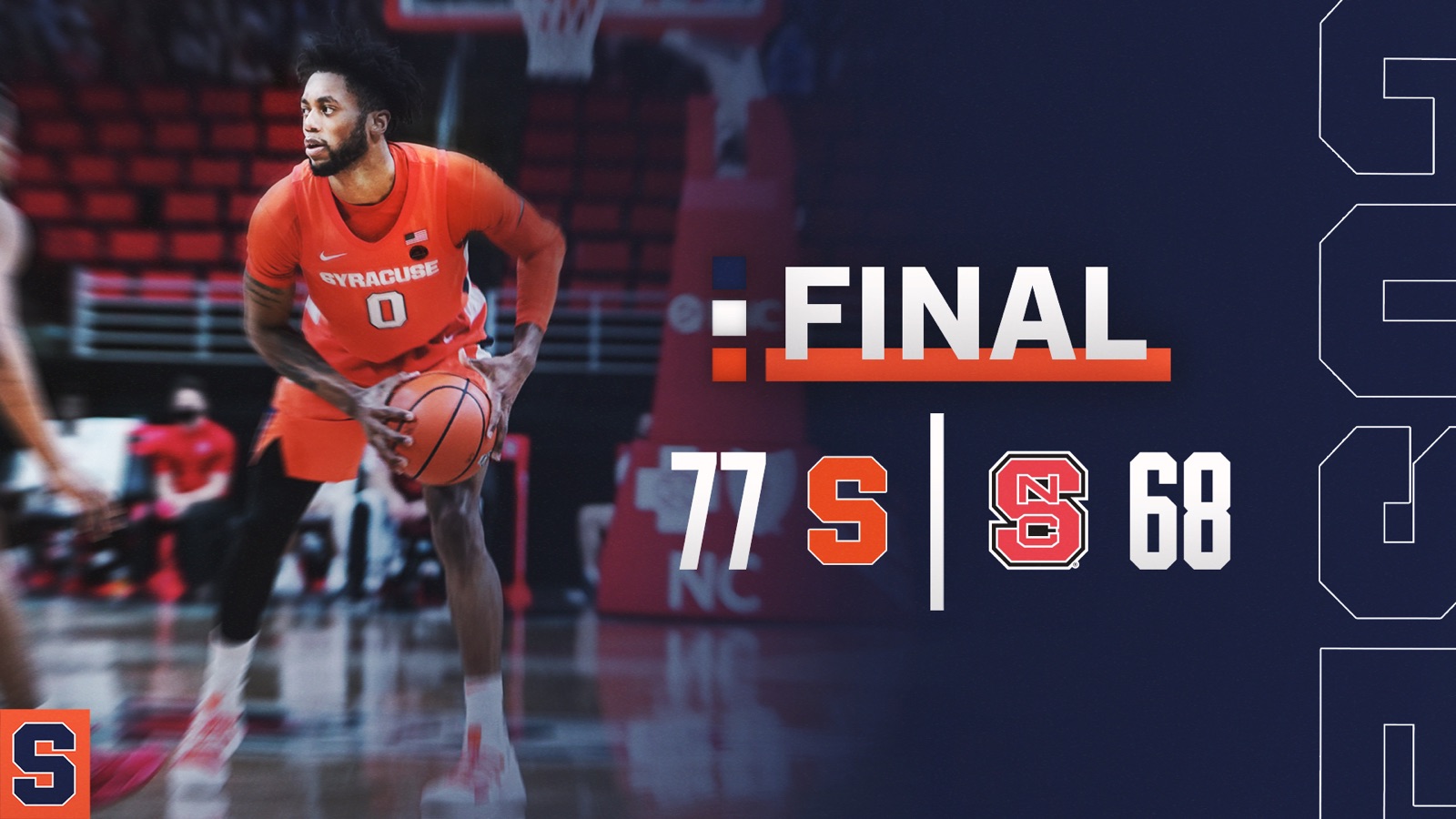 Syracuse notched an elusive and much-needed road victory with a 77-68 win over North Carolina State on Tuesday at PNC Arena.
The Orange got a huge effort on the boards and on defense to beat the Wolfpack.
Syracuse forced NC State into 20 turnovers, which the Orange turned into 21 points.
The Orange also out-rebounded NC State 32-28. Syracuse is 10-0 when it out-rebounds its opponent.
Alan Griffin led the Orange with 22 points on 9-for-17 field goal shooting. Griffin also went 4-for-7 on 3-pointers and played the entire 40 minutes.
Buddy Boeheim added 16 for the Orange.
Quincy Guerrier struggled in the first half with just three points and one rebound. He woke up in the second half and finished with 14 points and seven rebounds despite picking up his fourth foul with more than nine minutes left in the game.
Guerrier and Boeheim played the final nine and six minutes, respectively, with four personal fouls.
Syracuse's record improved to 11-6 overall and 5-5 in the ACC.
The win was important for Syracuse, which had been 1-5 on the road prior to Tuesday's game. The win also falls into the NCAA's Quadrant 2, which helps the Orange's NCAA tournament resume.
NC State fell to 8-8 for the season and 4-7 in the conference.
The win gave Syracuse a sweep of the season series with NC State.
GAME RECAP LINKS:
GAME HIGHLIGHTS:
JIM BOEHEIM'S POSTGAME PRESS CONFERENCE:
MEDIA:
Syracuse (11-6) beats NC State (8-8), 77-68, and improves to 5-5 in the ACC. SU is hanging in NCAA Tournament contention by a thread here with six games to go. Alan Griffin (22 pts, 4-of-7 on 3s) and Buddy Boeheim (16 pts, 3-of-5 on 3s) led the way. Boston College up next.

— Matthew Gutierrez (@MatthewGut21) February 10, 2021
Powering through for the And-1 ✊

? 900 career points for Buddy pic.twitter.com/tDhUpmWSfX

— Syracuse Men's Basketball (@Cuse_MBB) February 10, 2021
First half ? pic.twitter.com/mVfdBVxmZy

— Syracuse Men's Basketball (@Cuse_MBB) February 10, 2021
---
GAME PREVIEW:
Syracuse and NC State will meet for the second time in less than 10 days when the Orange travel to Raleigh for a Tuesday night matchup with the Wolfpack. Tipoff at PNC Arena is set for 6:30 p.m.
Syracuse looks to change its luck on the road after a 78-61 loss at Clemson on Saturday. The Orange scored the first points of the game, but the Tigers outscored Syracuse 39-16 over the remainder of the half to take control of the game.
NC State has split its two games since losing to the Orange on Jan. 31. The Wolfpack lost to Virginia, 64-57, before winning at Boston College, 81-65, on Saturday. NC State enters Tuesday's game with an 8-7 overall record, including a 4-6 mark in ACC play.
Syracuse took an 8-6 advantage in the all-time series with its 76-73 victory on Jan. 31. The win snapped a three-game losing streak to the Wolfpack.
The Orange battled back from a nine-point halftime deficit and held on for a three-point victory in the first meeting. Alan Griffin led Syracuse with 19 points, while Buddy Boeheim followed closely behind with 17 points. Richmond scored 14 points off the bench, while Marek Dolezaj (11 points) and Quincy Guerrier (10 points) rounded out the double-digit scorers for Syracuse.
GAME PREVIEW LINKS:
MEDIA:
Game Day in Raleigh ?✊ pic.twitter.com/lGnGqdoPo8

— Syracuse Men's Basketball (@Cuse_MBB) February 9, 2021
'Cuse ✈️ Raleigh pic.twitter.com/fnaxm8pF44

— Syracuse Men's Basketball (@Cuse_MBB) February 8, 2021

Kyle leads sports coverage and hosts the Concrete Jungle podcast. Have a lead or question? Send it to [email protected].