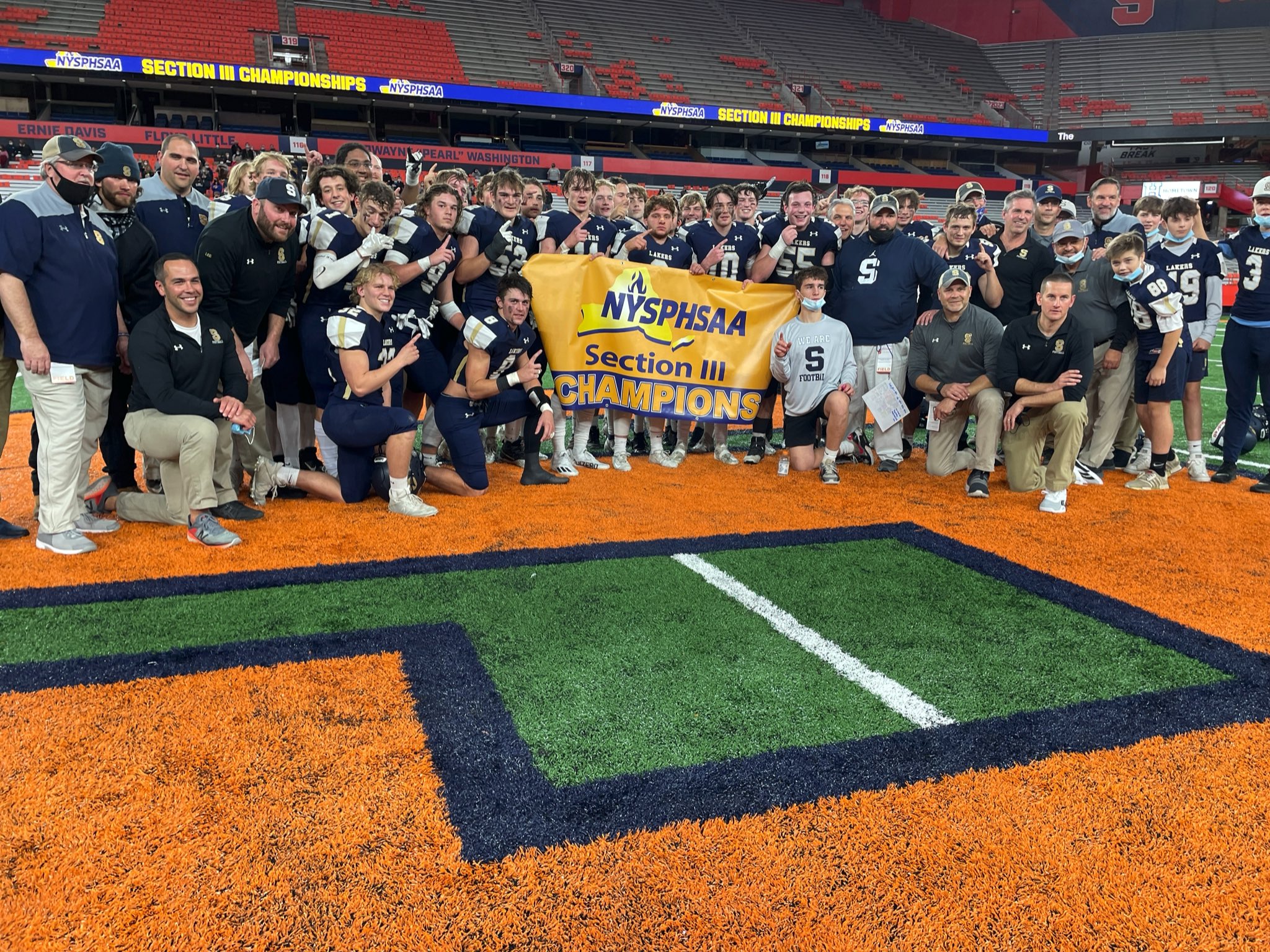 Two undefeated teams walked into the Carrier Dome on Saturday afternoon for the Section III Class C championship game.
Skaneateles (9-0) beat General Brown 35-14 and walked out as the only unbeaten team in Class C.
"This was certainly on our list of goals, and I couldn't be prouder of these kids for accomplishing it," Skaneateles coach Joe Sindoni said.
Quarterback James Musso and running back Grayson Brunelle teamed up for 331 total yards and accounted for all five of the Lakers' touchdowns on Friday. They combined for 47 touchdowns through nine games this season.
"It just feels amazing. We put so much work into this," Brunelle said. "It's all worth it now. We all knew that it would be worth it."
The Lakers limited General Brown quarterback Elijah Rawleigh to 89 rushing yards on 22 carries and kept the Lions off the scoreboard until the fourth quarter.
"I thought our kids flew to the ball. Rawleigh is really dangerous," Sindoni said. "They played us a couple of years ago at our place and scored 54 points on us, and Rawleigh embarrassed us. We wanted to make it our goal not to let him beat us with his legs, and I think for the most part we did that today."
MEDIA:
FINAL

Skaneateles 35, General Brown 14

Lakers win the Section 3 Class C title, the programs third section championship in 5 seasons.

Skaneateles will play the Section IV champion next weekend in the state quarterfinal.

— Justin Ritzel (@CitizenRitz) November 13, 2021
Joe Sindoni said this year's Skaneateles football team is unlike any other.

Maybe so. But Saturday's section final had a very familiar result: With the Lakers winning a banner.

Story for @The_Citizen: https://t.co/mnSPajYEZd

— Justin Ritzel (@CitizenRitz) November 13, 2021
The Lakers 🏈 are Section 3 champs with a 35-14 win over General Brown!

It's the 6th Section 3 title for the Lakers this fall…what an incredible run. pic.twitter.com/B0JhOv7ZZv

— Skaneateles Lakers (@SkanLakers) November 13, 2021
Section III, Class C Championship
Skaneateles 34, General Brown 14@SkanLakers @john_rathbun3 pic.twitter.com/E3WSGtG27J

— CNY Football Foundation (@FootballCny) November 13, 2021
Touchdown Skaneateles

Cooper Purdy is left wiiiiiiiddeee open, and James Musso connects for a an easy 34-yard pitch and catch.

Lakers ahead 7-0, 3:04 left in the first quarter. pic.twitter.com/25juY2ihBS

— Justin Ritzel (@CitizenRitz) November 13, 2021
Touchdown Skaneateles

I guess the Lakers had no interest in repeating the theatrics of their first two sectional games. Musso passes to Nate Shattuck for a 35-yard score.

It's 28-0 over General Brown. Less than four minutes left in the third quarter.

— Justin Ritzel (@CitizenRitz) November 13, 2021
Touchdown Skaneateles

Brunelle has his third touchdown of the game, as he coverts on a direct snap from 5 yards.

Lakers ahead 35-7 midway through the fourth quarter.

— Justin Ritzel (@CitizenRitz) November 13, 2021