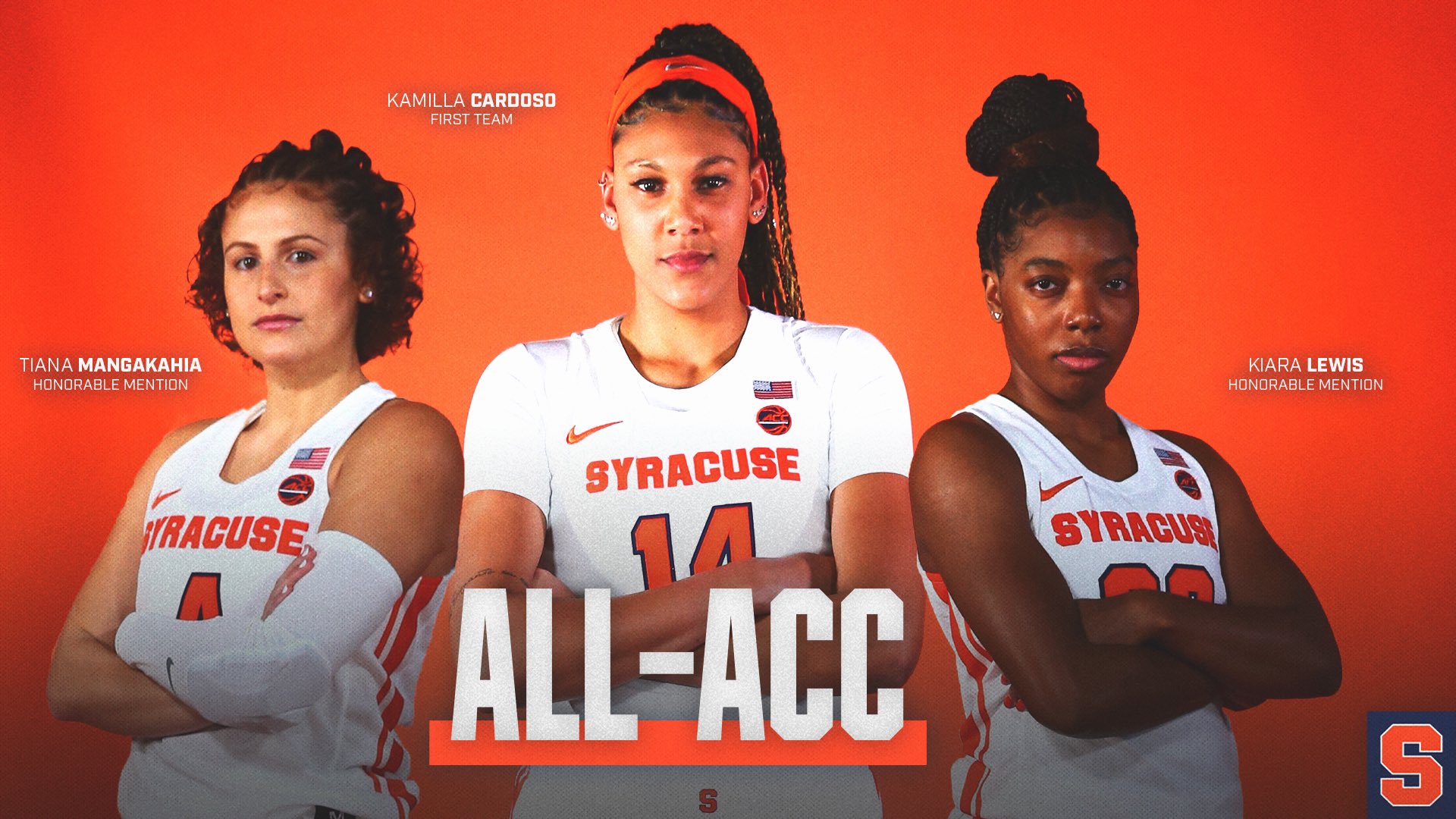 The Atlantic Coast Conference announced live on ACC Network's Packer and Durham Tuesday morning that Kamilla Cardoso is the 2020-21 ACC Freshman of the Year and Co-Defender of the Year and junior Emily Engstler is the ACC Co-Sixth Player of the Year. Additionally, Cardoso was named to the All-Defensive Team, All-Freshman Team and was a First Team All-ACC pick by the Blue Ribbon Panel.
Tiana Mangakahia was named All-ACC for the third time in her career earning honorable mention accolades from the Blue Ribbon Panel and head coaches. Kiara Lewis earned All-ACC honorable mention recognition from the Blue Ribbon panel marking the second-straight year the redshirt senior was tabbed an All-ACC selection.
Cardoso, led the ACC in field goal percentage (.595), blocks per game (2.8), and is second in offensive rebounds per game (3.5). She is Syracuse's second leading scorer with 14.3 points per game which ranks second among freshman in the ACC. She won three-straight ACC Freshman of the Week honors in the month of January becoming the first player to do so since 2012. The Montes Claros, Brazil native, becomes the first Syracuse player to earn ACC Freshman of the Year honors. She was a First Team All-ACC selection by the Blue Ribbon Panel and a Second Team pick by the head coaches. Cardoso shares the ACC Co-Defensive Player of the Year award with Georgia Tech's Lorela Cubaj. It is the first time the league has Co-Defensive Players of the Year since the award began in 2005.
Engstler was a force for the Orange this season averaging 9.6 points and 8.9 rebounds per game as the first player off the bench for 'Cuse. In 17 games Engstler is shooting 44.3 percent from the field and 33.3 percent from three-point range. Engstler leads the team with 1.8 steals per game and is second on the team in blocks per game (1.7). Engstler shares the title with NC State's Jada Boyd marking the first Co-Sixth Player of the Year winners since the award began in 2008.
MEDIA:
No doubt about it 🏆@Kamillascsilva is the @accwbb Freshman of the Year❕ pic.twitter.com/UltUSvcdvV

— 'Cuse Hoops (@CuseWBB) March 2, 2021
Earned it 💪

🔸 9.6 points per game
🔸 8.9 rebounds per game
🔸 1.8 steals per game
🔸 1.7 blocks per game @em__baller is the @accwbb Sixth Player of the Year 🏆 pic.twitter.com/3w7n9Va5iI

— 'Cuse Hoops (@CuseWBB) March 2, 2021
The leading shot blocker in @accwbb and the *only* freshman top-10 finalist for the Lisa Leslie Award 👀@Kamillascsilva is the ACC Defensive Player of the Year 🏆 pic.twitter.com/wJpz81EBEo

— 'Cuse Hoops (@CuseWBB) March 2, 2021