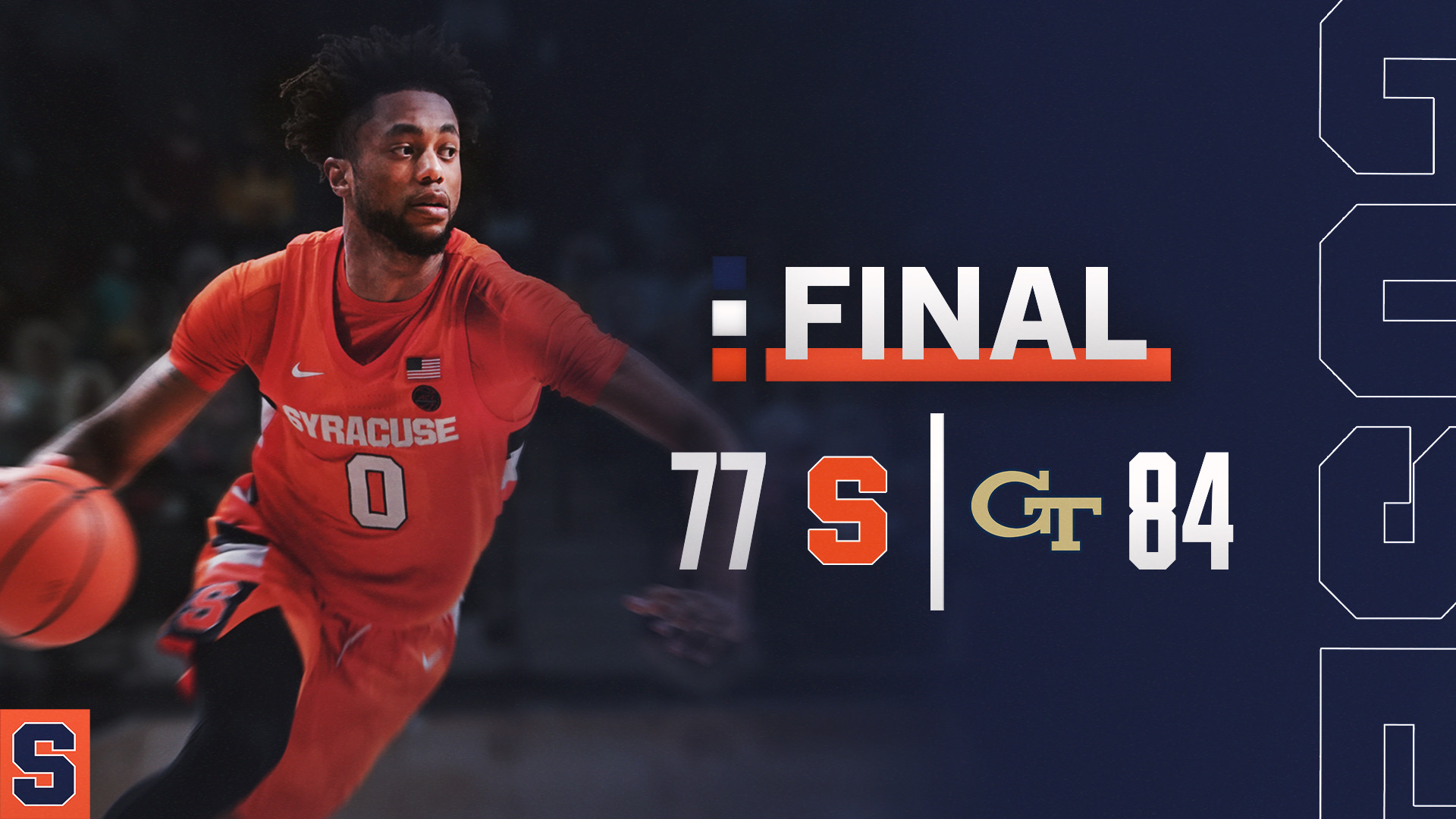 Syracuse fell behind, rallied and then ran out of gas in an 84-77 loss to Georgia Tech at the McCamish Pavilion on Saturday.
Georgia Tech jumped out to a 13-point lead early in the game, only to see Syracuse roar back and get in front 39-34 by halftime.
In the second half, though, the Orange had no answers for Moses Wright. The Georgia Tech center dominated the game in the paint and on the backboards, finishing with 31 points and 16 rebounds.
Georgia Tech outscored Syracuse 54-24 in the paint.
Syracuse's record drops to 13-8 overall and 7-7 in the ACC.
Syracuse missed out on its final opportunity to get a Quadrant 1 win during the regular season. The Orange is now 0-6 in Quad 1 games.
GAME RECAP LINKS:
GAME HIGHLIGHTS:
JIM BOEHEIM'S POSTGAME PRESS CONFERENCE:
MEDIA:
Syracuse drops to 13-8 (7-7 ACC) with a loss at Georgia Tech. SU gave up more than 50 points in the paint to the Yellow Jackets, who aren't elite interior scorers. If that doesn't scream Syracuse needs a transfer center…and forwards who are interested in playing defense…

— Matthew Gutierrez (@MatthewGut21) February 27, 2021
First half ? ? pic.twitter.com/3CYyiDKAiq

— Syracuse Men's Basketball (@Cuse_MBB) February 27, 2021
Print it out, put it on your wall.

Jesse with the poster!
GT leads 55-51 | 10:50 left in the 2nd pic.twitter.com/prQfdFD03x

— Syracuse Men's Basketball (@Cuse_MBB) February 27, 2021
---
GAME PREVIEW:
Syracuse will play its final regular season road game when the Orange travel to Atlanta to take on Georgia Tech on Saturday. The Yellow Jackets have won three straight games in the Atlantic Coast Conference, including a road win at Virginia Tech in their last game. Saturday is the final opportunity for a SU Quadrant 1 win, based on the current NET rankings.
Syracuse needs a better start if it wants to pull off the minor upset in Atlanta on Saturday. Slow starts have hurt SU, with the Orange trailing by double digits in the first half of three of the last six games. Georgia Tech doesn't guard the 3 particularly well, so Buddy Boeheim will need to continue his red-hot shooting run and help Syracuse keep up with GT's efficient offense.
But it can't just be Buddy. Alan Griffin and Quincy Guerrier both had their worst games of the season Monday night at Duke, and SU needs more from its forwards if it wants to save its season.
Dolezaj scored 20 points in the second meeting and 11 in the first with the Yellow Jackets in 2019-20. He has to be a bigger part of the offense, finding spots where GT's interior defense can be attacked like last season.
GAME PREVIEW LINKS:
MEDIA:
On a mission. ?✊

SYR ✈️ ATL pic.twitter.com/f7tlLthKDY

— Syracuse Men's Basketball (@Cuse_MBB) February 27, 2021

Kyle leads sports coverage and hosts the Concrete Jungle podcast. Have a lead or question? Send it to [email protected].