It's Auburn and Cayuga County law enforcement against Auburn Community Hospital and the winner is… hungry people throughout the county.
Collected food will go to Tomatofest volunteers
Cayuga County Sheriff Brian Schenck says he and Auburn Police Chief James Slayton have issued a friendly challenge to the staff at Auburn Community Hospital to see who can collect the most canned food.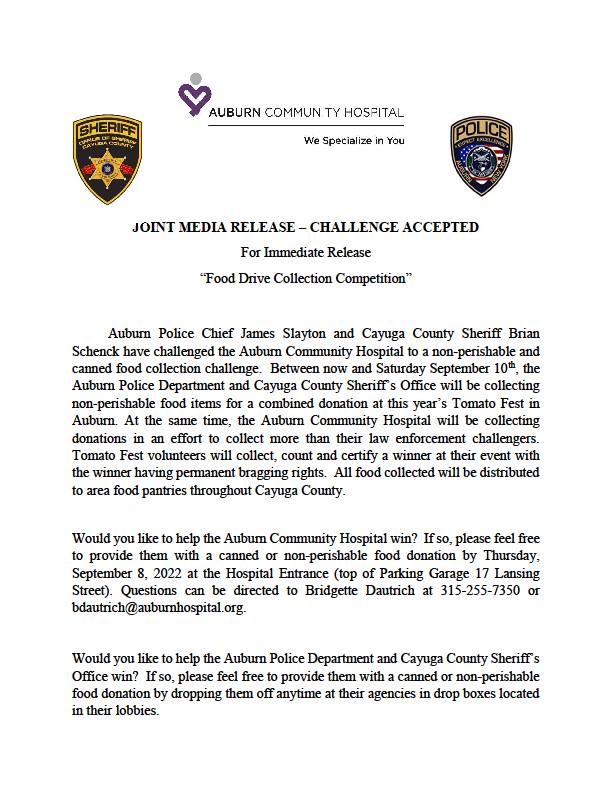 TomatoFest 2022 will be on September 10th, from 11 am to 6 pm in downtown Auburn on Genesee St. There will be activities for children, live music, food vendors, dancing, crafts, and a raffle with lots of prizes donated from businesses in the community. The Grand Prize will be a trip for TWO worth $2,500–a 6-day vacation to Kentucky including a dinner cruise, and breakfast, lunch, and dinner for all 6 days generously donated by Onondaga Coach! All proceeds will go to support 10 food pantries in Cayuga County.
We'll have a Tomatofest preview soon with organizer Gilda Brower on Inside the FLX. Listen to my full Inside the FLX conversation with Cayuga County Sheriff Brian Schenck below.
---
Related: Inflation: Local food pantries are overwhelmed as more families struggle to afford groceries (video)
---
---