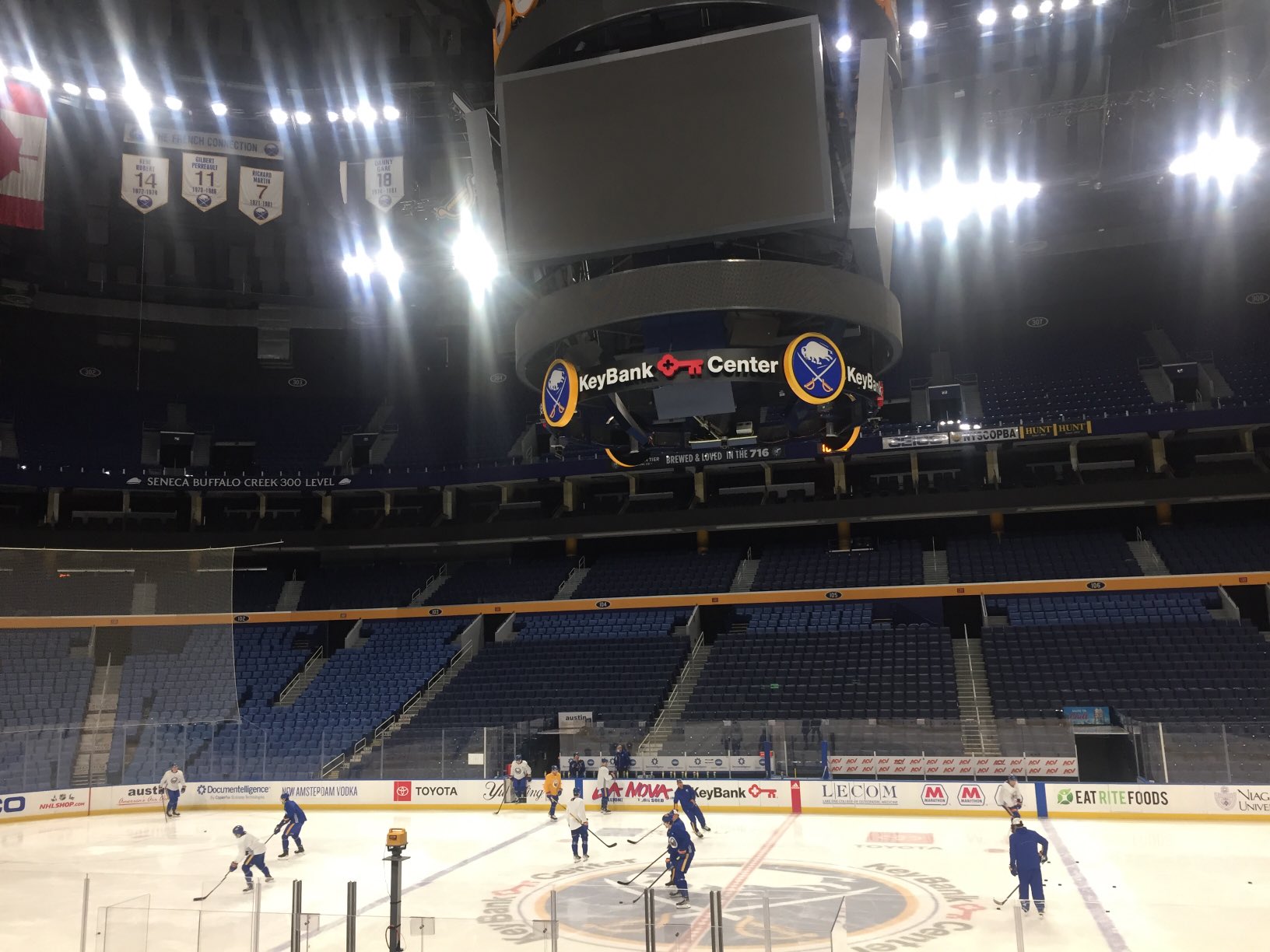 Kyle Okposo was raring to take the ice for practice on Sunday, before he received the text telling him to head home. The Sabres had two players – forwards Dylan Cozens and Mark Jankowski – enter COVID-19 protocol along with coach Don Granato, extending their holiday break a little bit longer.
That text never came on Monday. The Sabres avoided further positive tests and took the ice with 16 skaters (10 forwards and six defensemen) and three goaltenders, with assistant coach Matt Ellis running the hour-long practice geared toward shaking the rust from a week-long pause.
Ellis spoke with the team, as did general manager Kevyn Adams. Their message: "Stay in the moment."
"You've got to be good in crisis and that's what we've been in the last 20-whatever months or whatever it's been," Okposo said. "As far as the league as a whole and leadership within our organization, we're doing a good job, as good as we can in crisis, and that's what we have to do."
Adams confirmed that the Sabres are expecting to play their home game against the New Jersey Devils on Wednesday. They had four postponements as the league navigated the latest COVID wave, which resulted in an elongated holiday break and canceled Olympic participation for NHL players.
Buffalo has five players in protocol. Vinnie Hinostroza entered on Dec. 20 and was joined the following day by Zemgus Girgensons and Jeff Skinner. Cozens and Jankowski entered along with Granato on Sunday. The good news: All six are currently asymptomatic (including Girgensons, who was symptomatic at the time he entered protocol).
Because they are asymptomatic, all five players and Granato have the potential to test out of protocol prior to Wednesday if they receive two negative PCR tests 24 hours apart. If Granato does not test out, Adams said Ellis would assume head coach duties for the game against the Devils.
The Sabres will also need to add three skaters for their lineup against the Devils. (Drake Caggiula, one of the 10 forwards who practiced Monday, wore a non-contact jersey and is not expected to be ready). Forward prospect Jack Quinn – who might have been a leading candidate for a recall – is not quite ready to return from a bout with mono, Adams said.
"Some guys are out with injuries, some guys are out with illness down there," Adams said. "But we'll make those decisions this afternoon, because what I'd like to do would be in a position where tomorrow we could practice as if we're preparing for the game on Wednesday, which is what we need to be doing."
The Sabres will seek to pick up where they left off before the season grinded to an unexpected halt. They had earned points in four straight games, winning in Winnipeg and Minnesota before grinding out a point on the second leg of a back-to-back in Pittsburgh.
"I think part of the character of our group is going in and having a mentality that we're not waiting to win, that there's a way to win a game each and every night and there's certain elements that have to go into that that you need to be prepared for," Ellis said.
"We went into three pretty tough buildings, came away with a couple wins and some big points. … I think those were some big moments for us to grow together as a group and we hope to pick up on that momentum back this week."
Ellis said he sensed the excitement of the group before they took the ice, be it through the energy within their team meeting or the music blaring from the weight room. The enthusiasm carried over into a spirited practice.
"The thing with our group is there's a genuine love and passion for the game and I think that's been transparent throughout these first 30 games, from actually the time training camp started," Ellis said. "The guys love the game. When you love something and it's taken away even for the last eight or nine days, to get everybody back together, there's been anticipation."
---
---

Kyle leads sports coverage and hosts the Concrete Jungle podcast. Have a lead or question? Send it to [email protected].