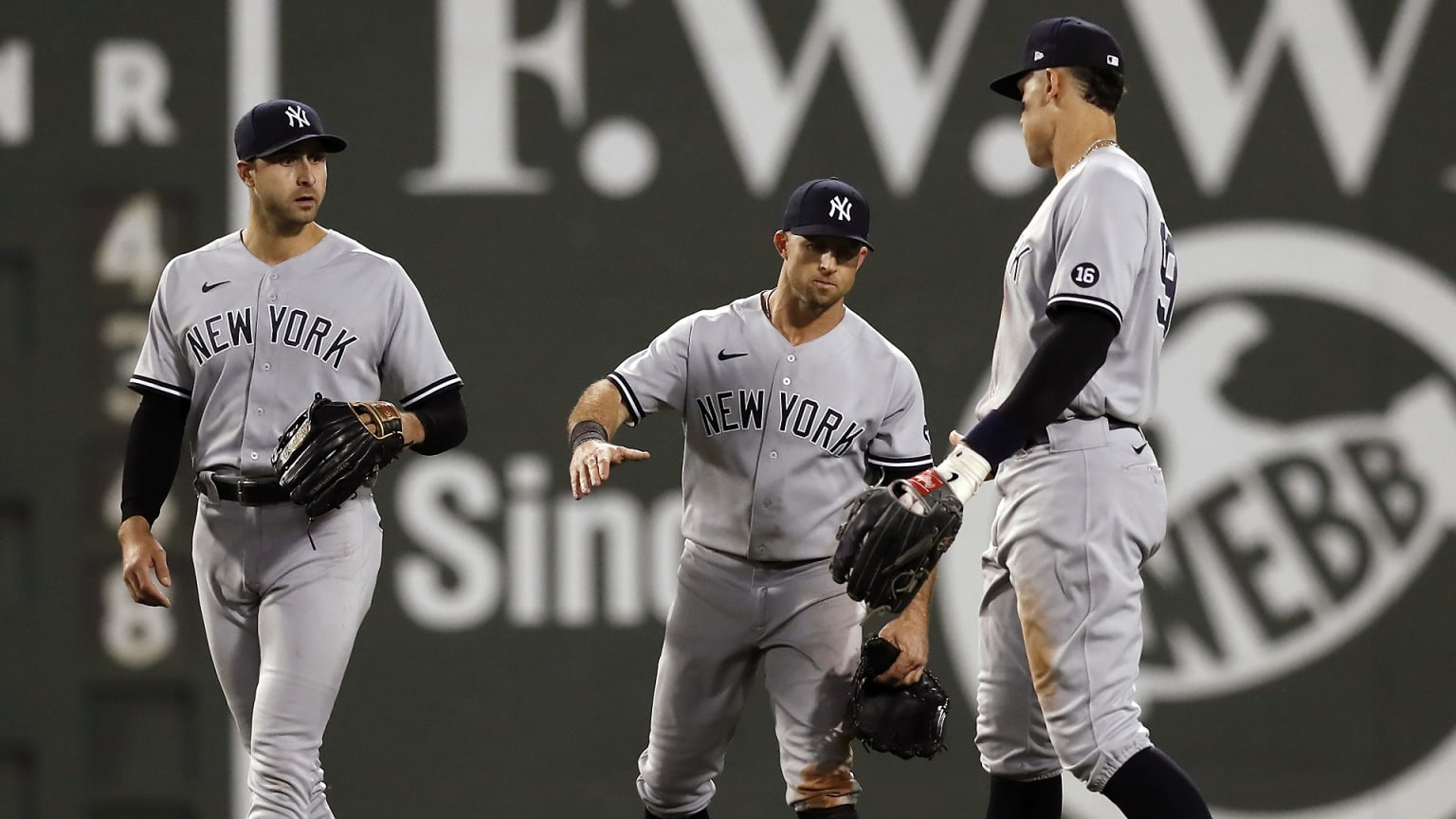 The Yankees have set their 26-man roster for Tuesday's American League Wild Card Game, to be played at 8:08 p.m. ET at Boston's Fenway Park.
Here is how the Yankees will take the field, vying for the right to advance to the American League Division Series, where they would meet the Rays on Thursday:
Kyle Higashioka, catcher: Higashioka is expected to be behind the plate in the AL Wild Card Game. A defense-first backstop, Higashioka is one of the longest-tenured players in the organization, having been selected in the seventh round of the 2008 Draft.
Gary Sánchez, catcher: The fastest player in American League history to reach 100 home runs in terms of games played (355), Sánchez endured another trying season at the plate and in the field, where he gamely accepted the suggestion of catching with a one-knee-down approach.
Rob Brantly, catcher: Brantly provides a third catching option. The 32-year-old filled in for six games this season, collecting three hits in 20 at-bats.
Anthony Rizzo, first base: A three-time All-Star, four-time Gold Glover and a member of the Cubs' 2016 World Series championship squad, Rizzo was acquired in July, lending left-handed balance to the Bombers' lineup. Rizzo hit .249/.340/.428 with eight homers and 21 RBIs in 49 games.
Gleyber Torres, second base: Torres recently shifted back to second base from shortstop, with the Yanks reasoning that it might take some pressure off the 24-year-old. Since Sept. 13, when that move was made, Torres has batted .300/.372/.443 with two homers and six RBIs in 19 games.
Gio Urshela, shortstop: Urshela made what Rays manager Kevin Cash suggested could have been "the play of the year" in Sunday's Game 162, charging from his shortstop position to catch a foul popup before tumbling down the steps of Yankee Stadium's visiting dugout. Urshela said he was sore, but he will be ready to play Tuesday.
Rougned Odor, third base: Acquired from the Rangers in April, Odor has showed a knack for delivering in clutch situations, providing an impact exceeding his .202/.286/.379 slash line. Odor is a constant presence in each mound visit or dugout celebration.
Andrew Velazquez, infielder: A product of the Morris Park section of The Bronx, Velazquez was a contributor to the Yanks' 13-game winning streak in August. Look for him to be used as a defensive replacement late in games.
Tyler Wade, infielder/outfielder: Wade owns the best pure speed on the Yanks' roster, pacing the club with 17 stolen bases. He has the versatility to play nearly any infield and outfield position, the result of a years-long project to make him the Yanks' version of a super-sub like Brock Holt or Ben Zobrist.
Joey Gallo, outfielder: Acquired from the Rangers in July, the two-time All-Star and Gold Glover provides a power threat, along with a reputation for a low batting average and plenty of strikeouts. Gallo has batted .160/.303/.404 with 13 home runs and 22 RBIs in 58 games with New York, striking out 88 times in 188 at-bats.
Brett Gardner, outfielder: The longest-tenured Yankee, Gardner is a team leader in the clubhouse and the last remaining link to the 2009 World Series champions. It has been speculated that the 38-year-old could be playing his final season in the Majors, though Gardner has said that he'll wait until after the playoffs to make any decisions.
Aaron Judge, outfielder: Judge has been the Yankees' most valuable player from wire to wire this season, batting .287/.373/.544 with 39 home runs and 98 RBIs in 148 games. Judge entered the playoffs hot, belting nine homers with 23 RBIs and a .634 slugging percentage over his last 23 games.
Greg Allen, outfielder: Allen was selected to the roster on Tuesday. The 28-year-old switch-hitter was a midseason sparkplug for the Yanks, batting .270/.417/.432 in 15 games.
Giancarlo Stanton, outfielder/designated hitter: The Statcast king completed arguably his best regular season in a Yankees uniform, batting .273/.354/.516 with 35 homers and 97 RBIs in 139 games. Stanton's performance improved when the Yankees began playing him semi-regularly in the outfield, though he has also embraced his DH role.
Gerrit Cole, pitcher: It's the playoffs, and this is why the Yankees paid Cole $324 million. The ace right-hander pitched to a 16-8 record with a 3.23 ERA in 30 starts this season, pacing the AL in victories and complete games (2).
Nestor Cortes, pitcher: A non-roster invitee this spring who has previously been jettisoned by the Yanks, Orioles and Mariners, Cortes has been a godsend to the Bombers' pitching staff, using his throwback variety of offspeed stuff and arm angles to compile a 2.90 ERA in 93 innings. He's also the proud papa to Bronxie, the Yanks' pet turtle.
Aroldis Chapman, closer: The fireballing "Cuban Missile" had an inconsistent season in the closer's role, hitting a midsummer swoon before finishing strong. In 61 appearances, Chapman pitched to a 3.36 ERA with 30 saves, enjoying his seventh All-Star selection.
Jonathan Loáisiga, reliever: Loáisiga owns some of the best pure stuff on the Yanks' roster, and the Nicaraguan righty pitched to a 2.17 ERA in 57 appearances this season. His return from a right shoulder injury provided a September boost to the bullpen.
Chad Green, reliever: Green was one of the most heavily used options out of the bullpen for New York this season, pitching to a 3.12 ERA in 67 appearances. His best weapon is a fastball that appears to rise as it approaches hitters.
Clay Holmes, reliever: A midseason pickup from the Pirates, Holmes has been excellent since putting on the pinstripes, pitching to a 1.61 ERA in 25 appearances. A reduction in his walk rate has teamed with Holmes' ability to induce ground balls.
Luis Severino, reliever: Severino spent most of the season recovering from Tommy John surgery, a groin injury and a shoulder injury, finally returning to the big leagues in September — his first appearance in the Majors since the 2019 American League Championship Series.
Wandy Peralta, reliever: An in-season acquisition from the Giants, Peralta quickly became one of the Yankees' most trusted relief options, pitching to a 2.95 ERA in 46 appearances.
Joely Rodríguez, reliever: Acquired from the Rangers as part of the July Gallo trade, Rodríguez was an under-the-radar pickup. He pitched to a 2.84 ERA in 21 appearances for New York.
Domingo Germán, reliever: Germán opened the season in the Yanks' rotation and has transitioned into a relief role following a right shoulder injury. He missed the 2019 postseason and all of 2020 while serving a suspension under Major League Baseball's policy against domestic violence.
Michael King, reliever: King offers multi-inning flexibility to the Bombers' bullpen; until his final appearance of the regular season on Oct. 2, his first 21 outings spanned four outs or more, a franchise record.
Lucas Luetge, reliever: Luetge was an out-of-nowhere addition to the Yanks' bullpen, a non-roster invitee who came north after a stellar spring. Luetge pitched to a 2.74 ERA in 57 appearances.

Kyle leads sports coverage and hosts the Concrete Jungle podcast. Have a lead or question? Send it to [email protected].