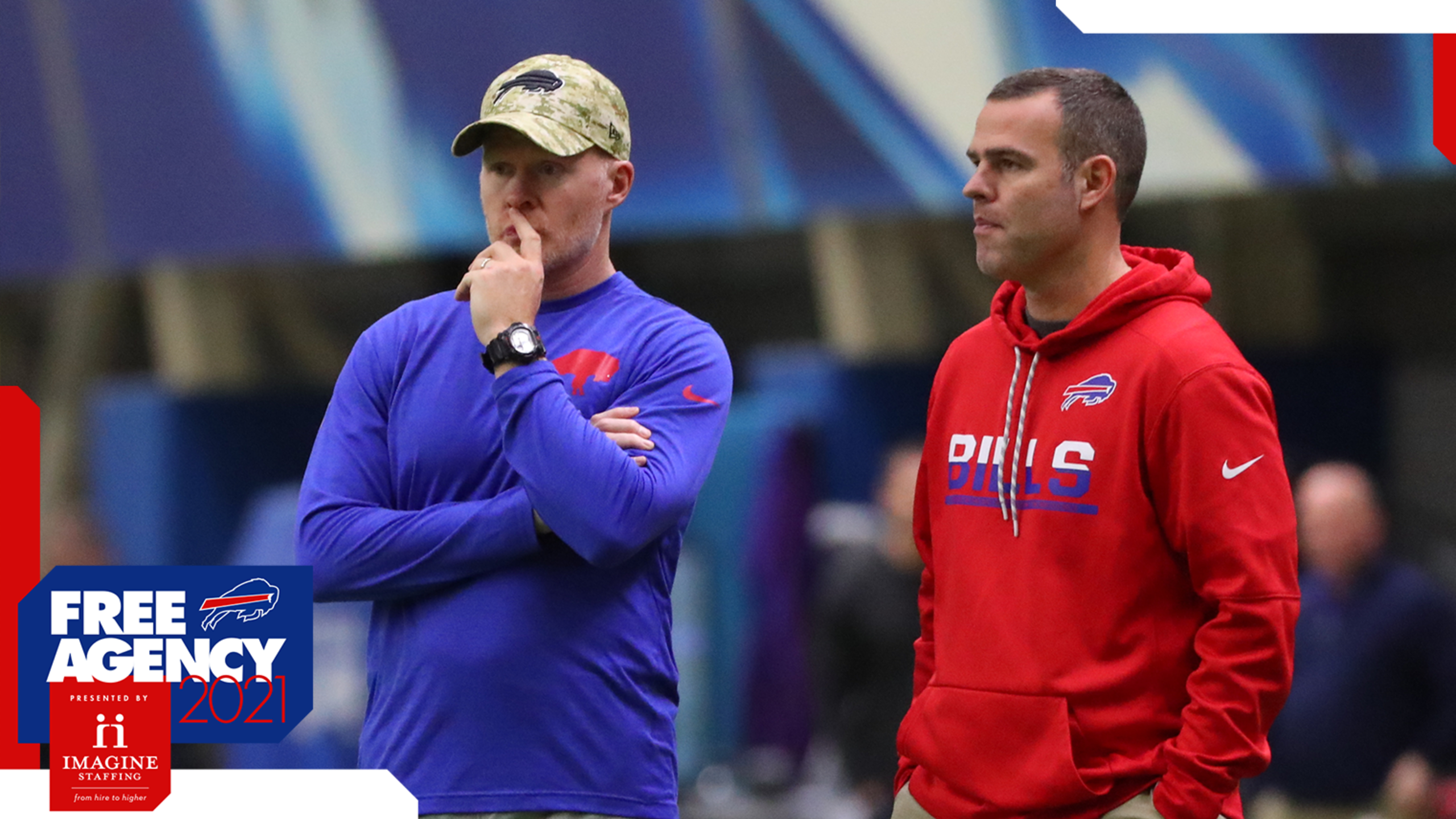 Bills general manager Brandon Beane and head coach Sean McDermott met with the media via Zoom on Thursday to discuss Buffalo's free agency moves ahead of the 2021 NFL Draft. Here are five things to know about what Beane and McDermott had to say.
1. A wide receiver + quarterback added to mix on offense
The Bills have used free agency to re-sign most of their own players, but have added a couple of new faces on offense. Buffalo added quarterback Mitchell Trubisky and wide receiver Emmanuel Sanders on a one-year deals.
Trubisky comes to the Bills to serve as the backup to quarterback Josh Allen after that role was previously held by Matt Barkley for the last three seasons. Brandon Beane believes the second overall pick from the 2017 NFL Draft is an athletic quarterback that can help the Bills if his name is called.
"We were a game away from the Super Bowl and injuries happen," Beane said on why Trubisky is valuable to the team. "This guy's won 29 games from 50 starts. He's got a good resume, even though he's a younger player. We know how Josh [Allen] plays. Josh is not scared to try and lower his pads or take a hit. If Josh was out for a few weeks or something like that, we would want to make sure we have the best player that we can."
Beane said he looks at the one-year deal as a reset for Trubisky and hopes this can help him earn a starting job in the future. He sees similarities in Allen and Mitchell when it comes to their success with the RPO.
"You have your starters and then you have your depth players, and we just think Mitchell will come in here, and he's going to be excited to join in the mix. Assuming he's the backup, if Josh goes down, with his experience, he would be able to keep the ship afloat until Josh got back in the lineup."
Wide receiver Emmanuel Sanders brings 12 years of knowledge to an already bright group of receivers. The receiver caught 61 passes for 726 yards and scored five touchdowns last season with the New Orleans Saints.
Sean McDermott admitted this is a player they've been keeping an eye on for a while and are looking forward to having him be part of the group.
"He's a guy we've tracked for a couple years," McDermott shared. "He's been in winning locker rooms, he's won a Super Bowl. Obviously, he had some big-time impressive numbers this season."
With the release of a talented player like receiver John Brown, McDermott and Beane wanted to make sure they weren't taking a step back in an area that was one of their most successful from 2020.
"You never want to lose your fastball, in terms of what we were able to do last season," McDermott said. "We thought it was important, Brian [Daboll] and I, Brandon [Beane] as well too, to make sure that we didn't lose our fastball. But with respect to the play at the wide receiver position, obviously that involves a tough decision as well with John Brown."
2. The importance of re-signing your own
Brandon Beane hasn't made the same splash this offseason that he did last. It's been just over a year since he traded for wide receiver Stefon Diggs. But, Beane has made a splash in the locker room by following through with his philosophy of draft, develop and re-sign.
Not all the players they re-signed this free agency are draft picks, but it follows suit with the culture that's in place at One Bills Drive. Linebacker Matt Milano was drafted by the Bills in the fifth round of the 2017 NFL Draft and offensive linemen Daryl Williams and Jon Feliciano have developed under offensive coordinator Brian Daboll and offensive line coach Bobby Johnson.
Beane is pleased to see that players want to stay in Buffalo rather than continuing their careers elsewhere.
"We want the guys that want to be here," Beane said. "That's what's so exciting about our guys that we were able to retain is how excited they were to extend and stay here for years to come."

Kyle leads sports coverage and hosts the Concrete Jungle podcast. Have a lead or question? Send it to [email protected].