Death row exonerees Shujaa Graham and Kirk Bloodsworth visited Hobart and William Smith Colleges last week on behalf of Witness to Innocence, an abolitionist death penalty organization for a multi-evening event.
Associate Professor of Sociology James Sutton introduced the beginning of both lectures with Graham who spoke on Wednesday, March 13 and Bloodsworth on Thursday, March 14.
Previously, Professor Sutton coordinated the first cooperative visit between Witness to Innocence and the colleges in 2015; and now four-years later, the ever-popular event returned to fanfare.
Packed back-to-back evenings in the Vandervort Room set precedents for an eventful set of insightfully-frightening stories and shared experiences.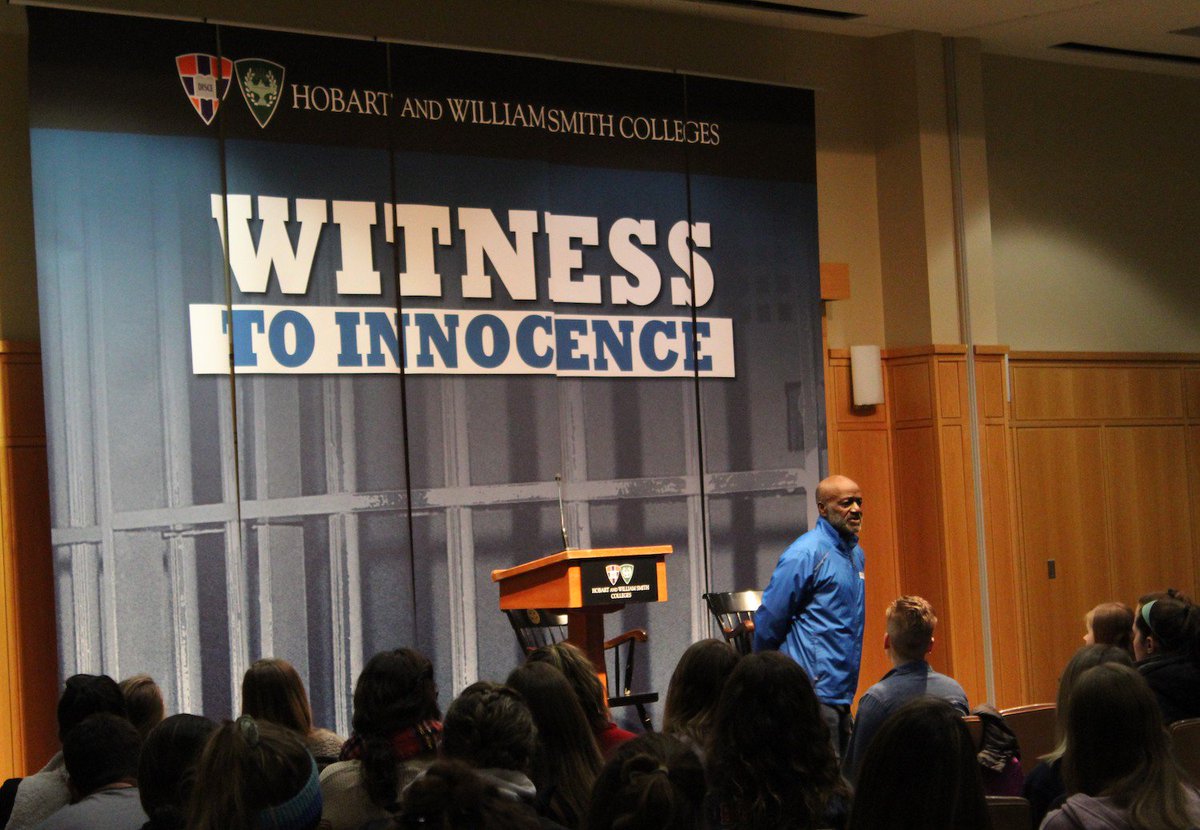 Graham, the first speaker, spoke upon the heels of an unprecedented victory for the organization and greater prison-rights movement when California Governor Gavin Newsom suspended his state's enforcement of capital punishment earlier that day, after posing concerns about the alleged innocence of incarcerates which has led to the wrongful detaining and executing of some innocent persons.
With this in-mind, Graham spoke with strength and passion as he shared his story about being on death row, as a former Californian incarcerate.
But before he began his speech, Graham gave a special shout-out to his dear-friend, Bloodsworth, congratulating him for serving as the current executive director of Witness to Innocence; the first-time in the organization's 12 to 15-year history that an exonerated death-row inmate has been appointed to become director.
Growing up during an era of segregation, Graham recalled memories of sharecropping with his parents and grandparents in Louisiana, but eventually moved out west to Los Angeles before the age of 18.
Upon entering the big-city urban life, Graham got caught up in gang-related activities, costing him three-years in juvenile hall. It was not until the death of Jerry Sanders that shaped Graham's life behind-bars forever. During a prison riot, fellow inmate Sanders was killed and Graham was considered as a suspect and indicted for the murder.
After tedious legal fights and multiple one-sided courtroom cases, Graham was eventually convicted for the death of Jerry Sanders by a solely-white jury, "a jury of his peers" and sentenced to capital punishment.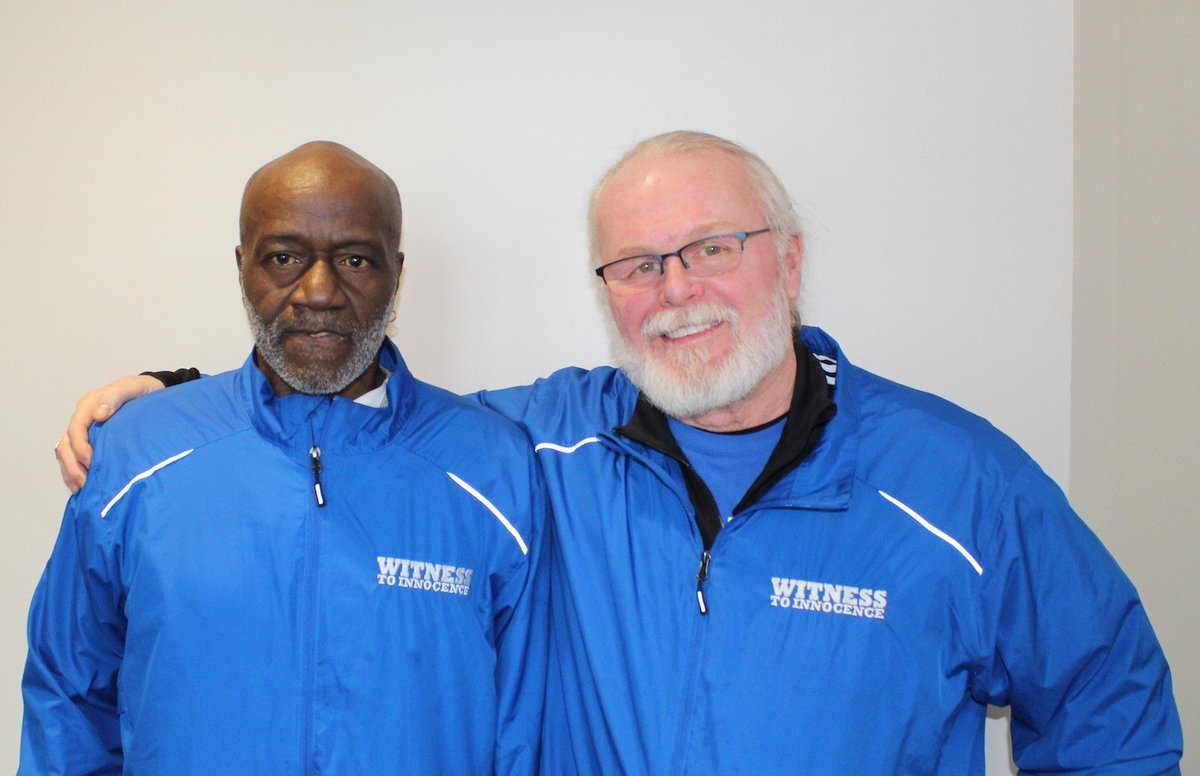 "Fifteen-minutes later I was on San Quentin death row," Graham said.
Throughout his entire time on death row, Graham attests to suffering from physical abuses and consistent beatings by officers as well as enduring many human rights violations.
After years passed and multiple trials, his fourth led to a non-guilty decision, resulting in his release from death row and the eventual long-term exoneration of his conviction.
All Graham ever wanted was justice and peace and mentions that many persons are still afflicted by the pains and heartache that he withstood while in prison, a system that continuously violates them today.
"Before you get comfortable, you got to get uncomfortable," Graham concluded.
On the second evening, Bloodsworth closed Thursday night with his captivating story. Bloodsworth was a part of the initial program as a speaker that came to Geneva in 2015. Professor Sutton found him at an academic conference that he attended years prior in Philadelphia and saw Bloodsworth giving a speech, compelling Sutton to invite him to visit on behalf of the colleges. 
As a former Marine, recounts his journey from being a free-man to death row in Maryland and how he was wrongfully convicted of a crime that he did not commit, all at the fault of flawed criminal profiling and misidentification that costed him nine-years of his adult life.
After police discovered the body of a deceased young-girl by the name of Dawn Hamilton in a wooded-area who sustained signs of sexual abuse, Bloodsworth was apprehended after a neighbor called-in a tip claiming that the criminal composite sketch was him, even though he did not fully fit the released physical description.
Bloodsworth shared his beef with the media which presented him as a "beast and monster" while wearing shackles throughout his trial that lasted two-weeks.
Without any physical or DNA evidence for the prosecution to present as well as five alibies that the defendant gathered from family members and friends, the case seemed clearly in favor of Bloodsworth.
"When the gavel came down on my life, the sentence was death and double-life," Bloodsworth said, while slapping the podium to symbolize the sounds from his perpetual gavel.
As a result, Bloodsworth was deemed guilty of sexual assault, rape and first-degree premeditated murder and sent to death row.
Upon the utterance of his sentence from the judge, Bloodsworth claimed that some in the courtroom shouted, "Give him the gas, kill his ass."
While in prison and on death row at a notorious Maryland-state prison, he was treated truly like a criminal as soon as his 300-pound cell-door shut for the first-time. For starters, he recalls being given half a mattress, half of everything.
"I guess they thought I was half a person," Bloodsworth continued.
Whenever he wrote any mail correspondence, Bloodsworth wrote his signature and A.I.M., an acronym for An Innocent Man, a popular phrase used by inmates who sought to protect their integral sense of innocence.
However, one of most important moments that he had while in prison was when he met a man of an imposing stature named Blue, a member of the Nation of Islam who he spent a lot of his time with together, talking about anything and everything.
Although Blue was sentenced to prison for many armed-robbery charges, he was one day excited about how he was making parole after being incarcerated for nearly a quarter of a century. Bloodsworth said that Blue packed his belongings into a suitcase that was placed at the side of the bed.
"He shoved two pencils through his eyes; instead of his eyes, he didn't want to see this anymore or feel it anymore," Bloodsworth said.
While his life behind bars was truly bleak, his life would forever change after randomly receiving a mailed copy of The Blooding: a book about the first criminal case that used DNA as evidence in England.
"If it can convict you, it can free you," Bloodsworth said.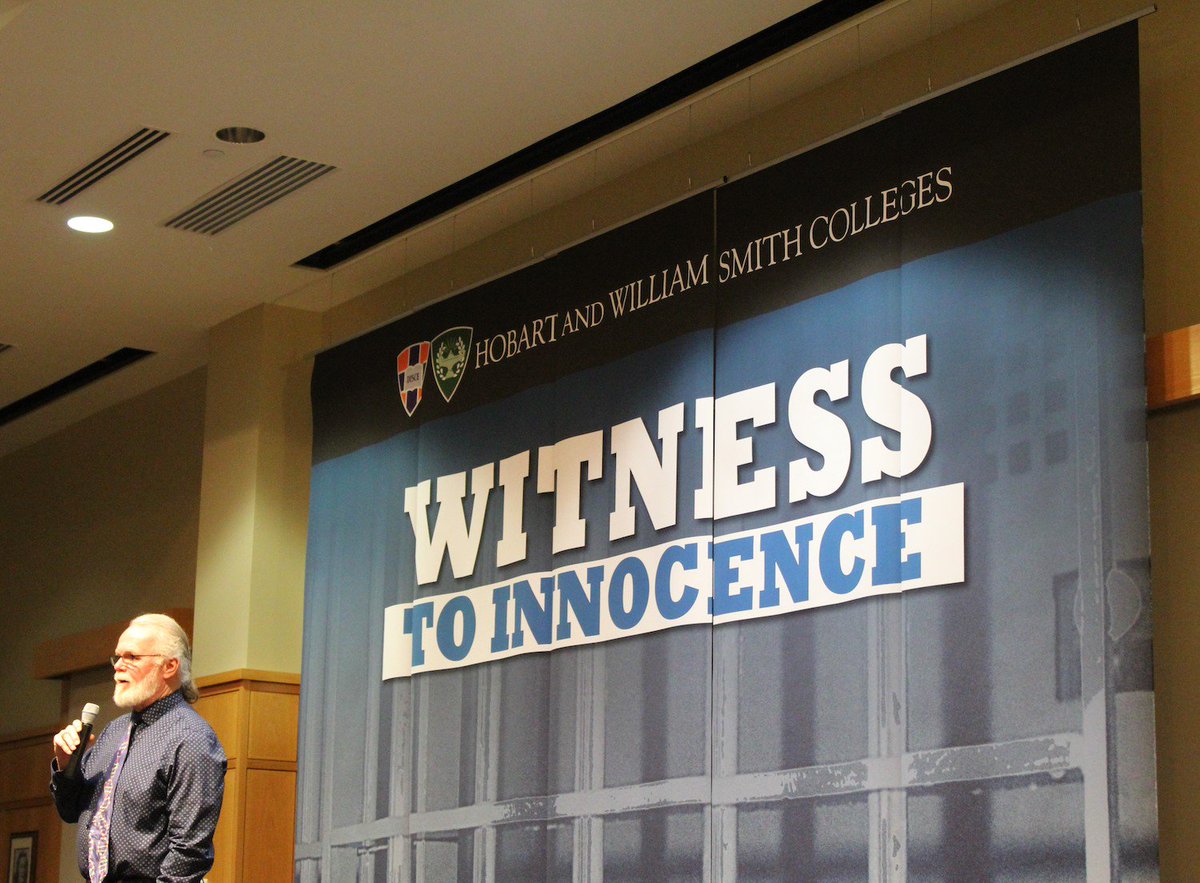 Upon reading this book, Bloodsworth sought to prove his innocence by providing a DNA sample to compare to the crime scene.
Originally, the prosecution stated that there was not any DNA evidence and even if so, it would had been already destroyed; but after Bloodsworth's public defender uncovered DNA evidence pertinent to his case, he was finally able to test the validity of his innocence.
In 1992, he sent a DNA sample to one of only two testing-sites in the country and received the test results a year later, proving his innocence in the process.
Freedom neared for Bloodsworth, but while still waiting for his release-date following his successful DNA test result, his mother passed away, five-months before he got out. Consequently, he was able to kiss her goodbye for five-minutes at the funeral home while flanked by two guards, one on each side; he did not attend the funeral or see his family.
Bloodsworth broke down in tears during his speech at the part when he said that she died alone on the couch: the woman who taught him to read and raised him.
Eventually, his moment of retribution came when he was picked up by a limo with a pizza in-hand as he drove around the city of Baltimore on behalf of a radio station. Upon exiting prison after being wrongfully-convicted, at first Bloodsworth expressed frustrations and told the station to play Guns N Roses' "Civil War."
But Bloodsworth soon after learned to cope with his past, something that he could never truly control, especially when his fate was within the hands of the law enforcement who were incompetent and ineffective in arresting and charging him for a crime that he did not commit as well as not finding the true culprit of this heinous crime, further delaying justice. 
After filing a claim, Bloodsworth was pardoned by the Governor of Maryland and fully exonerated in 2004, only receiving $300,000 for compensation.
However, in a shocking twist, 10-years later, prosecutors found the true offender of the crime that he was originally charged with, Kimberly Shay Ruffner, a neighbor of Bloodsworth who lived underneath him for five-years.
"I gave him library books and lifted weights with this guy," Bloodsworth said.
In the end, Bloodsworth recalls meeting with Prosecutor Ambrose and the rest of her team at a Burger King to share of the news in-person while he was writing his book. Although everyone who came greeted Bloodsworth openly, apologizing for their mistakes, Ambrose stood there speechless and without-apology but Bloodsworth gave her a hug and said, "At lease we can finally have peace."
By the end of both speeches, the air in the Vandervort Room was filled with thunderous applauses followed by standing ovations for their special guests.
Although Graham and Bloodsworth make it apparent that "we all become victims" when innocently convicted persons are subjected to prison and even capital punishment, both emphasized that even telling their traumatic stories is a therapeutic experience.
"Like a bunch of kids on a playground, we are happy to see each other and touch each other," Graham continued.
While their stories are full of sadness and grief, they ended with universal missions of hope, forgiveness and love. In the case of Graham, he explained how after being released from prison he travelled from California to North Carolina out of his own pocket to help save a young fellow inmate from the death penalty who was guilty, but he was too late. Graham broke into tears and explained that no one deserved to be sentenced to death by the state.
In a similar sense, Bloodsworth argued that when Prosecutor Ambrose asked if the true culprit should receive the death penalty, he told her that he needs to live with his actions and life consequences, not death.
Roughly 600-strong walk free as exonerated death row incarcerates among society, some of which who are a part of Witness to Innocence. But before Bloodsworth departed from the stage, he promised to come back to HWS as frequently as possible to spread-the-word about this important and personal social issue while proudly representing his organization once again.
---
– Reporting by Gabriel Pietrorazio
An undergraduate student at Hobart and William Smith Colleges, Pietrorazio has written for the Town Times of Watertown, Connecticut and Finger Lakes Times in Geneva, New York. He's currently an intern reporter for FL1 News, and can be reached at [email protected].