Assistant Professor of Political Science Justin Rose at Hobart and William Smith Colleges is set to publish his first book: The Drum Major Instinct: Martin Luther King Jr.'s Theory of Political Service on Friday, March 15.
In his publication, Rose intends to trace King's theory of political service: a more sophisticated and radical vision of service than contemporary versions of community-based service. He attempts to interrogate the current conceptualization of service that has been exasperated throughout American civic life and manifested as a response to systemic forms of inequality, instead of truly facing the root problems in society for which cause a greater need and reliance upon charity and philanthropic services.
The purpose of his book is two-fold: first, to correct the legacy of King's theory of political service by elucidating as to what it truly means to serve our communities; second, propose that King argued for a more radical notion of service where we "transform self, others and then society," as Rose emphasized.
Aside from his aims, Rose mentions that there is a notable gap in the academic literature surrounding King and the discipline of political theory that has often been overshadowed by many academics who have focused more upon the historical and religious components about his life.
Rose, a political theorist is passionate about the life and legacy of Dr. Martin Luther King Jr. dating back to his graduate school studies. Many portions of the piece's arguments derive from his original graduate dissertation that became a more "polished" argument nearly nine-years after diligently working towards producing the final published work.
Growing up in a black Baptist Church in Miami, Florida, Rose moved north to commence his undergraduate study after leaving Miami for the first time in his life. At that time, Rose became homesick, but used his Napster to download and listen to the sermon audio files from Martin Luther King Jr. as a way to reminisce and reconnect to his roots and upbringing with the Baptist Church from back home. As a result, he sought to conduct his scholarship in "unearthing the King," as Rose expressed.
Rose tracks and graphs the history of his public thoughts through the sermons, political speeches and writings to construct a comprehensive conceptualization for King's theory of political service which places an emphasis upon collective action to cultivate love, compassion and concern to actively change society and the institutionalized structures that remain stagnant.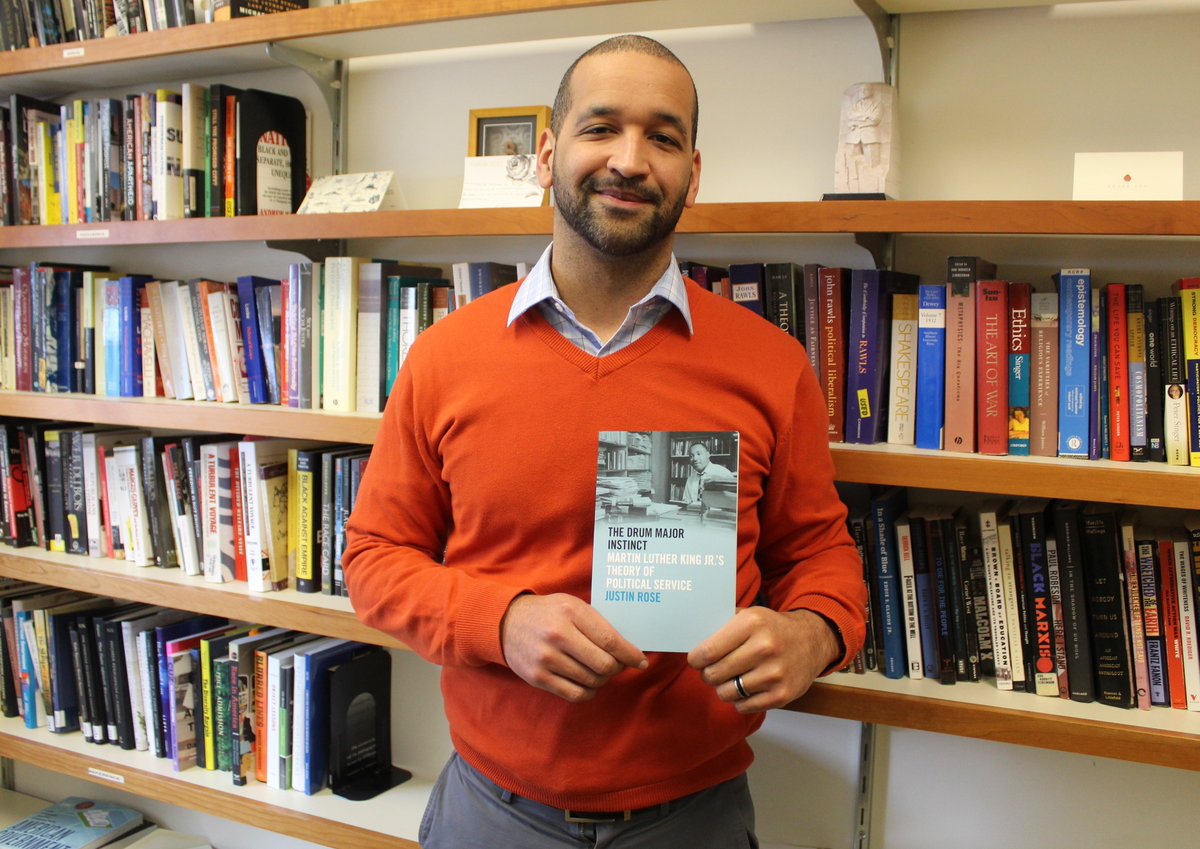 But even with a comprehensive archive of historical content, Rose admits that it is still difficult to rewrite and or even re-correct the public memory of an internally-recognized memorializing figure in Martin Luther King Jr., especially when it comes to characterizing King's true sense of political service.
Furthermore, Rose grapples with the notion of how to live up to the greatness, expectations and memory that were left by King's larger-than-life character in the national and even global consciousness.
But even bringing a sense of relevancy to the current political climate, Rose suggests, "What do we value as a society? Given everything that is going on right now, it's a great time to wrestle with what does it mean to be American; what does it mean to make America great again and how are we going to actuate that?"
He goes further to recognize that, "We all have a different role to play," whether it be through participating in civil disobedience, protest, advocacy-based social movements or through other calls to service, but all remaining in the likeliness of the body, mind and spirit of King.
Most of all, he distinguishes the epilogue as the most rewarding aspect about writing his book.
"I'm actually really proud of it because it really captures this idea that King wanted to leave us with and it's last that he gives before he is assassinated," Rose concluded.
Rose unpacks some of the meaning behind his message; for in that speech, King imagines that God asks where King would go to live or visit anytime in history, to which King replies that he would stay in the 20th century to continue making strides toward the struggle for equality instead of traveling to Athens or meeting Abraham Lincoln.
He also shares that it is in the moments of darkness that one is truly able to see the stars above. But ultimately, like the stars from above, Rose has shed and crystallized a shining light upon King's often overlooked theory of political service through the publication of his first paperback.
The Drum Major Instinct: Martin Luther King Jr.'s Theory of Political Service will be released and available on Amazon for purchase as of Friday, March 15.
---
– Reporting by Gabriel Pietrorazio
An undergraduate student at Hobart and William Smith Colleges, Pietrorazio has written for the Town Times of Watertown, Connecticut and Finger Lakes Times in Geneva, New York. He's currently an intern reporter for FL1 News, and can be reached at [email protected].