Justice Smith made his presence felt early in the Section V Class C2 final at the Blue Cross Arena on Friday night knocking down his first three shots from behind the arc and finishing with 13 first quarter points as the Lyons Lions jumped out to a 24-16 lead over Red Jacket after the opening 8 minutes. It was a lead Coach Dean Schott II's squad would never relinquish as the tournament MVP Smith ended with 30 points, 16 rebounds, 7 assists and 6 steals as Lyons brought home the school's 19th sectional championship with a 86-66 victory. It was Lyons' second straight sectional crown.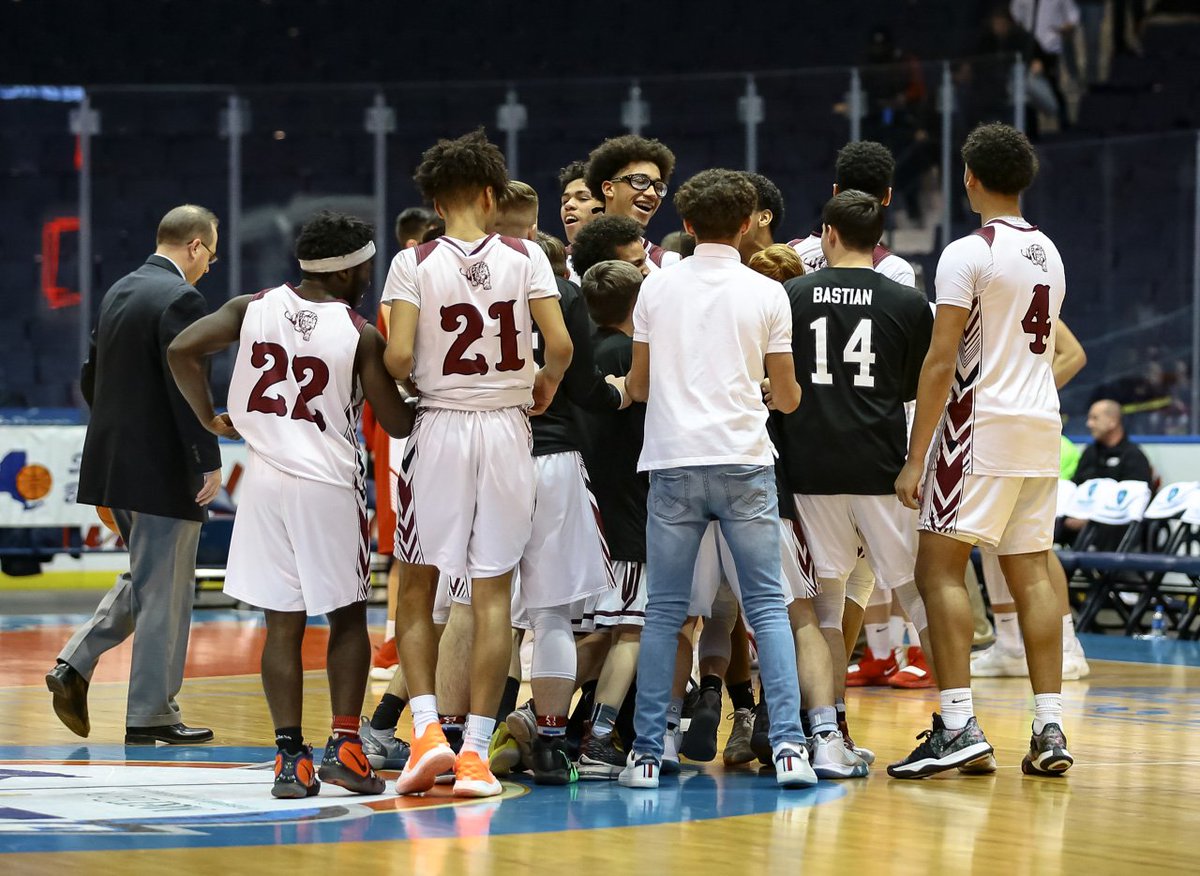 The Red Jacket Indians hung tough with the talented Lions, never letting the game get completely out of reach until late in the contest. A trio of juniors led Coach Trevor Gage's Indians and found a spot on the all-tournament team. They were Chase Rizzo who scored 20 points and pulled down 9 rebounds, Matt Record who finished with 17 points, 9 rebounds and 5 assists and Travis Hill how scored 10 points and 6 rebounds.
For Lyons, sophomore Justin "Tuti" Smith had 19 points and found a spot of the all-tournament team along with junior Benji Kemp who had 6 points and 11 rebound. Senior guard Aaron Romero had 8 and fellow senior David Weaver had 9 on three buckets from beyond the arc.
Coach Schott spoke to Paul Gotham of Pickin' Splinters after capturing his first sectional title as a head coach…
"We talked about how none of the Red Jacket players had been here before. All my guys have at least shot here. They may not have played last year, but they warmed up. They've shot here before. It shouldn't be a problem, and it wasn't…  Red Jacket played very well. They gave us all we could handle. I'm glad we won, but we didn't play our best basketball. We got to play better, but it's a sectional title so I'm happy for the kids."
.@AthleticsLY wins another @SecVBBasketball class C2 title with an 80-66 victory over @RJathletics. @PickinSplinters pic.twitter.com/ZrtqWi3M9f

— John Mitchell Likanje Junior (@jml5798) March 2, 2019
Lyons (21-2) will now advance to the first round of the Class C State Play-In tournament where they will face Class C1 Champion C.G. Finney, who defeated Marcus Whitman. That game will be played on Monday night at Newark High School and will be streamed live on FL1 Radio. The winner of Monday's contest will advance to face Class C3 champions Caledonia-Mumford who defeated York. That game will be played on Wednesday at a site to be determined.
Click here to listen to the radio replay of FL1 Sports' live coverage of the Class C2 and C1 finals from the Blue Cross Arena.
Final score: Lyons 80 RJ 66 way to go Lyons, great job!! @LyonsSchool pic.twitter.com/Pb3UFk5JCB

— Linda Paris (@LParisTech) March 2, 2019
" he doesn't compete against competition " " he's not from the city " he can't beat ____ " meanwhile he's Lyons All Time Leading Scorer , A back to back champion and All Greater Rochester . And a 2x Section V SECTIONAL MVP . I'll put him up against anybody , anyday ???❤️ pic.twitter.com/muWzDSVIBC

— k ?? (@kidmorrison3) March 2, 2019
.@AthleticsLY vs. @RJathletics game highlight: Indians leading scorer Chase Rizzo catches airball and finishes putback layup. @PickinSplinters pic.twitter.com/Gty3ZYc6VB

— John Mitchell Likanje Junior (@jml5798) March 2, 2019
David Weaver connects on one of 6 @AthleticsLY 3-pointers in the first half. Lions up 44-30 at half. Justice Smith has 15 on6-of-11 shooting including 3-of-6 from long range. Smith has nine rebounds and 5 assists. Chase Rizzo leads Red Jacket with 12. pic.twitter.com/qzdl8LhOOk

— Paul Gotham (@PickinSplinters) March 2, 2019
.@jsmith10_11 putback layup for @AthleticsLY pic.twitter.com/TRUeNannf4

— John Mitchell Likanje Junior (@jml5798) March 2, 2019
Adam Borst buzzer-beating mid-range jumper cuts @RJathletics deficits against @AthleticsLY to 64-50 at the end of the 3rd quarter. @PickinSplinters pic.twitter.com/7xoHWs5eDr

— John Mitchell Likanje Junior (@jml5798) March 2, 2019
Justin Smith sticks with it and gets the bucket and-one for @AthleticsLY pic.twitter.com/crooRqj6Zg

— John Mitchell Likanje Junior (@jml5798) March 2, 2019
@AthleticsLY @LyonsSchool Class C2 @SecVBBasketball Champions Final [email protected] @LyonsSchool – 80 @RJathletics – 66 @SecVBBasketball #Championship #Sectionals @NYSPHSAA @thadbrown7 @TimIrvingSports pic.twitter.com/4PatwdXctg

— Jerome Davis (@jdavis2731) March 2, 2019
Gallery from the Section Five Class C2 Championships game. https://t.co/WqW22cyDYT @RJathletics @SecVAthletics @SecVBBasketball @NYSPHSAA

— Jack Haley (@jackhaley42) March 2, 2019
— Lyons CSD (@LyonsSchool) March 2, 2019
Lyons defeats Red Jacket to repeat as Class C2 boys basketball champion https://t.co/mnEhjOylGI #ROC

— Democrat & Chronicle (@DandC) March 2, 2019
Tournament MVP Justice Smith finished with a game-high 30 points including a trio of triples in the game's opening four possessions as @AthleticsLY sprinted to an early double-digit lead: https://t.co/RIKwT0i7Z0

— Paul Gotham (@PickinSplinters) March 2, 2019