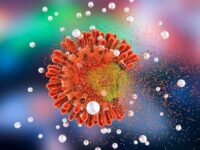 Ontario County Public Health Director Mary Beer says the numbers of people who have influenza, COVID and RSV aren't being counted anymore, but she's hearing from providers, hospitals and urgent care centers that there is ...
more
RSV cases are rising quickly and children's hospitals are feeling overwhelmed across the country. RSV is a respiratory illness that can become severe in children and is similar to the flu. As the hospital system ...
more
Cases of RSV among children are rising in New York, which hasn't happened since April, so parents are concerned. The drastic rise in cases seems to be because things have returned to normal after COVID-19 ...
more
RSV, or respiratory syncytial virus, is facing an outbreak, and people have some frequently asked questions about it. RSV hospitalizes thousands of children every year. In September and October of this year, there has been ...
more
Respiratory illnesses, one being RSV, are here for the season and one children's hospital is so overwhelmed they may need the National Guard. Respiratory viruses are common during the season, but one in particular is ...
more
Golisano Children's Hospital was reported to be over capacity only 24 hours ago, with 24 pediatric intensive care beds filled. It's not only COVID creating the influx of patients, but the early arrival of RSV, ...
more