Krispy Kreme is launching a new collection of churro-inspired donuts. The new collection is only available for a very limited time-- read here for details. McDonalds: Pull apart donuts to return to the menu– but ...
more
Wendy's is adding homestyle french toast sticks to the breakfast menu. The sweet, nostalgic breakfast comes with maple syrup for you to drip or drizzle. Walmart: Tips to save and avoid overpaying at checkout When ...
more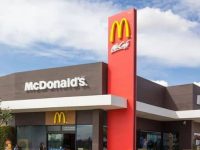 If you're looking for a quick breakfast, McDonalds could offer what you're looking for. But what time do they stop serving breakfast? Taco Bell brought back Mexican Pizza and it sold out– When will it ...
more
This breakfast product is about to change. A lot of our favorite things have been harder to come by in stores lately. For this breakfast item its about to get easier! Walmart exposed by its ...
more
Taco Bell announced that they're bringing their breakfast menu nationwide. The chain originally launched their breakfast menu in 2014 but it was only available at certain branches. As of recent Taco Bell breakfast will be ...
more