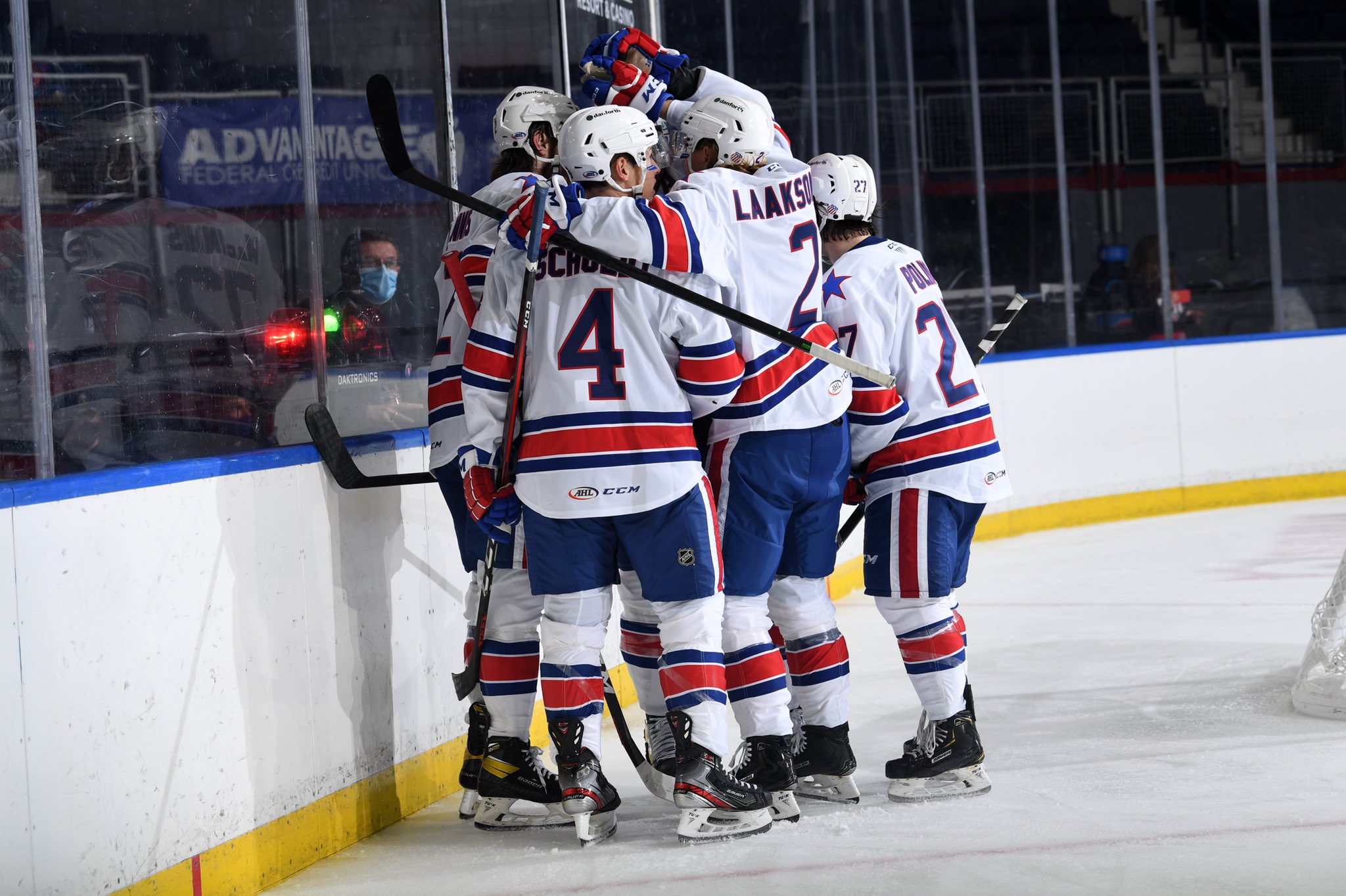 The Rochester Americans will open the 2021-22 season – their 40th season as the AHL affiliate of the Buffalo Sabres – on Sunday with a 3 p.m. faceoff in Utica.
Head coach Seth Appert returns for his second season with the club – and the first under normal circumstances. Last year, the Amerks were limited to playing 29 games against only Utica, Syracuse and Cleveland with no postseason due to the COVID-19 pandemic.
Rochester is slated to play a full 76-game schedule this year and will have some exciting Sabres prospects on the roster.
Here are five players on the Amerks to keep an eye on as the new season begins:
Ukko-Pekka Luukkonen – Goaltender
Luukkonen played his first NHL games last season and will begin the new year with the Amerks. After recording a 7-5-2 record over 14 games with the Amerks, he'll return to Rochester and have a great opportunity to earn more experience in net.
He appeared in two full preseason games, making a combined 51 saves on 61 shots.
JJ Peterka – Forward
Peterka had an impressive training camp with the Sabres, recording three goals and an assist in five preseason games. He was loaned to Rochester just before opening night rosters were due to the NHL and is now set to make his AHL debut.
"[Peterka] is a big part of what we have going," Sabres coach Don Granato said after Monday's practice. "I mentioned many times during camp, these are our final guys. We're going to use them all during the year. JJ will be in that mix, there's no doubt in my mind. … It's a different hockey experience for him. We look at that as a tremendous opportunity."
Jack Quinn – Forward
Quinn entered last season as a 19-year-old AHL rookie and produced nine points (2+7) in 15 games. His year was cut short due to a hernia injury that required surgery. He returned this fall to play in three preseason games for Buffalo, registering an assist and a shootout-winning goal.
Brett Murray – Forward
Brett Murray returns after leading the team in scoring last seasons with 20 points (9+11) in 27 games. The 6-foot-7, 228-pound forward made his NHL debut at the end of the season and had a good training camp with Buffalo, recording one goal in three preseason games.
Oskari Laaksonen – Defense
Laaksonen had a noteworthy first season in North America last year. He recorded 17 points in 28 games and was named to the AHL North Division All-Star Team at the end of the season. He appeared in one preseason game for the Sabres this fall.
Other players on NHL contracts include forwards Linus Weissbach, Matej Pekar, Sean Malone, Ryan MacInnis and Brandon Biro, defensemen Casey Fitzgerald, Brandon Davidson, Ethan Prow and Jimmy Schuldt, and goaltender Aaron Dell.
Rochester's first home game is Friday, October 22 against Syracuse at 7:05 p.m. at Blue Cross Arena.

Kyle leads sports coverage and hosts the Concrete Jungle podcast. Have a lead or question? Send it to [email protected].