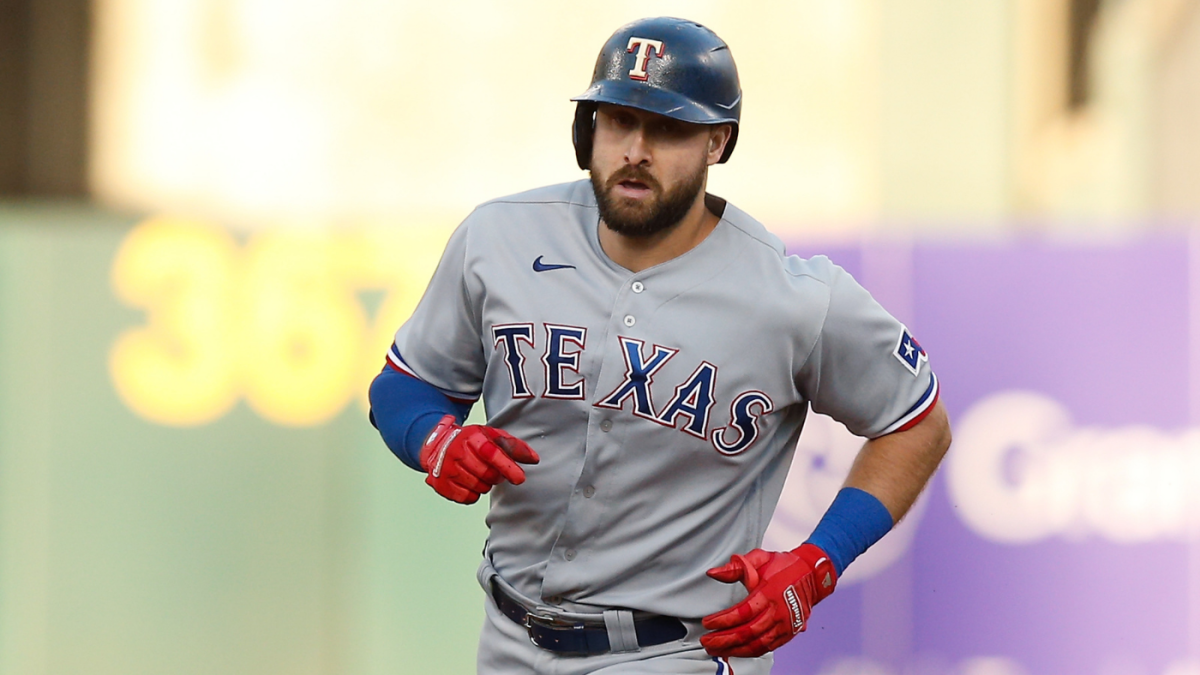 The Yankees can vividly imagine what Joey Gallo would look like in pinstripes, boasting a left-handed uppercut swing that was seemingly created to hit balls into Yankee Stadium's inviting right-field seats.
And now they can see it up close and person. The Yankees finalized a deal to acquire Gallo, left-hander Joely Rodríguez and cash considerations from the Rangers in exchange for four prospects on Thursday.
"That's a guy that you want in your clubhouse, a guy that shows up every day ready to play," Yankees outfielder Aaron Judge said. "He's going to fight until the very end. If that's true, and it comes true that we get him, I think it's going to be something special for our team."
In the deal, the Rangers received: shortstop Josh Smith (Yankees' No. 14 prospect per MLB Pipeline); second baseman Ezequiel Duran (No. 15); second baseman/outfielder Trevor Hauver (No. 23); and right-hander Glenn Otto (No. 28).
TRADE DETAILS
Yankees get: OF/DH Joey Gallo, LHP Joely Rodríguez, cash considerations
Rangers get: SS Josh Smith (Yankees' No. 14 prospect per MLB Pipeline); 2B Ezequiel Duran (No. 15); 2B/OF Trevor Hauver (No. 23); and RHP Glenn Otto (No. 28)
The Rangers will pay "most" of Gallo's remaining salary in 2021 (about $2.2 million) and the $900,000 owed to Rodríguez, a source told MLB.com's Mark Feinsand. That should allow New York, which is about $4 million below the Competitive Balance Tax threshold, to make another move prior to Friday's Trade Deadline.
The 27-year-old Gallo has hit 25 home runs this season, tied for fifth in the American League. His .379 on-base percentage is tied for sixth in the AL.
"He'd be a huge addition," New York right-hander Chad Green said. "Just facing him a few times, the first thing that jumps off is his power, his ability to leave the park to left field or right field. Any time you make a mistake, he's going to do damage with it."
A two-time All-Star, Gallo has compiled a slash line of .223/.379/.490 with 55 RBIs and a Major League-leading 74 walks in 95 games for Texas this year.
"I got a chance to talk to him a little bit at the All-Star Game," Judge said. "Having that that left-handed bat and left-handed presence … that's going to be huge, just to give the pitchers a different look. I think when we go up there with all right-handed guys, pitchers get into grooves and get into rhythms. If you mix it up a little bit and throw some lefties in there, it's going to be big for this lineup and this team."
The Yanks are averaging 4.15 runs per game, and their 415 runs scored rank 14th in the AL, ahead of only the Rangers (391).
Gallo is under team control through 2022, earning $6.2 million this season and arbitration-eligible for next.
His acquisition could have been the motivation behind a trade completed late on Tuesday, when the Yanks freed approximately $1.4 million and two 40-man roster spots by dealing pitchers Luis Cessa and Justin Wilson to the Reds for a player to be named later.
"I really didn't know where we were going with that," Judge said. "The Reds got two amazing pitchers and two amazing clubhouse guys in Cessa and Wilson. They've done a lot for us over the years. They're going to be missed."
Gallo has played mostly the corner-outfield spots — winning an AL Gold Glove Award as a right fielder in 2020 — during his seven-year big league career, also appearing at first base, third base and center field. With Judge entrenched in right field, the Yanks would likely use Gallo mostly in left.
"We were just talking about it a little bit on the bench," Yankees infielder DJ LeMahieu said. "We didn't know if it was official or anything. But I was like, 'Yeah, that'd be awesome if we could get a guy like that.' It would mean a lot for us."
As for the prospects the Yankees are sending to Texas, all four have boosted their stock in 2021 and would have ranked higher on MLB Pipeline's Top 30 when the list is revamped in August. Smith, Duran and Hauver all have potentially difference-making bats, while Otto finally has stayed healthy and dominated with his fastball and curveball, posting a 115/17 K/BB ratio in 75 2/3 innings between Double-A and Triple-A.

Kyle leads sports coverage and hosts the Concrete Jungle podcast. Have a lead or question? Send it to [email protected].