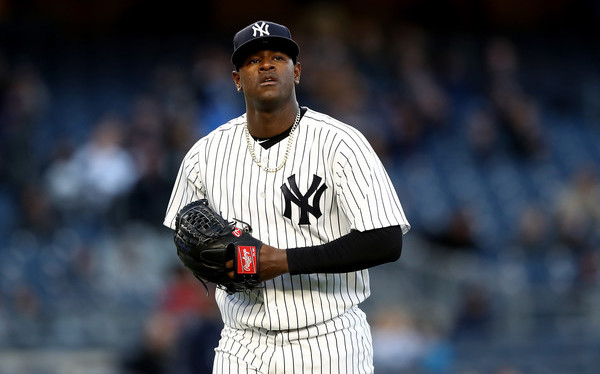 Luis Severino has been progressing well in his rehab post-Tommy John surgery. And manager Aaron Boone believes the Yankees' starter could be getting back on the mound for games soon.
"It's potentially as early as the end of next week," Boone told reporters on Sunday. "I think he throws his next live, which might be three ups, simulated game today or tomorrow. He threw his bullpen in between. Basically, he's on a six-day rotation right now."
So, if those "three ups" from Sevy go well, Boone believes the next time around in that six-day rotation could be his first rehab game. That would most likely be with Low-A Tampa.
Rehab games are the final step before returning to the big leagues. Severino would likely have to take a trip to Triple-A Scranton/Wilkes-Barre after Low-A ball to face better competition.
Severino, who suffered his injury during spring training last season, hasn't pitched in a big league game in well over a year. With Corey Kluber out now for a couple months at least, Severino returning ahead of schedule — he was supposed to be around the summer time — would be huge for the pinstripes

Kyle leads sports coverage and hosts the Concrete Jungle podcast. Have a lead or question? Send it to [email protected].