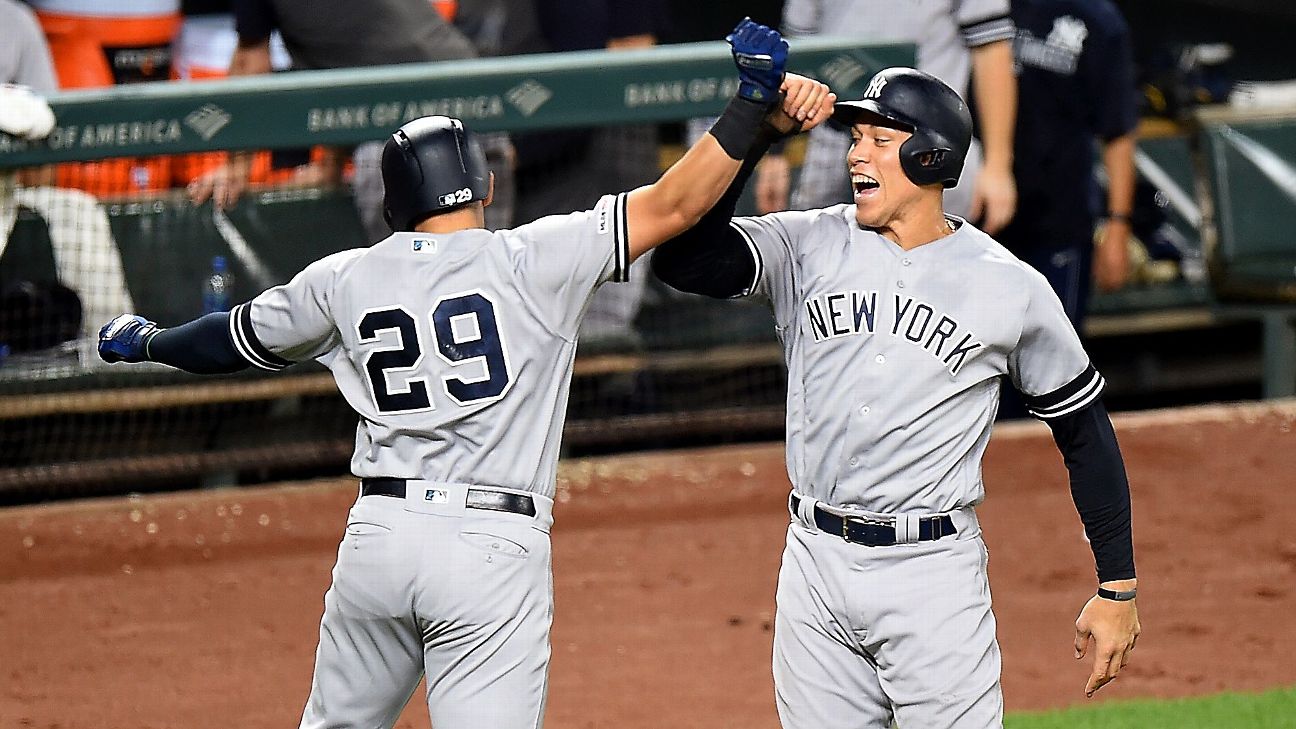 The Yankees' lineup moved closer to full strength on Saturday, with Aaron Judge and Gio Urshela offering manager Aaron Boone thumbs-ups for the club's game against the Rays at Tropicana Field.
Judge was absent for two games this week with soreness in his left side, an issue Boone hesitated to characterize as an injury. Urshela missed Friday's 10-5 loss to Tampa Bay due to lingering effects from a COVID-19 vaccination, which numerous Yankees players and coaches received on Wednesday at Yankee Stadium.
"It's just always good to write [Judge's] name in there," Boone said. "I'm just trying to be cautious here with him early, not wanting this to become something that does become an issue. Hopefully we're able to get past that and through that in these days ahead."
Judge homered in the last two games of New York's homestand against the Orioles, including a 3-for-5, four-RBI performance on Tuesday during which he launched a long three-run homer.
After taking batting practice before Friday's game at Tropicana Field, Judge told Boone that he felt good enough to play, according to Boone. The manager replied that he wanted to hold Judge back one additional day.
"It's a lot of conversation, a lot of evaluation from the strength and conditioning to training staff, to conversations he and I have," Boone said. "I would say if they were playoff games, he probably would have been in the lineup."
Boone said he was not surprised that Urshela returned so quickly from the COVID-19 injured list.
"We kind of expected this," Boone said. "He was a little under the weather along with a couple of other guys on [Thursday's] off-day. By the end of the game yesterday, he was feeling himself again and then [Friday] night felt good. I just saw a smiling face; he walked by my office about 30 minutes ago with a thumbs-up, so I feel like he's out of the woods and ready to go."

Kyle leads sports coverage and hosts the Concrete Jungle podcast. Have a lead or question? Send it to [email protected].