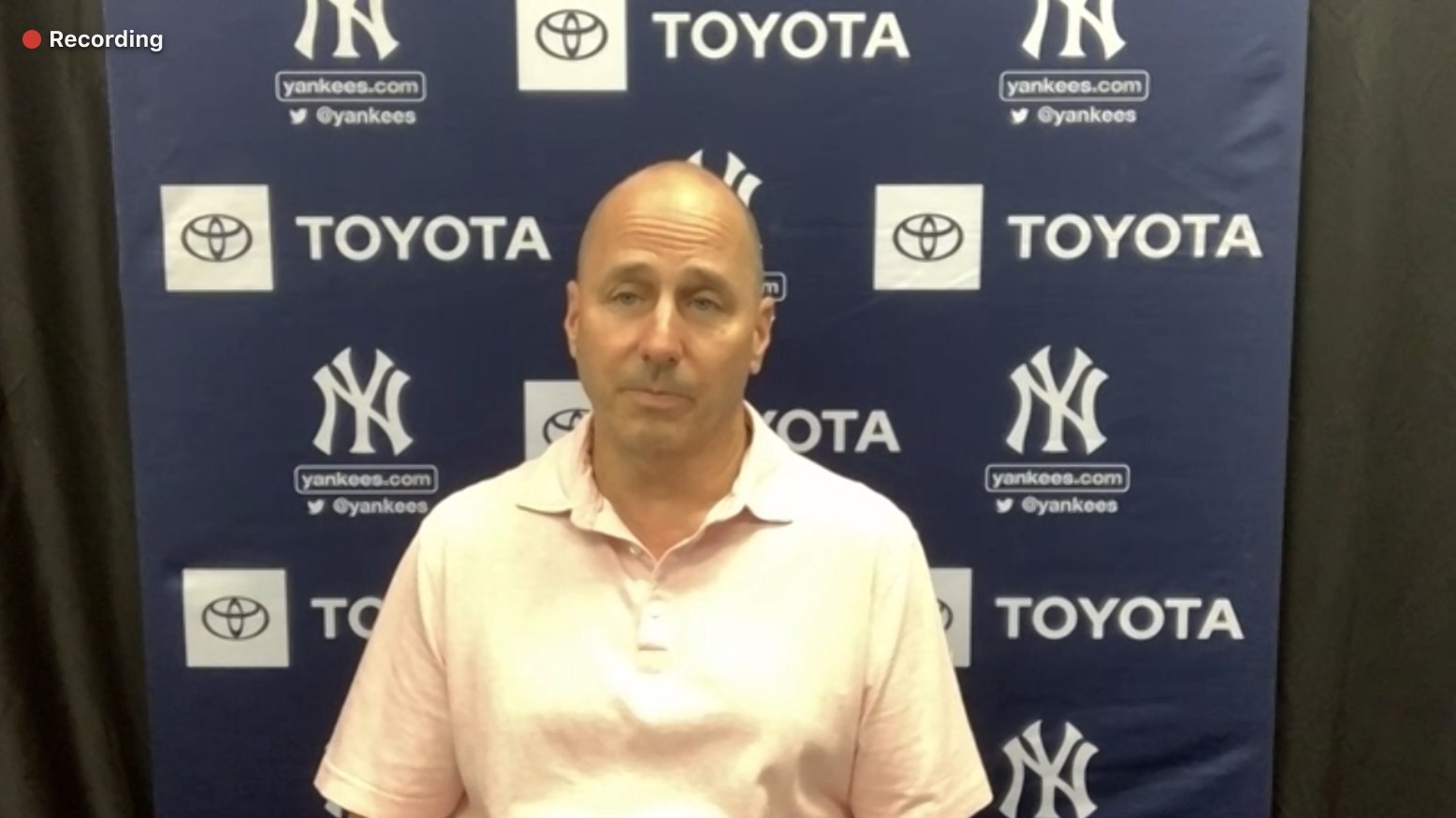 Following the final game of the Yankees' spring training schedule on Monday, general manager Brian Cashman met with the media for the final time before the team breaks camp and heads north for Thursday's Opening Day matchup against the Blue Jays at Yankee Stadium.
After putting the minds of Yankee fans at ease, saying that Aaron Judgewould be fine for Thursday's opener, Cashman provided updates on how the final roster is shaping up among a host of other topics.
ON THE FINAL ROSTER 
"Tyler Wade is on and Michael King is on. That puts us at 25, and we have a 26th and final decision. That will be made here at some point but probably not [Monday]. Basically, it'll be who is going to replace [Justin] Wilson once he's officially [on the IL]." (Cashman also announced that Derek Dietrich and Robinson Chirinos had agreed to minor-league assignments, while they also released Jhoulys Chacin).
ON JUSTIN WILSON 
"Wilson is going to start the season on the [IL]. He's doing really well, but it's one of those circumstances where we mapped out getting him his bullpens, and now his live sessions. So that'll bleed into the start of our season. Physically he feels like can go, but in terms of making sure we got him fully finished off, we're not going to let Opening Day dictate that."
ON ZACK BRITTON
"I don't really have a timeframe. We're certainly hoping to get him back, whether it's late May or early June. I know he's doing well as he's going through his post-surgical physical therapy, but there's nothing more to add on him."
ON GARY SANCHEZ 
"He's come in in great shape and worked his tail off. On the offensive side, you saw more results early on in camp, less results late in camp. Defensively, he worked his tail off and I heard nothing but praise from our catching coach. When we made the commitment to bring him back and continue that investment, that was a statement that we believe he can continue to be a No. 1 catcher in this game, especially with the bat. The true test comes in the regular season, so we're going to find out."
Brian Cashman evaluates Gary Sanchez's Spring Training and what he looks forward to in the 2021 season:

"We believe and hope he can continue to be a #1 catcher in this game" pic.twitter.com/XXHfMLhlvC

— Yankees Videos (@snyyankees) March 29, 2021
ON HOW COREY KLUBER LOOKS
"I've never had the chance to see this much of him. Most of what I'd seen had been from afar and limited scouting reports, but not too dissimilar [from his time in Cleveland]. Maybe a slight drop in velo, but that's something that's to be expected as his spring training norm. But he's come as advertised. A silent assassin, and someone who goes about his business in a very professional way."
ON THE DURABILITY OF THE PITCHING STAFF
"The durability is a question, and we've got a lot of those. Whether it's Jameson Taillon, whether it's Corey Kluber, whether it's Domingo Germán because he missed so much time. Even if you're a reliever coming off of a 60-game COVID season where you only pitched 18 innings. How are they going to be approaching things has they head towards 40 or 50 innings? I think it's a fair question for anybody and everybody."
ON GIANCARLO STANTON
"I just know that when we can keep him on the field he's one of the scariest hitters in the game. We've been able to keep him on the field throughout this spring. I know he looks good, but he's the type of athlete when he's playing, of course he's going to look good. When he's on the field, he stands out."
ON MASAHIRO TANAKA REPORTEDLY RETURNING TO JAPAN DUE IN PART TO FEELINGS OF DISCRIMINATION
Over the weekend, reports surfaced out of Japan that Tanaka opted to return to Japan due in part to feelings concerning the safety of himself and his family living in the United States.
"Obviously, racism is not welcome anywhere and I feel horrible, obviously. I'm aware of the article, either he or his family may have experienced something. I can't speak to what happened, because he did not share that with me. But obviously there's no place in this world for racism, so it's heartbreaking to hear stories like this whether it's inside the game of baseball or outside the game of baseball."
"There's no place in this world for racism, so it's heartbreaking to hear any of these stories come out"

Brian Cashman comments on the reports that Masahiro Tanaka moved back to Japan to protect his family from racism in the U.S. pic.twitter.com/VtMU7Ud1Cn

— Yankees Videos (@snyyankees) March 29, 2021
ON FANS RETURNING TO YANKEE STADIUM
"I'm sure it's going to be as loud as can be, even though it will be at a lower capacity of fans. It's been a long time coming. About a year ago, we were dealing with this shutdown. And now with the momentum and slowly expanding, we're ready to see that movement in the stands with people positively or negatively reacting to the play on the field. We want anyone walking into Yankee Stadium to have the most enjoyable experience and memories of a lifetime. Baseball is a part of our culture here in the United States, where families bond and grow over our sport. We look forward to reconnecting those types of experience and building further memories."
ON IF THERE WILL BE A TOUGH DECISION TO MAKE ON JAY BRUCE WHEN LUKE VOIT RETURNS
"I hope so. I want him to light it up. And then we'll have some more decisions to make. I'd rather have those decisions to make. I've done what I call the Statue of Liberty play. Give me your tired, your weak, your poor, your hungry. Whatever they've got on the sign on the Statue of Liberty there, you're just scrambling and you'll take anything if you can put a uniform on it. That's not a good spot to be in. We have a 26-man roster right now, and I think we have more than 26 players who can represent the New York Yankees on a daily basis and that's a better place to be than the alternative."

Kyle leads sports coverage and hosts the Concrete Jungle podcast. Have a lead or question? Send it to [email protected].