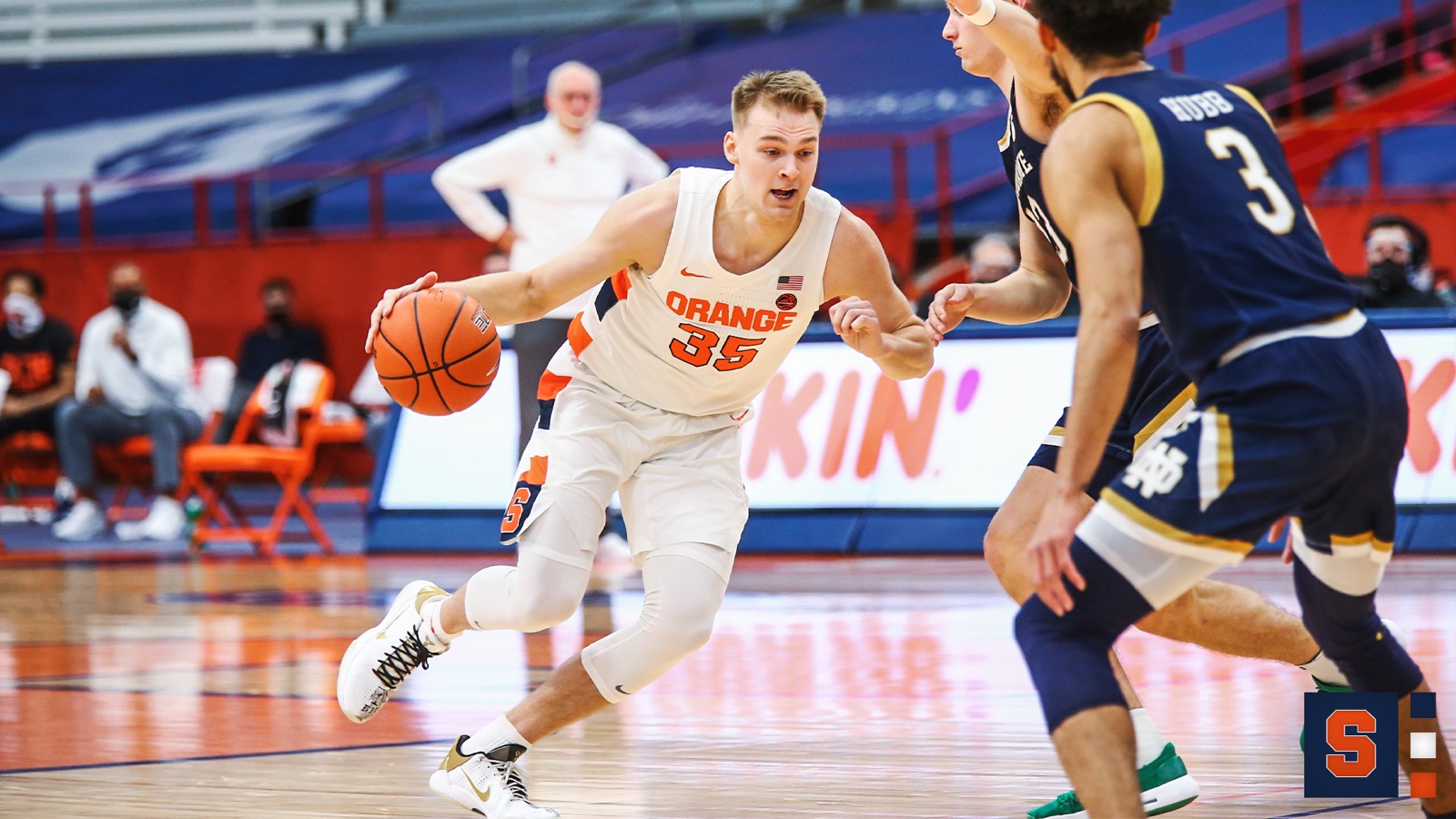 Syracuse pulled off a stunning 75-67 come-from-behind victory over Notre Dame on Saturday afternoon at the Carrier Dome.
Syracuse trailed 46-32 at halftime, fell behind by 20 points early in the second half and still faced a 58-41 deficit with just over 13 minutes remaining in the game.
But Syracuse coach Jim Boeheim went to his fullcourt press and inserted Kadary Richmond and Robert Braswell into the lineup.
The moves seemed to jump-start the Orange.
Buddy Boeheim and Quincy Guerrier hit back-to-back 3-pointers as SU narrowed the margin to 60-59 with 8:26 remaining. Boeheim drained another 3 to give Syracuse its first lead of the game at 62-60.
Marek Dolezaj's two free throws gave Syracuse a 64-60 lead at the end of a 23-to-2 run.
Notre Dame went over five minutes without scoring a basket during Syracuse's rally.
Boeheim finished the game with a career-high 29 points on six 3-pointers. His previous best was 26 points, which he registered against both Virginia Tech and Georgia Tech last season.
Dolezaj contributed 18 points and four assists.
Syracuse's record improved to 13-6 overall and 7-5 in the ACC.
The win was important for Syracuse in that it was a game the Orange could ill afford to lose.
Notre Dame fell to 9-11 for the season and 6-8 in the conference.
GAME RECAP LINKS:
GAME HIGHLIGHTS:
JIM BOEHEIM'S POSTGAME PRESS CONFERENCE:
MEDIA:
Yeah you can call it a comeback. pic.twitter.com/ytwiKz3gha

— Syracuse Men's Basketball (@Cuse_MBB) February 20, 2021
They don't say Cardiac 'Cuse for nothing. SU storms back from down 20 to beat Notre Dame and move to 13-6, 7-5 in ACC & 11-1 at home. SU has won six of its last eight and three in a row to hang onto its NCAAT hopes. Boeheim had a career-high 29pts. Quincy 14 boards. Dolezaj 18pts

— Matthew Gutierrez (@MatthewGut21) February 20, 2021
First half ? pic.twitter.com/iZ8p4CCjNY

— Syracuse Men's Basketball (@Cuse_MBB) February 20, 2021
---
GAME PREVIEW:
Syracuse returns home on Saturday to take on Notre Dame after a positive test, subsequent quarantining, and contact tracing within the Louisville men's basketball program led to the postponement of Wednesday's contest with the Cardinals. Tip off in the Carrier Dome is slated for 2:00 p.m.
Syracuse (12-6, 6-5) last took the court on Saturday, February 13, when all five starters scored in double figures en route to beating Boston College, 75-67. Joseph Girard III led the Orange with 16 points, all of which were scored in the first half. Quincy Guerrier contributed 12 points and led Syracuse on the glass with nine rebounds, finishing a board shy of his eighth double-double this season.
Like Syracuse, Notre Dame also had a game canceled on Wednesday due to a positive test, subsequent quarantining, and contact tracing within the Clemson men's basketball program. The Fighting Irish last saw the court on February 14, when they defeated Miami, 71-61. The victory improved Notre Dame's record to 9-10 overall and 6-7 in conference play.
GAME PREVIEW LINKS:
MEDIA:

Kyle leads sports coverage and hosts the Concrete Jungle podcast. Have a lead or question? Send it to [email protected].