Still Fighting for Women's Equal Rights: Three Years Later, a Rally at Freedom Plaza
On Saturday, thousands mobilized across America as a part of the Women's March movement amid a global pandemic even in the nation's capital.
In 2017, the first Women's March occurred shortly after the inauguration of President Donald Trump. The Women's March became a national movement, a tradition that had been kept each year after the initial one.
Despite a global pandemic, this year is still no exception. In the nation's capital, women and men stood side by side, shoulder to shoulder with masks on to prevent the spread of COVID-19.
A rally had been held in Freedom Plaza, just a few blocks away from the U.S. Capitol building that can be seen from the distant horizon.
Activists made their motivations for taking risks out in public abundantly clear.
It was always about calling a referendum on President Donald Trump and his Supreme Court Justice nominee Amy Coney Barrett, according to Sunsara Taylor, a co-initiator of Refuse Fascism, a national grassroots movement dedicated to dethroning Trump and Vice President Mike Pence ahead of this election.
"We're here to stand up today against the Trump-Pence regime, against their ramming through of the confirmation of Amy Coney Barrett and we're here to organize people who came out to the Women's March to recognize the need that we need to stay in the streets," Taylor exclusively told FingerLakes1.com.
Refuse Fascism has been mobilizing in Washington, D.C. for quite some time and recently appeared at the vigil for the late Justice Ruth Bader Ginsburg.
Taylor noted that Refuse Fascism has been overseeing their flock of volunteer handmaidens to stand in silence, whether inside Freedom Plaza or at the front steps of the Supreme Court.
The handmaidens have been appearing out in front of the Supreme Court sporadically for the last week while the Supreme Court confirmation hearings for Barrett have continued.
The rally started at noon and several speakers representing national grassroots organizations riled-up the crowd, encouraging them to turn-out and vote ahead of this Election Day against Trump while also protecting women's health care and reproductive rights at the highest court in the land.
The marching officially began a few hours later at 2 p.m. as thousands flooded out of Freedom Plaza heading toward the Capitol Hill and the Supreme Court of the United States.
Returning to the Court: Not this Woman's First Rodeo
Claude Guillemard is just one of the thousands who were in attendance on Saturday.
Guillmard, originally a French national who later became a U.S. citizen in 2012 and now lives in Baltimore drove all the way to Washington, D.C. just for this special occasion.
But this isn't her first time occupying the streets of the nation's capital, according to Guillemard.
"I'm here, it's not the first time. I was here at against the [Brett] Kavanaugh nomination," exclusively told FingerLakes1.com.
Now she's back, and this time it's about airing her concerns about the Supreme Court once again as the confirmation hearings for Amy Coney Barrett carry over from last week.
Unlike Kavanaugh, Guillemard claims that this is not the end, but only the beginning of a new movement against President Trump and his associates in Senate Majority Leader Mitch McConnell and Barrett herself.
"This is just the beginning. We're gonna be in the streets, because we have the numbers for us, and we're gonna make sure we're out there," she insisted.
As for the pro-life advocates who are supporting Barrett and sharing the same public space as them, Guillemard mentions that these altercations with the other side are "useless" but doesn't shy away from noting that protesters still need to show up as a visible affirmation against the degradation of democratic values. 
"We know, of course, that it is useless, this kind of dialogue in this very explosive environment is useless. But on the other hand, it is really a matter of saying, 'Yes, they are here. They're very powerful' and people who are hijacking the Constitution and our institution feel empowered. But the numbers are on our side and that's what we need to be convinced of that they currently have the power, but there are more of us, and that's what happened today," she emphasized. 
Her final call to action is a simple one, asking for her fellow citizens to get engaged in social activism, not just now, but even after the election officially ends. 
"Please be ready to get in the streets and it has to be nonviolent," she concluded. 
A Family Affair: Pro-Life Advocates Hassled by Crowds
But not all of the demonstrators were civil and respectful. Some drag-out confrontations ensued, which even ended in physical altercations. 
Sofía is a senior at the Catholic University of America and originally from Miami, Florida [photographed above], coming from a family full of Cuban American immigrants.
She sees firsthand the significance of freedom and the right to holding differing opinions, especially political values, a right that isn't inherently granted to the people of Cuba. 
"We know what it is to be blessed by getting to be in the United States of America. We are so grateful to live in this country because this truly is the land of freedom. The fact that we are all here today shouting and saying our minds is a testament to the rights that we have in this country," Sofia told FingerLakes1.com.
She's exercising her freedoms even though she and her family have faced severe scrutiny by some pro-choice marchers while standing outside of the Supreme Court on governmental property, which lies entrusted to the entire public.
Her mother had been drowned with water on multiple occasions from a Refuse Fascism volunteer dressed as a handmaiden, who poured bottles full of liquid upon her.
As a witness to her mother being disrespected out in public, she and her brother joined together and stood beside one another for the whole afternoon and personally considered whole situation as "very disturbing."
Speaking from personal memory, Sofia recalls attending other pro-life marches in Washington, D.C. and she's experienced similar situations just like her mother.
"It's disturbing but not shocking because it's happened consistently to my mom and me and other pro-life women who I know have gone to these rallies, marches," she added.
She and her mother weren't alone in their struggle either. When the Women's March protesters finally reached the steps to the Supreme Court, pro-life advocates stood along the curbside with full-body posters of fetuses.
Dueling chants of RBG and ACB echoed throughout Capitol Hill. Pro-life and pro-choice supporters were brushing shoulders together with each other within close quarters and not socially distanced among the sea of protesters. 
Although Sofia's family had not been affiliated with the organizing efforts of the March for All Women in-part by the Independent Women's Forum, she still considers Barrett to be an exceptional nominee despite not being a Trump supporter herself as a registered independent.
"So, just from the legal perspective I'm here to support Amy Coney Barrett. On top of that, she is qualified for this post. She has no dirt on her background and she's has proven that. She's extremely intelligent. She knows the laws of the lands… I really don't think you can get a better justice on the court than that," she admitted.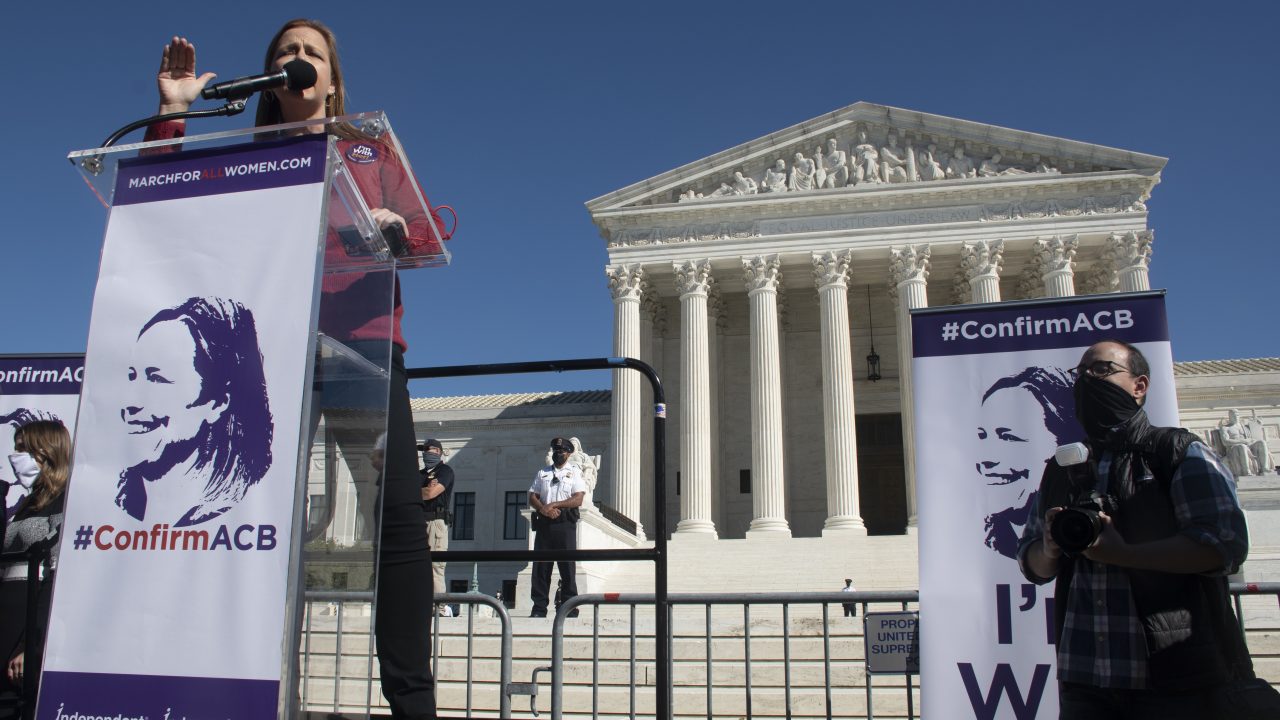 A stage had been arranged for the pro-life advocates to speak and one of the Women's March protesters actually hijacked the podium with a Biden-Harris sign in hand. 
Shortly after, a pro-Barrett supporter charged the stage with her own sign, attempting to tackle the other woman, but she eventually stepped-down. 
That same pro-life woman's March for All Women sign got ripped-up by those protesters who surrounded her from all asides.
On the other side of the area in front the gated plaza of the Supreme Court, a progressive stage had never been commandeered by any oppositional protesters throughout the entire duration that afternoon after the initial march. 
In spite of her own mistreatment among personal confrontations with pro-choice activists, she is still actively trying to speak out, creating dialogues between her and those whom she's differ politically on issues like abortion. 
"Finally, even if you don't change your mind, even if you decide that you completely disagree with what I'm saying, at this point in time, realize that there are humans with dignity on both sides of the fence here. In America, we've always had disagreements, and we will continue to have disagreements, but the way forward is through civil dialogue on both sides and not screaming and shouting and dancing water and all of those things. There are people on the other side who are willing to talk and so please seek out those people because I'm seeking you out," she ended. 
---
More Photos From The Day Below