After Tuesday's stunning 4-0 vote of 'No Confidence' by the Seneca Falls Town Board — questions loom about how the Town of Seneca Falls arrived at adopting a resolution, which took apart Town Supervisor Greg Lazzaro's tumultuous tenure piece-by-piece.
The resolution was introduced by then-Deputy Supervisor Lou Ferrara, and seconded by Councilman Vic Porretta. While it would be passed unanimously, after approximately 30 minutes of debate at the meeting — that discussion continued on Wednesday — as Ferrara, Lazzaro, and Councilman Douglas Avery all weighed-in with additional concerns.
Reaction to the session on Tuesday was swift on Wednesday. "The community is a mess right now," one resident said. They chose not to be identified, voicing concerns about the tumultuous state of politics in Seneca Falls. "I really hope things improve. It's hard to imagine things getting much worse than they did Tuesday — but I've heard people say that before."
How did the Town of Seneca Falls get here?
Supervisor Lazzaro said in a lengthy rebuttal to the resolution introduced by Councilman Ferrara that the catalyst was an agreement between Seneca County and the Town of Seneca Falls — signed by Ferrara. "He should not have signed that agreement," Lazzaro said during an exclusive one-on-one with FingerLakes1.com. That agreement was the final 'missing puzzle piece' to bring the State Route 318 Sewer Corridor Project to completion. A sewer project, which was as much controversial at the County-level, as it would be potentially-beneficial to users along Route 318.
In Lazzaro's view, the benefits were not clear to the Town of Seneca Falls — who would bear most-responsibility associated with the expansion of sewer service. He had a variety of concerns — ever since that final agreement was placed on the table by Seneca County in early-2019.
In November 2018, the Seneca Falls Town Board authorized the Supervisor to sign agreements with the County. A meeting was held between officials with the Town of Seneca Falls and Seneca County, which included attorneys, engineers, and elected officials. That session was set to address concerns with language inside the proposed 'agreement', which the Supervisor was authorized to sign.
That agreement was signed in January, which prompted another agreement to be presented in May. Supervisor Lazzaro contends that this is when things became 'complicated'.
"Once again, myself, the engineers and the Town Attorney had some questions on the language; I tried on various occasions to organize meetings to speak about our concerns, to no avail," Lazzaro explained.
Fast-forward to late-July — when Lazzaro says Seneca County Attorney David Ettman contacted Councilman Ferrara. Prior to Tuesday's meeting — Ferrara retained the title 'Deputy Supervisor', which gave him Supervisor's authority in Lazzaro's absence. "While I was on vacation, Mr. Ettman contacted Deputy Supervisor Lou Ferrara and asked him to sign the agreement," Lazzaro recounted. "Without any further discussion; and not heeding the advice of our engineers — Mr. Ferrara signed the agreement."
Supervisor Lazzaro contends that Ferrara had no right to sign the agreement.
"Mr. Ferrara did not take into account the future financial standing of the Town of Seneca Falls," Lazzaro added. Pointing out that his intent was to speak about the proposed agreement at the Town Board meeting on Tuesday. "However, at this point, the agreements have been put into place," Lazzaro continued. "I will be making a complaint regarding Mr. Ettman's unethical conduct in accepting the signatures of Mr. Ferrara."
Immediately after the rebuttal was read at Tuesday's session — Ferrara was stripped of his role as 'Deputy Supervisor'. Both Avery and Ferrara were also stripped of their committee assignments until further notice. "Deputy Supervisor Ferrara needed to take his role seriously; he has not done this," Lazzaro continued. He pointed to a second incident involving lawn signs, which were inappropriately removed from personal property during another Lazzaro absence.
Ferrara contends that communication, or the lack thereof, is a major concern. He also voiced concerns about Supervisor Lazzaro's mental stability, and overall ability to lead the Town of Seneca Falls. "Employees are afraid of him, the public is afraid of his actions, and We, the Town Board, have no confidence in his ability to lead," Councilman Ferrara said in a phone call with FingerLakes1.com on Wednesday. "I'm not seeking another term, but I can't watch the Town go down this path under his leadership while I'm in office."
Councilman Avery echoed those sentiments in a statement emailed to FingerLakes1.com on Wednesday. "Last night's no confidence vote against Supervisor Lazzaro was the strongest message the Town Board could send that the actions, leadership abilities and management style of the Supervisor are detrimental of the Town of Seneca Falls. While important, the incident where he left the town vulnerable to legal action by the county was only the 'straw that broke the camel's back'. His treatment of employees, the town board and county representatives have all been unacceptable. His lack of communication on important issues means that, more often than not, when he appears to be speaking for the Town Board, he is only giving his own opinion," Avery explained. "This was a decision the four remaining board members made together. No one needed to be convinced. We wouldn't have taken this serious action unless we were all together."
Avery says that the resolution was an attempt to get thing 'back on track' for the remainder of the year, as Supervisor Lazzaro comes to the end of his only term.
Lazzaro was not endorsed by the Republican Party for a second run in November's election. The party selected Mike Ferrara, a longtime Seneca Falls resident, as the candidate to run against Avery, who is the Democrat. "There are five months left in [Supervisor Lazzaro's] term. I hope we can get back on track," he concluded.
"I do not take my action of removing Mr. Ferrara and Mr. Avery from Town Committees lightly," Supervisor Lazzaro further explained. "I believe that they have worked to the detriment of our Town, despite my continued effort to stay focused on the issues. We must find balance and this board refuses to go in that direction."
Councilman Ferrara says that Lazzaro does not have the right to 'remove' any councilor from their committee assignments. While the 'Deputy Supervisor' distinction is one that is handed out by the Town Supervisor — Ferrara says he will fight Lazzaro's effort to force removal unilaterally.
What's next for Seneca Falls and Seneca County?
As the Route 318 Sewer Corridor 'goes live' — taxpayers and officials have questions. Is the Kingdom Road pump station capable of enduring additional stress or burden in form of additional load? This is the pump station that would have been assisted with a new sewer line down the Ludovico Trail.
However, after an intense legal battle — activists prevented the Town from going down that path. After that decision, no alternative plan was discussed, or set into action — leaving residents curious about the long-term stability of the Kingdom Road Pump Station.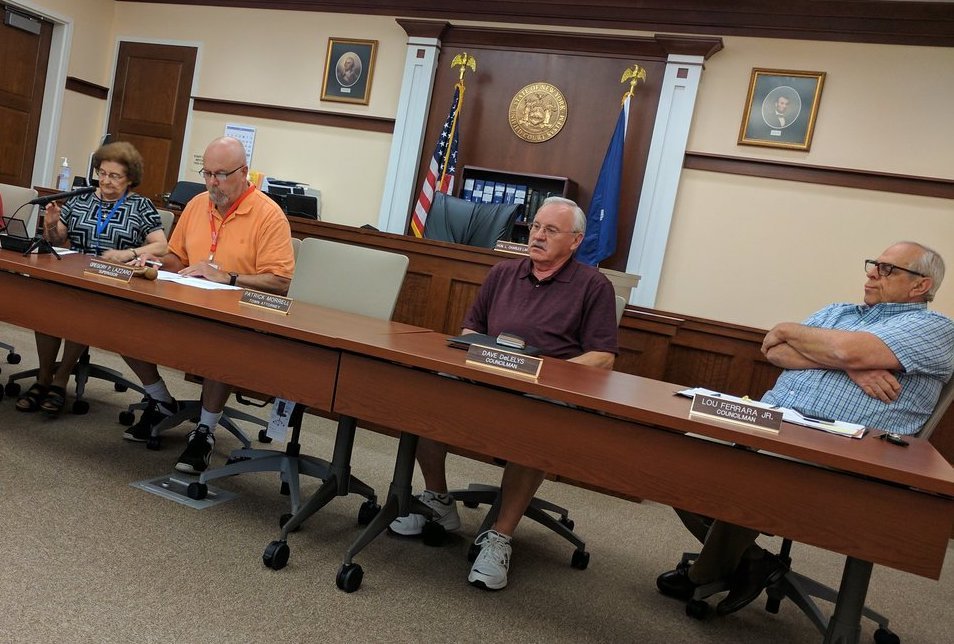 Another question involves the final agreement, which prompted Lazzaro's response; and the vote of No Confidence. While both sides contend that they are correct — the Supervisor alleges that Ferrara had no right to sign the agreement; and Ferrara, as well as Seneca County would appear to argue that he did. The question being that, if the agreement were not legitimate — why else would it have been accepted? Could this create additional legal exposure to the Town or County in the future?
The Town's engineering firm, Barton & Loguidice, has led most of the projects up for debate in Seneca Falls. They have also led the County's Route 318 sewer expansion, which was a controversial item from the start. The question being: What responsibility will they bear in this process? Were the decisions they made — if the Kingdom Road Pump Station is found inadequate to handle the added load — appropriately processed and vetted?
Furthermore, it highlights a broad question about municipal projects and how they process when multiple jurisdictions could be impacted. How could the Town of Seneca Falls and Seneca County both get to a point where they are relying on opposing projects to get across the finish line simultaneously — if one is dependent on the other? How could a Town or County move forward with a project in good faith on behalf of taxpayers — not having any objective, third-party verifications about appropriateness, or completion of the 'other' project?
In this case, the two projects would be an expanded sewer line to assist the Kingdom Road station, as well as the Route 318 expansion.
Several questions, not a lot of answers, and a broader issue in Seneca Falls that goes well-beyond the future roles of two electeds that are not currently seeking another term.
---

This content is brought to you by the FingerLakes1.com Team. Support our mission by visiting www.patreon.com/fl1 or learn how you send us your local content here.