No confidence.
At Tuesday's meeting of the Seneca Falls Town Board – a 'no confidence' resolution was introduced by Councilman Lou Ferrara, a Republican. That resolution was seconded by Vic Porretta, another Republican, which launched a myriad of discussion and debate about Seneca Falls Town Supervisor Greg Lazzaro.
"Seneca Falls Town Supervisor Gregory Lazzaro has repeatedly treated town employees and elected officials with disrespect, his interaction often exploding into tirades filled with obscenities, throwing objects, and other examples of disrespectful and unprofessional behavior," the resolution begins. "Supervisor Lazzaro has frequently acted with obvious disrespect to the citizens of Seneca Falls, as witnessed in these monthly public meetings, and has frequently allowed his personal feelings toward town board members, department heads, and other employees to impair his ability to govern fairly and in the best interest of the town."
The resolution continues, "Supervisor Lazzaro has failed to represent the town's best interests in its dealings with Seneca County and the Seneca County Board of Supervisors, and has frequently used obscenities and other inappropriate language in his phone conversations and emails with various county officials, and placed the town in legal jeopardy by departing for an extended vacation without attending to important town business, and then attempting to prevent other town representatives from acting in his absence."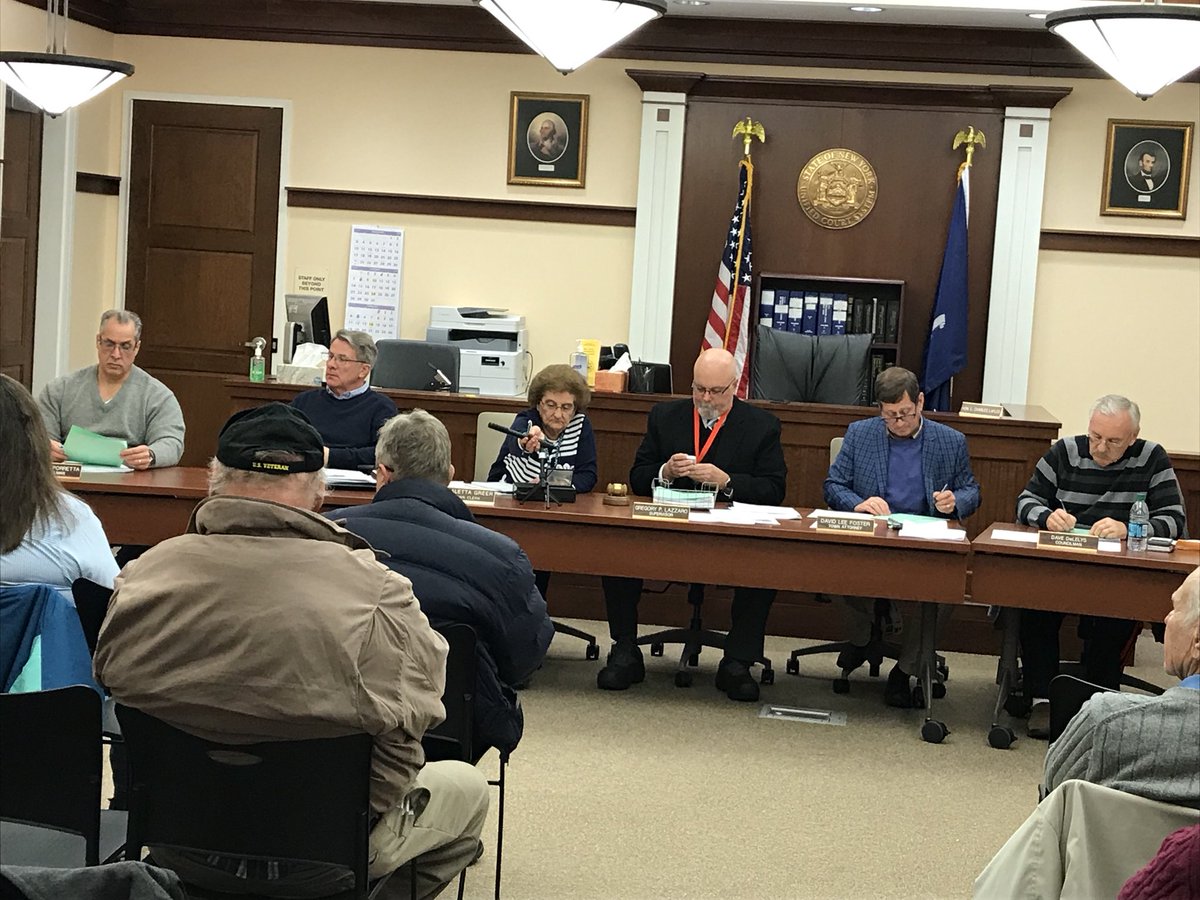 The resolution, which was ultimately approved 4-0 states that Supervisor Lazzaro has neglected to maintain a productive work schedule for the past several months, disappearing for several extended periods and neglected to maintain an effective working relationship with Deputy Supervisor Ferrara.
"Supervisor Lazzaro continues to demonstrate that he does not possess the characteristics needed to effectively meet the obligations of the office," the resolution continues.
It concludes that Supervisor Lazzaro no longer has the confidence of the Seneca Falls Town Board.
Immediately following the introduction of the resolution – Supervisor Lazzaro issued a four page response. While that written response was not obtained by FingerLakes1.com – he contests the assertions made inside it.
Supervisor Lazzaro, a Republican, who did not receive the support of the Republican Party for another term as Town Supervisor earlier this year – then revoked Ferrara's title as 'Deputy Supervisor'. He also stripped Douglas Avery, a Democrat candidate for Town Supervisor in this year's election – of his committee assignments, along with those of Councilman Ferrara.
"Last night's no confidence vote against Supervisor Lazzaro was the strongest message the Town Board could send that the actions, leadership abilities and management style of the Supervisor are detrimental of the Town of Seneca Falls. While important, the incident where he left the town vulnerable to legal action by the county was only the 'straw that broke the camel's back'. His treatment of employees, the town board and county representatives have all been unacceptable. His lack of communication on important issues means that, more often than not, when he appears to be speaking for the Town Board, he is only giving his own opinion," Councilman Avery said Wednesday morning in a statement to FingerLakes1.com. "This was a decision the four remaining board members made together. No one needed to be convinced. We wouldn't have taken this serious action unless we were all together. There are five months left in the Supervisor's term. This was an attempt to get things back on track for the rest of the year. I hope we can do that."
Supervisor Lazzaro responded on Tuesday night with a written rebuttal to the claims laid out in the 'No Confidence Resolution', and elaborated further on those remarks in an interview with FL1 News. "Throughout my term I have advocated for transparency, stability, and let my arguments stand on factual grounds," Supervisor Lazzaro said. "Last night was the worst of politics. It hurts on a personal level – but I won't engage in that kind of politics. I want this Town to move forward on a positive note. Personal attacks shouldn't happen."
Lazzaro says that his work ethic and dedication to the Town of Seneca Falls speak for the kind of leader he has been, and further noted that he considered many of the clauses in the unanimously passed resolution to be 'untruths'. "Last night's resolution was wrong. I'm not thin-skinned. I don't engage in activities that hurt the people, or hurt this town."
The Supervisor also noted that Tuesday's resolution would be a 'significant blow' to economic development and revitalization efforts in Seneca Falls. "The resolution hurts the Town and any economic recovery that could have been possible in the future," Lazzaro continued. "If there was concern about my actions or abilities as Supervisor – those should have been voiced behind closed doors."
"I spend a lot of time working at the Town Offices, providing customer service for those who come there for guidance or help, and when I do go away – I let those around me know," Lazzaro added. "I've never left – 'for long periods of time' without letting Council know where I am, or for how long I'll be gone."
Supervisor Lazzaro emphasized his desire for the Town Board to continue working together. An item that was also emphasized by Councilman Avery. It's unclear what that will look like for this Town Board – especially since committee assignments had been revoked. Lazzaro also noted that he has no plans to resign, or leave office, as result of this, or any other actions taken by the Town Board.
Councilman Ferrara says that Supervisor Lazzaro's actions have gone too far, but that the remainder of the Board is willing and able to work together. "We have employees who are afraid of him. Residents are afraid of him. The Town of Seneca Falls deserves better leadership. [Supervisor Lazzaro] isn't providing it," he said.
Ferrara said that his focus for the remainder of his term would be delivering the best possible outcomes for the Town. "We need real leadership in this Town, and I want to focus on things that will help build this community. Unfortunately, what we've gotten for the last several years hasn't been it."
The Town Board will meet again for a regularly scheduled meeting in September.
Editor's Note: FingerLakes1.com has reached out to Supervisor Lazzaro, as well as other members of Town Council and will have more on this developing story as the day progresses.
---

This content is brought to you by the FingerLakes1.com Team. Support our mission by visiting www.patreon.com/fl1 or learn how you send us your local content here.