Just one night after completing a miraculous comeback to take the first of a three-game set, the Auburn Doubledays (11-12) couldn't quite complete another as they fell 9-6 to the West Virginia Black Bears (13-10) on Monday night at Monongalia County Ballpark. Onix Vega reached base three times for the second straight night, going 2-3 with a double, two walks and two RBI.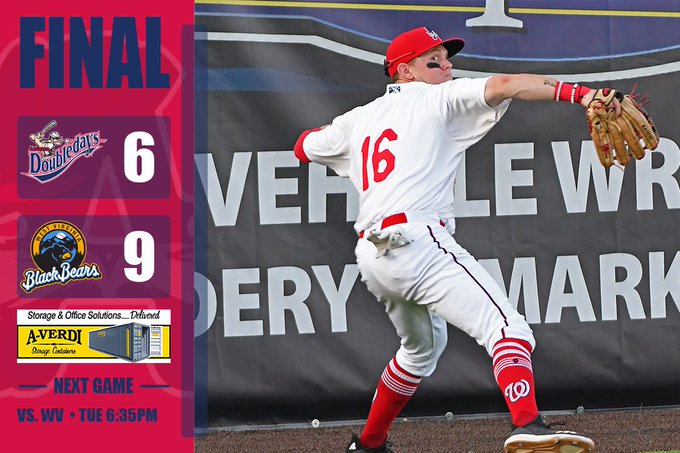 Auburn actually got the scoring going in the first against RHP Braxton Ashcraft. AA rehabber Zach Collier led things off with a sharply hit double down the right-field line. One batter later, Jose Sanchez roped a single to West Virginia center fielder Brett Kinneman, moving Collier to third. Kinneman came up firing on the play, but missed the cutoff man, sailing his throw on a bounce to the catcher Ryan Haug at the pitchers' mound. The throwing gaffe allowed Sanchez to reach second on the play. The next two batters, Ricardo Mendez and Vega, proceeded to produce a pair of RBI-groundouts, plating Collier and Sanchez respectively and giving the Doubledays a 2-0 lead.
West Virginia had a response in the home half against Leif Strom, though. With two outs in the frame, Will Matthiessen drew a walk (one of seven on the night from Strom) to put a runner on for Kinneman. On the next play, Kinneman sent a missile of a home run over the right-field fence to tie the game at 2-2.
The next pair of Black Bear runs came in a very peculiar fourth with Strom still on the bump. With one out, Strom walked Matt Fraizer and Blake Sabol in back-to-back at-bats before plunking Nick Patten with a fastball to load the bases. In the next at-bat, with Haug at the plate, Strom five-holed Vega with a wild pitch. Fraizer took off as the ball bounced off the backstop and back to Vega who fired a strike wide of Strom covering the plate, allowing Fraizer to score. Realizing the ball had gotten away from Strom, Sabol took off for home, Strom recovered, caught him in a rundown and tossed a ball to J.T. Arruda who applied the tag to retire Sabol.
If you thought that was wild, just wait. In the next at-bat with Dean Lockery at the plate, Haug took off for second on a designed baserunning play. Vega threw down to second where Sanchez received the throw and smartly threw it back to Vega where Patten was dashing home. The throw got there in time, but Patten slid in under a high tag for the inning's second run and tied the game at 2-2. Amos Willingham eventually got the final out of the inning when Ethan Paul grounded out to the Arruda at third.
The Doubledays stormed back to tie the game in the fifth against LHP Denny Roman. Ricardo Mendez led things off with a double into the left-center-field gap before switching places with Vega after the latter roped an RBI double into deep right field. After an Arruda groundout and a Jeremy Ydens strikeout, Vega advanced to third on a balk from Roman. One batter later, Jake Randa smashed a single to left to score Vega and tie the game at 4-4.
After an RBI double from Cory Wood gave West Virginia the lead back in the sixth, the Black Bears hung a crooked number on the board to blow the game open in the seventh against Auburn RHP Davis Moore. Matt Fraizer kicked things off with a single and advanced to second when a pickoff attempt from Moore went wide of Albert Carrillo at first. Fraizer advanced to third on a Sabol single who then stole second on the next play. After a Patten strikeout, Haug sent a sacrifice fly to left field to score Fraizer and move Sabol to third. Lockery followed up that effort with a line-drive single into center to plate Sabol for the second run of the inning. Runs three and four came around on a two-run single from Matthiessen to balloon the West Virginia lead to 9-4.
But, just like they did on Sunday, Auburn didn't go down without a fight in the eighth inning against RHP Cameron Junker in his second inning of work. Randa got the frame started with a bang when he laced a double into center field. After a Carrillo strikeout, Jake Alu poked a single through the right side of the infield to put runners at the corners. Randa came in to score on the next play on an RBI single from Collier. After Garrett Leonard checked into the ball game for Junker, a wild pitch from the right-hander and a passed ball from Haug plated Alu to make it 9-6 West Virginia, but that's as close as the Doubledays would get.
Auburn looks to take the series on Tuesday night in the rubber match of the three-game set with West Virginia at 6:35 p.m. at Monongalia County Ballpark. Nationals' first round pick RHP Jackson Rutledge is scheduled to make his Auburn debut opposite RHP Jesus Valles for West Virginia. Listen LIVE on FingerLakes1.com Radio beginning at 6:25 p.m.
By JD Raucci / Auburn Doubledays

This content is brought to you by the FingerLakes1.com Team. Support our mission by visiting www.patreon.com/fl1 or learn how you send us your local content here.