What does the loss of hundreds, sometimes more than a thousand students over the course of several decades do to a school district? What kind of impact does it have on the community-at-large?
These are very real questions facing rural school districts in the Finger Lakes.
Editor's Note: Last weekend we set out to evaluate the district enrollment trend of districts in the rural parts of the Finger Lakes over the last 40-50 years. It was an effort to answer the above questions; and through that data collection process – we reached out to South Seneca Central School District Superintendent Steve Zielinski, who shared his perspective. The data set examined Cayuga, Ontario, Schuyler, Seneca, Steuben, Tompkins, Wayne, and Yates counties; and is available in table form at the bottom of this story.
BY THE NUMBERS
There has been plenty said about population loss in Upstate New York. However, the decreases in enrollment in rural school districts is perhaps the most-telling sign that significant change is needed if long-term viability will remain.
There were only two districts in the examined region, which saw definitive enrollment increase since 1979. The Victor Central School District saw an enrollment increase of 47 percent; and the Gananda Central School District saw an increase of 367 percent over that same period. Even the counties that have shown signs of life in recent Census data – like Tompkins and Ontario – featured school districts that were by-and-large shells of their former selves.
Districts within cities in the Finger Lakes – like Auburn, Geneva, Canandaigua, and Ithaca weren't hit as hard over the last 40 years. For example, Canandaigua and Geneva saw enrollment declines of 10- and 23 percent respectively. It translates to approximately 700 students in the Geneva district, and 400 in Canandaigua. Auburn was among the harder hit cities featuring a decline of 28 percent, or 1,774 students over the last 40 years.
Rural districts, like Southern Cayuga, Port Byron, Union Springs, Watkins Glen, Honeoye, Marcus Whitman, Hammondsport, Dryden, Marion, Sodus, Romulus, and South Seneca have been hit even harder by student loss.
Hammondsport, as an example, has seen an enrollment decline of 61 percent since 1979. Similarly, Southern Cayuga, and Honeoye have experienced enrollment declines of 51- and 48 percent.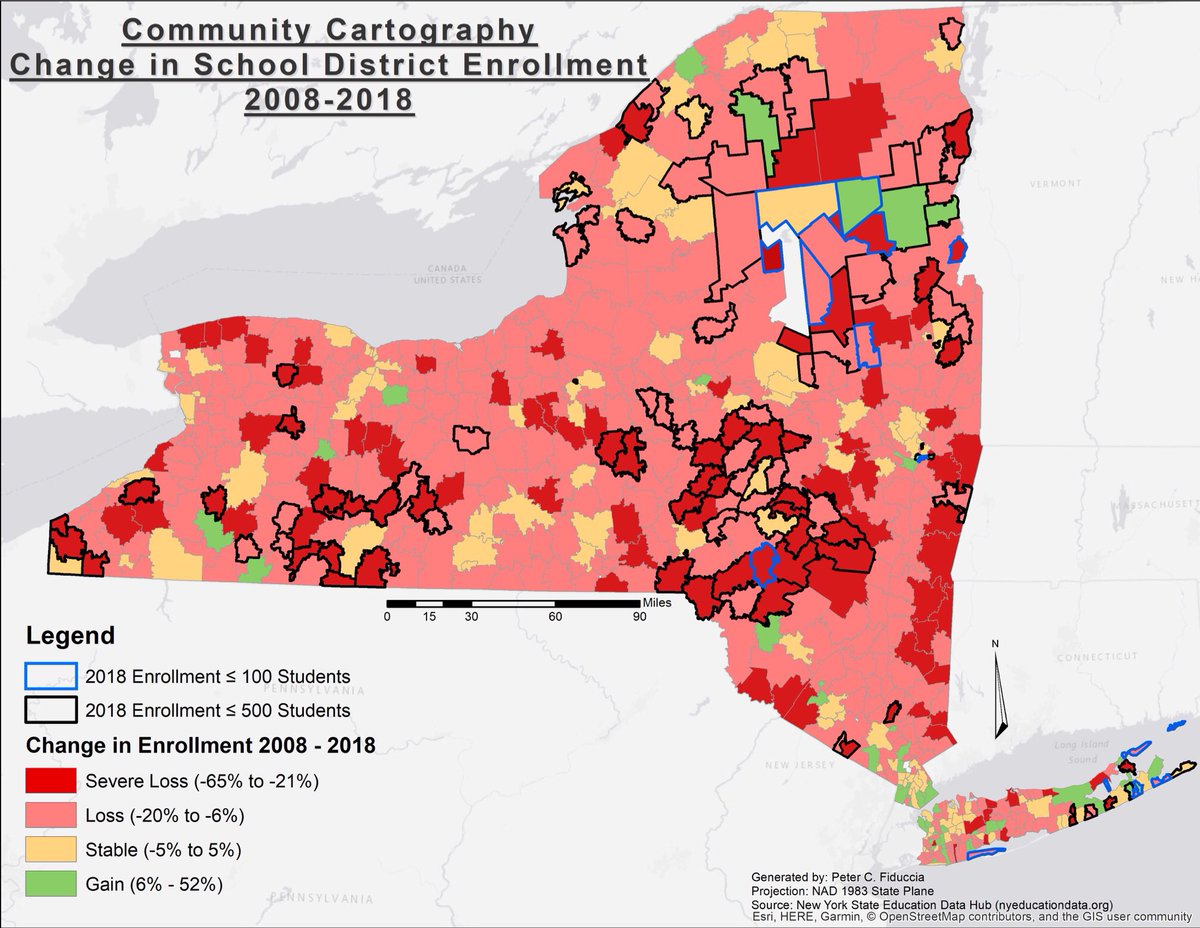 'THE ANSWERS AREN'T EASY'
The South Seneca Central School District has seen a decline of 46.5 percent in student enrollment. Experts across the board agree that rural districts are important to maintaining quality of life in those rural communities. Whether it means public schools or their facilities offering public use, serving as a gathering space for community events, or maintaining community pride – these schools serve as a destination in communities that may lack in traditional downtown offerings.
"I speak with our board all the time about life as a relatively large geographic district while simultaneously being relatively small in terms of enrollment," he explained. The combination of being a district that spans 130-square-miles; while also sitting the lower quartile of enrollment creates a difficult set of circumstances to operate under. Big changes happened during the recession, which led to 'rightsizing'. "All subsequent conversations about staffing have been striving for the balance between offering mandated programs and high quality electives vs. the rightful questions about the proper size of our staff given our student numbers."
The last decade hasn't been that easy, either. While a lot of stakeholders have talked about gains and successes since the recession in 2008 – only one district outside of those highlighted at the start of this piece saw an increase. The Auburn Enlarged City School District saw an increase of a little less than 100 students enrolled between 2009 and 2019 – bringing the total enrollment figure to 4,483. That figure remains more than 1,500 students fewer than it was in 1979.
RURAL CONSOLIDATION IS POSSIBLE
Zielinski says that districts are now having to weigh long bus rides against providing services and access to students. Yet both of those things are competing factors for parents who are considering a district to start a family.
"No one likes our kids needing to ride buses long distances to go to school, and yet a smaller population can diminish the chance for classes, clubs, and extracurricular opportunities to provide healthy groups and teams," Zielinski added. "The experience in a small school has great advantages in terms of individual attention, yet suffers in terms of a full range of potential participation."
Electives, sports, and clubs are all put on the chopping block when funding falls short, or districts continue to see enrollment declines. "The experience in a small school has great advantages in terms of individual attention, yet suffers in terms of a full range of potential participation. We can't offer a lot of elective courses, or sports, or clubs, simply because of numbers."
Economics drive merger discussions, but fond memories of what communities, or districts were 30, 40, or 50 years ago sometimes hurt those efforts – even if students would be better suited.
"We were very close to completing a South Seneca-Romulus merger in 2013, which would have increased the size of a merged district to over 200 square miles," Zielinski added. "Even that potential merged district would only have served 1000 students. The story is repeated across New York State in rural communities."
ECONOMIC REALITIES PROVIDE CHALLENGES & OPPORTUNITIES
Rural communities have a lot to deal with as population continues to decline. Access to housing, addressing addiction and the opioid crisis, providing more access to social services, and finding meaningful work all fall atop the list of priorities. Addressing them, though, begins in school districts, who are often ill-equipped to address them. While some programs are being developed to better place students in communities around the Finger Lakes – those skills are often taken elsewhere.
"We have great local farming and wineries, and a strong pipeline into the trades, but the declining overall population and shift to urban centers also means less access to good paying jobs," explained Zielinski. "The trend in the country toward economic disparity – a shrinking middle class – means our new generation of high school graduates faces an uncertain future as they carve out a career path."
It's not all bad, though.
School leaders across the region believe that there is a lot of promise for leveraging online access and entrepreneurship as the next viable step for success. These efforts, Zielinski says, can have a significant impact on the local districts, and lead to growth not yet realized. "There is great promise in the new economy for those who leverage online access to entrepreneurship, where your location is less important than your skill set. If we can invest in better and better broadband access for rural America, I can see a path to career success without the need to move away," Zielinski concluded.
Stakeholders agree that relationships in education are pivotal. As for what is next for these rural communities – only time will tell.
---
---

Josh is the president and publisher of FingerLakes1.com. Have a question? Send them to [email protected].