Systemic change is needed.
Following the release of a scathing report – condemning the accountability and oversight practices of the Town of Seneca Falls and Town Board – one of the candidates for Town Supervisor addressed the findings.
Town Councilman Doug Avery has served on the board since winning election in 2017. The Democrat announced his bid for Town Supervisor in March.
"I certainly don't dispute the findings of the auditors," Avery said in Monday. Auditors had been tasked with determining whether the Town Board and Town Officials effectively managed and provided oversight to the Town's financial operation.
The findings report highlighted a multitude of issues. Among them was a lack of long-term planning to account for financial changes, capital projects, and necessary infrastructure upgrades.
"I would remind people, though, that the focus of the audit was 2015-2018. The 2018 budget was created in November 2017. Many of the lax procedures and policies that the auditors questioned in their findings were allowed to develop over many years – even before 2015 – and over the span of several administrations," Avery added. "No one set out to do their job poorly. I think that village dissolution, years of landfill revenue, and changing expectations on the part of the state simply left us behind in our policies and procedures."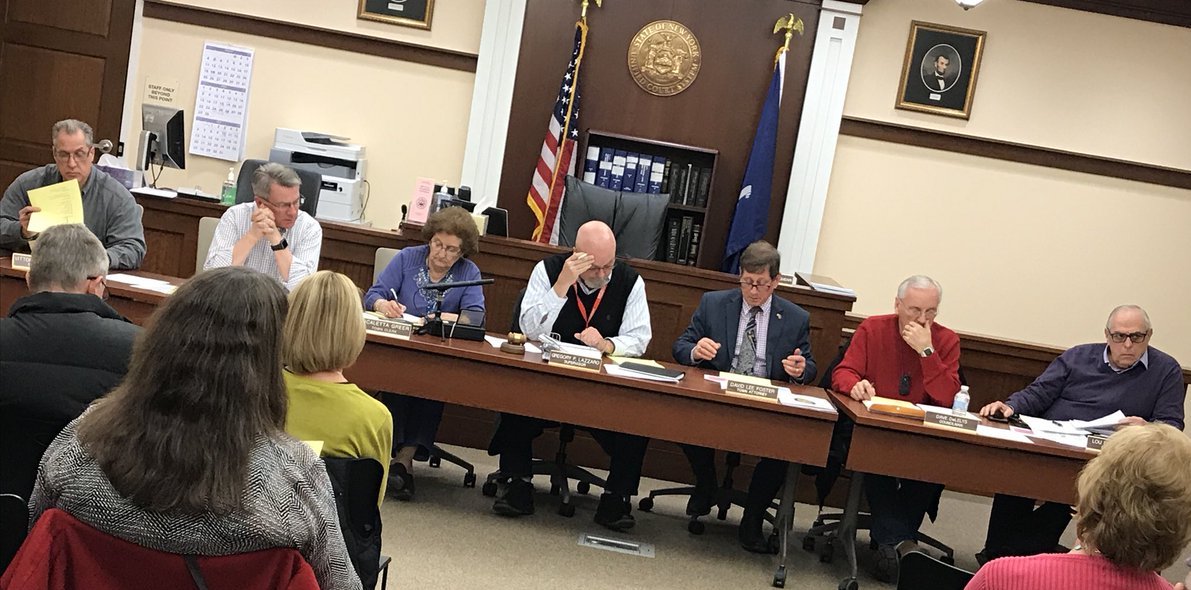 Avery says that since taking office in 2018, he's heard employees and elected officials note that auditors provided specific ways to carry out varying tasks.
"'This is the way the auditors want us to do this from now on'," Avery recounted. "That correction would then be made on the spot."
He says that assistance the auditors provided through 2018 and during the first quarter of 2019 addressed many of the concerns.
"Sometimes it was simply a question of adding a step to the paper trail, and could be corrected instantaneously. Some corrections are more gradual in nature, but are already in progress. We would be remiss in our duties if we were somehow ignoring the findings," Avery continued. "Truth is, though, we've been working on corrections for at least 16 months."
As for long-term planning – Avery wants to see the board take a proactive approach, despite an election looming in November. "We can't wait another year. We must have the discussions between now and November that will allow us to make the correct decisions for 2020. If we can't get that to happen this year, I would certainly make it happen next year."
That said, residents have heard elected officials and candidates promise better long-term planning before. In fact, it's something that Avery says he's particularly mindful of as he continues through the campaign process.
"Long term planning is one important area where current and past administrations have dropped the ball. There are areas where there is not now, and have not been, plans in place for the future," he explained. "There are areas where long term spending plans have been developed and put into place, but then ignored in favor of whatever was expedient at the time. Whether it is the replacement of expensive equipment, our needed infrastructure upgrades, or simply looking forward to a future that doesn't include landfill revenue, it is irresponsible of us to blindly march into the future without a plan in place for these foreseeable large expenses."
Another area of focus in that report released last week was spending on engineering services.
"I have the utmost confidence in the quality of work done by Barton and Loguidice, and appreciate the support they give to our public works departments," Avery added. "However, there are serious concerns regarding the cost to the town, and the accountability for the taxpayer dollars being spent. It falls to the Town Board to insist on complete transparency and accountability, and I don't think that has taken place in recent years."
He said that if Barton & Loguidice cannot convince the Town Board that tax dollars are being spent correctly – then the Board must consider looking elsewhere for engineering services.
Avery is optimistic and looking ahead, though. Addressing concerns about his role on the current Town Board, which was viewed critically by auditors – he says progress is important.
"I would remind people that the Comptroller's audit is primarily about past practices. While we still have a long way to go, particularly in long term planning, we have already addressed – or are currently addressing – many of their findings," he explained. "It was very helpful that the auditors did extend the scope of their investigation through December 2018. That meant they were frequently on site and always available for assistance. With their help, the entire town mechanism – the various departments and offices and the Town Board – worked to make a correction as soon as a concern was raised."
"I can only speak about the last 16 months, but I think we've been more of a solution than a problem. That has to continue into next year and beyond – regardless of who is Supervisor. I would fully expect and encourage the public to hold us completely accountable if we fail to make the needed corrections," Avery concluded.
Additional reports are expected to be released following that audit by the State Comptroller's Office.
RELATED: The Board Adopted Unrealistic Budgets, Which It Did Not Appropriately Monitor
---

This content is brought to you by the FingerLakes1.com Team. Support our mission by visiting www.patreon.com/fl1 or learn how you send us your local content here.