Republicans lawmakers issued a stark warning and more criticism at Governor Kathy Hochul and Health Commissioner Howard Zucker as they say a 'workforce crisis' approaches. The criticism is the latest in constant rounds of frustration ...
more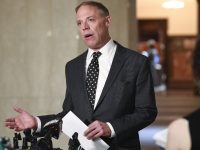 Assembly Minority Leader Will Barclay says his conference will expand its Impeachment Commission resolution to include recent sexual harassment allegations made against Gov. Cuomo by two former staff members. "What more do legislators need to ...
more
Assembly Minority Leader Will Barclay voiced his frustration late in the day on Tuesday, as Gov. Andrew Cuomo's emergency powers remained in-tact. "For the second straight day, the Assembly Majority avoided taking any action to ...
more
The Assembly Republican Conference announced Friday that it would introduce a measure to begin the process of forming an Impeachment Commission to gather facts and evidence surrounding Gov. Andrew Cuomo's handling and subsequent cover-up of ...
more
As Governor Andrew Cuomo held his State of the State Address on Monday, lawmakers waited to see what major components would be included, or not, in his legislative agenda. For Upstate Republicans representing the Finger ...
more