Newark Mayor Jonathan Taylor has won re-election. He was challenged by David Christler, who was down by less than 100 votes after Election Day. While the challenger admitted it would be difficult to overcome the ...
more
Newark Mayor Jonathan Taylor isn't celebrating just yet. He has a 28-vote lead in the race for mayor. While it would be a challenge for David Christler to mount a comeback through absentee ballots, Taylor ...
more

The village of Newark is celebrating another major infrastructure win. Village officials say Newark was awarded $3.59 million as part of the Water Infrastructure Improvement program administered by New York State. The money will be ...
more
Last weekend the village of Newark experienced one of its biggest tragedies in recent memory. A shooting during the early-morning hours on Saturday along Murray Street left one person dead. Newark Mayor Jonathan Taylor spoke ...
more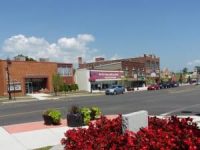 Another day, another grant award for the village of Newark. It's become something of a trend- to see the village of Newark receive various grants to make the community better. It's been happening for years, ...
more
Downtown Newark is exploding with growth. Mayor Jonathan Taylor says that growth and progress is happening thanks to perseverance of current, and past elected leaders. South Main Street has experienced the most-apparent visual overhaul. That ...
more