In the last week there have been two new wrinkles in the growing contention between residents in the town of Gorham and its Town Board.
On October 25th Gorham residents voted 509-162 to defeat a bond resolution that would have allowed a new highway building construction project to move forward. That special election followed a series of contentious meetings, which residents like Deborah North say is the result of poor communication and taxpayers' wishes being disregarded.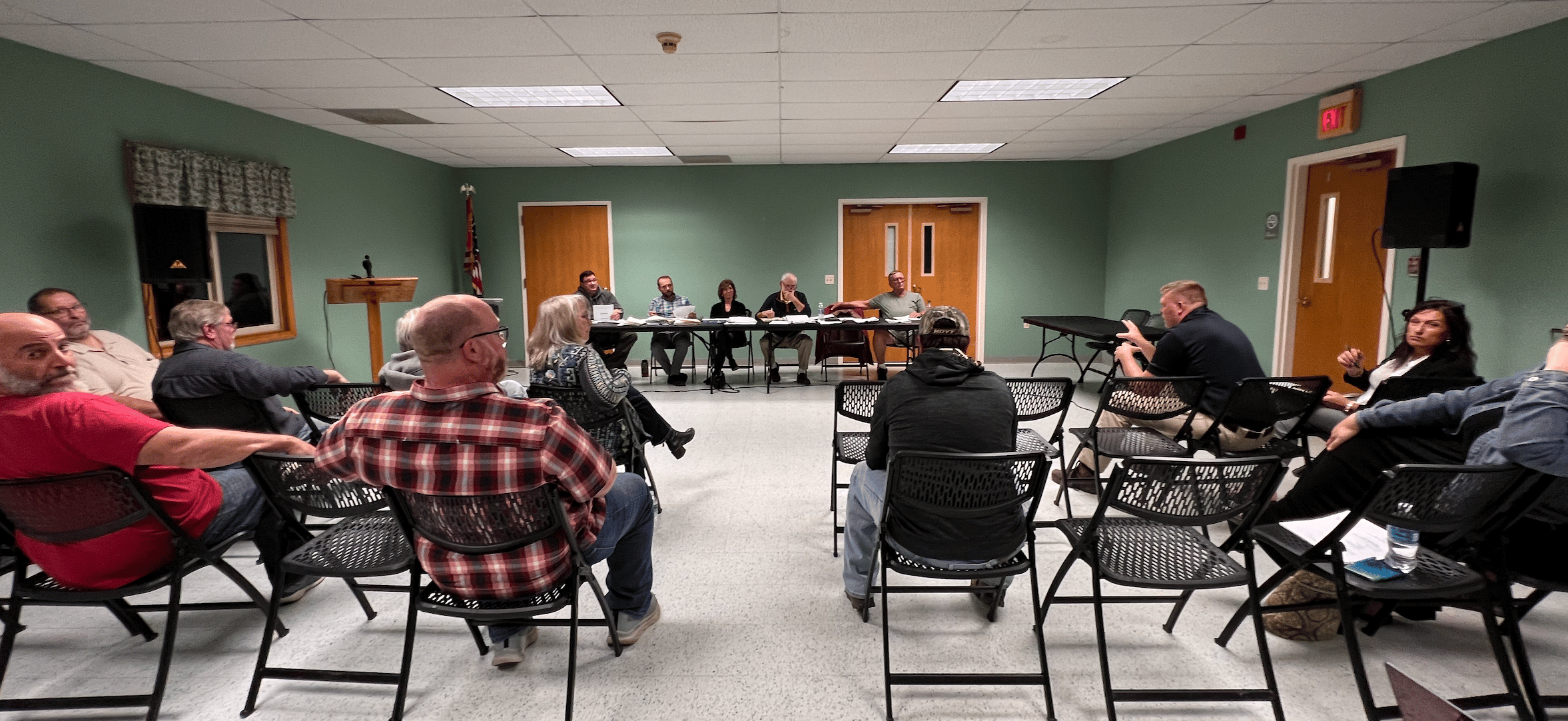 Residents like North who spoke with FingerLakes1.com for a four-part series on issues in the town of Gorham said the divide between Town Council and taxpayers would likely be seen in the special vote.
Less than 48 hours after that vote, a special meeting to see the proposed 2023 town budget was set to take place. Except North argued that the meeting did not include proper notices.
Town Supervisor Fred Lightfoote said in one email exchange obtained by FingerLakes1.com that the state Association of Towns confirmed that proper protocols were followed.
The meeting was ultimately delayed one week, and is set to take place this Wednesday, November 2nd.
That sets the stage for the two new wrinkles mentioned off the top.
North reached out to FingerLakes1.com and the Finger Lakes Times following a phone call from the Ontario County Sheriff's Office. A deputy told her that Town Board member Brian Lazarus, a retired deputy, no longer wished to receive email communications from her.
"I am writing this email to you as written notice that I no longer wish to receive email communication from you," Lazarus wrote in an email thread sent to FingerLakes1.com. "Your emails have been threatening and disrespectful, not to mention overly demanding and incorrect, especially toward [Supervisor] Fred [Lightfoote]. I can no longer tolerate your treatment of him. Fred has devoted his life to the service of this town. There is not a conspiracy to keep information from the public, everyone on the board is trying the best that we can. I am always willing to listen to concerns from the public, however, I will not tolerate disrespect and harassment."
When FingerLakes1.com followed up with the Ontario County Sheriff's Office about the ordeal, reporter Rebecca Swift was told it's not a 'no-contact' order, as some have wondered. No police report was filed, nor any charges brought against North. Basically, a request relayed from a deputy with the sheriff's office after they were contacted about the emails.
Should a formal complaint be desired in the future, this step would allow a paper trail to be established. Part of the challenge is that the email threads referenced took on a life of their own over the course of several days, with a number of residents being copied, blind copied, and forwarded parts- or all of it. North indicated that she wasn't the only person responding, which muddied the waters for town officials like Lightfoote and Lazarus who put North at the center of Town's problems.
"Town Board meetings have been well-attended for quite some time now," North told FingerLakes1.com. She spoke at length about the deteriorating relationship between the Town Board and residents earlier this month. "It's been a couple of years, but things really started to go downhill when the highway building [proposal] was introduced."
FingerLakes1.com has submitted a FOIL request with the Town of Gorham for all email communication related to North, Lazarus, Lightfoote, and the highway building. That request included other documents and information, too. On Friday, the Town of Gorham confirmed receipt of that request, which starts the five-day clock on an official response to whether it will be fulfilled or not.
Multiple board members use personal email addresses for official communication, which could make obtaining it a challenge.
The second wrinkle involves a complaint that was filed with the New York State Attorney General's Office the same day the Ontario County Sheriff's Office contacted North.
"I received a confirmation of a complaint made with the NYS Attorney General's Office yesterday afternoon," North wrote to FingerLakes1.com and the Finger Lakes Times. "Someone had used my information to fraudulently make this complaint. I absolutely did not do this nor did I authorize this," she continued.
The official complaint, which includes North's personal information alleges that "The town of Gorham Clerk is in violation of workplace nepotism."
"Darby Perrotte and town water supervisor Greg Coston are a married couple workin gin the same municipality," the complaint reads. "Darby sits on a board that has direct control of employee salary approvals and constantly votes in favor of pay increases for her husband. Town Supervisor Fred Lightfoote is aware of this and so far has done nothing to stop it. I have already reached out to multiple Ontario County officials to no avail, and finally received a letter saying I should contact the Attorney General. Please see that something is done about this it is not fair to the people of Gorham!"
That complaint, which North reiterated was not filed by her, or on her behalf, calls for the resignation of Perrotte and/or Coston.
She was infuriated by the fraudulent report to the AG's office. North contacted state police, and filed a report. In it she said the following:
"I, Deborah S. North, am providing this deposition to Trooper Braun of the New York State Police at my residence under my own free will. On Yesterday's date (October 28th, 2022)I received an email from the Attorney General of New York confirming a complaint made online to the AG's Office under 1-416681082. In this complaint it showed a complaint description that I did not write and was making an official complaint against the town of Gorham Clerk and water supervisor Darby Perrottee and Greg Coston respectively. In this complaint it used my personal information, such as my name, address, email, and phone number. I did not write this complaint nor did I grant anyone permission to make such a complaint with my information. I feel that this complaint was made as retaliatory action based on involvement in town issues. I would like state police to investigate this incident and make any arrest necessary."

– Deborah North's sworn statement dated October 29th, at 9:50 a.m.
In another email to FingerLakes1.com, North reiterated that the entire incident felt like retaliation. "I decided to have an official report done because I will absolutely want the person responsible to be prosecuted," she continued. "I am convinced that this is retaliatory because of my critique of town matters."
No town officials responded over the weekend to requests for comment on the matter.
At this point, there are a number of unanswered questions. Many of which will likely come up at the special meeting scheduled for Wednesday, at 6 p.m.
---
RELATED: Latest from the town of Gorham
---
---