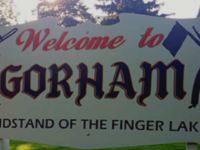 Three positions are up for grabs this fall on the Town Board, which has been a hotspot for controversy over the last several months. Those three positions on the Town board up for grabs include ...
more
On Wednesday, Gorham Town Councilor Jake Chard was in-studio discussing the slate of issues the town board has faced over the last two months. An array of issues has caused headaches for residents who feel ...
more
Wednesday's meeting at Gorham Town Hall started off with privilege of the floor. One of the first people to speak was Tax Collector Adrienne Smith, who was one of the only town employees left out ...
more
After the Gorham Town Board unveiled the 2023 budget at a meeting Wednesday, they were met with confusion and criticism. "I'm a retired electrical engineer," resident Bob Gusciora said during the meeting. "I have done ...
more
Residents in the town of Gorham have spoken. The Town Board will have to go back to the drawing board next month with its plans to build a $5.5 million highway facility voted down. The ...
more
Why are residents in the town of Gorham so frustrated with the town board as it attempts to move forward with a new highway building? Because it will raise taxes significantly on those who call ...
more
What has caused the relationship between the Gorham Town Board and its community members to become so strained? Residents concerned about an array of issues spoke out last week at a meeting ...
more