Micron is investing an unprecedented $100 billion over the next 20 years to transform Central New York into a global semiconductor manufacturing hub.
It's the single-largest investment in a manufacturing project in New York State history, and in the process, nearly 50,000 jobs will be created.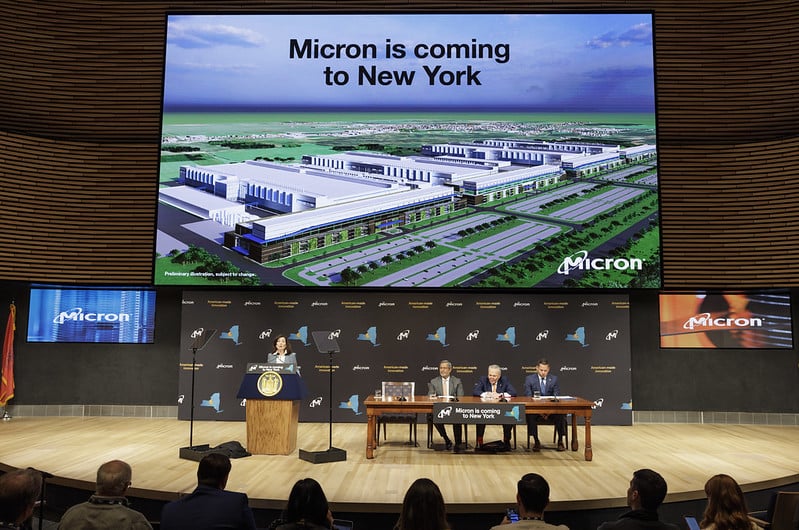 Governor Kathy Hochul, U.S. Senate Majority Leader Charles Schumer, Onondaga County Executive Ryan McMahon, and Micron CEO Sanjay Mehrotra gathered in Onondaga County to announce one of the largest projects in U.S. history.
Micron, a U.S.-based memory and storage manufacturer and the fourth-largest producer of semiconductors in the world, will invest up to $100 billion over the next 20-plus years to construct the project, with the first phase investment of $20 billion planned by the end of this decade, creating nearly 50,000 jobs statewide — 9,000 new high-paying Micron jobs with an average annual salary of over $100,000 and over 40,000 community jobs — and create thousands and thousands of prevailing wage construction jobs.
When complete, the complex will include the nation's largest clean room space at approximately 2.4 million square feet, the size of nearly 40 football fields.
It's part of Micron's effort to establish leading-edge memory manufacturing in the U.S. to meet the demand of consumer, industrial, and business products such as automotive and mobile, fueled by the adoption of artificial intelligence and 5G and make the United States more globally competitive.
New York is currently home to 76 semiconductor companies that employ over 34,000 New Yorkers, including global industry leaders like GlobalFoundries, Wolfspeed, onsemi, and IBM. New York is also home to the world-renowned Albany Nanotech Complex, which is a multibillion-dollar public-private partnership, comprising the most advanced, publicly owned, 300-millimeter semiconductor research and development facility and bringing together premier universities and leading industry players to drive cutting-edge chip development.
Central New York saw major American manufacturers and thousands of good jobs disappear when Agway Inc., Anaren Microwave, Carrier, Crucible, General Electric, Miller Brewing and General Motors closed their doors. Micron is bringing future-ready manufacturing back to Central New York by building a state-of-the-art memory chip manufacturing campus on 1,400 acres in the White Pine Commerce Park in the Town of Clay, north of Syracuse, creating economic opportunities for generations to come and returning good manufacturing jobs to Upstate New York.
Micron will become one of the largest employers in the region, paying nearly double the average wage of Central New York.
"Micron's $100 billion investment in New York marks the start of something transformative in scale and possibility for our state's economic future," Hochul said. "I promised that we would jumpstart the economy by being the most business-friendly and worker-friendly state in the nation, and thanks to our State Green CHIPS legislation, the federal CHIPS and Science Act, and extraordinary partnerships with business, labor, and local and federal leaders, this project will do exactly that. Together, we are leveraging this investment — the largest private-sector investment in state history — to secure our economic future, solidify New York's standing as a global manufacturing hub, and usher the state into another Industrial Revolution."
Micron will develop a $100 billion semiconductor manufacturing complex over the next 20-plus years in multiple phases, with the first phase investment of $20 billion to planned by the end of this decade. Each phase is expected to include the construction and equipping of four memory fabs. Construction is expected to be pursuant to a project labor agreement, and workers will be paid, at a minimum, federal prevailing wage rates. Micron is also planning to spend 30 percent of its construction budget on work performed by Socially and Economically Disadvantaged Individuals, New York State-certified Minority and Women Business Enterprises, and Service-Disabled Veteran Owned Businesses.
This unprecedented investment is made possible through Schumer's historic, bipartisan CHIPS and Science Act that he led to passage earlier this year. Without this legislation, Micron would have decided to build its megafab overseas. The bill created an Investment Tax Credit for semiconductor manufacturing facilities and a first-of-its-kind $52 billion in federal incentives to spur American semiconductor research, development, manufacturing, and workforce training to bring these good-paying jobs back from overseas, strengthen national security, and reestablish America's technological leadership. The bill requires recipients of these incentives to make significant worker and community investments that support equitable economic growth. Similarly, under the performance-based incentives through New York State's Green CHIPS program, the project is estimated to result in a total benefit-cost ratio of approximately 20:1, meaning that Micron will directly spend $20 on capital investment, research and development, and salaries and wages for every $1 of support provided by New York State.
"After years of work, it's official —Micron is coming to Central New York! With the CHIPS and Science bill I wrote and championed as the fuse, Micron's $100 billion investment in Upstate New York will fundamentally transform the region into a global hub for manufacturing and bring tens of thousands of good-paying high-tech and construction jobs to Central New York," Schumer said of the deal. "This project is a dramatic turning point for a region that has faced decades of lost manufacturing jobs, and, in combination with New York's already robust microchip industry from the Hudson Valley, Albany, and the Mohawk Valley to Binghamton, Rochester, and Buffalo, it will put Upstate New York on the map in a way we haven't seen in generations. This is our Erie Canal moment."
---
---

Josh is the president and publisher of FingerLakes1.com. Have a question? Send them to [email protected].