Online studies come with a set of difficulties. Some face and overcome these challenges without complications; others require extra effort to implement online education approaches. The world evolves quicker than we can imagine, and the future of e-learning has been decided: it will be equally popular as traditional on-campus learning.
Students have finally realized that it is not the location that determines the quality of education. If a student strives to learn and become a qualified professional, the goal can be as easily achieved online as it can be achieved offline. It is the effort and motivation that stand behind the quality of education.
Still, online learning isn't a fit for many. Things like individual habits, preferences, character types and others impact a student's performance as an online learner. However time-consuming and useful visiting offline classes may seem, for many students, such a traditional approach is vital to keep their spirits up. Without the typical learning routine, they lose focus easily and struggle to motivate themselves throughout the study program.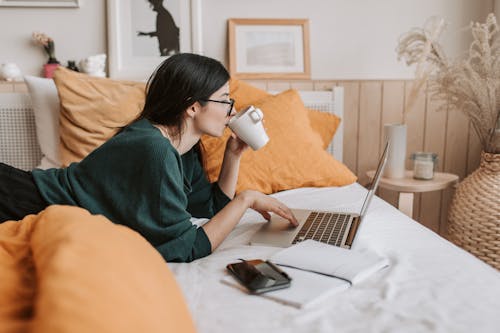 If you also find it difficult to study online, check the following improvement suggestions that will turn your academic performance in the right direction.
#1. Choose Quality over Quantity
Online or offline, you need to pay attention to the knowledge your brain digests. Some subjects may not be interesting to you, and for a good reason. Time is the greatest asset, don't waste it on an assignment you find irrelevant for your education path. When challenged with remote learning, it is essential to keep your motivation flowing. And boring tasks will only force you to procrastinate and lose learning interest.
https://educibly.com/ is your one and only guide into a stress-free life of modern education. Sharing is caring, so we keep the knowledge running at our platform non-stop. And should you need more than just a tip, our experts are always on standby to help. Open a window of opportunities by delegating irrelevant and pressing matters to others. Focus on things that will make a positive difference for your personal and professional growth.
#2. Plan Your Days, not Your Tasks
When trying to arrange our errands properly, we tend to rely on to-do lists. So how does it work? We list all our tasks and cross them out upon completion. Some prefer to stick to a learning schedule, taking one class after another. And some don't believe in the power of planning and skip it without second thinking.
Planning is essential if you wish to succeed in online studies. Distractions wait for you everywhere – whether you prefer to study at home, at work, at the library – and it isn't easy to get rid of them. So following a plan is always a good… plan. And it is also rewarding.
Once you see that the daily mission has been accomplished, the hours of rest will feel much more joyful. Plus, you'll learn to appreciate the time even more – you'll see how much of it is consumed by routine tasks, such as meal preps.
Another tip? Always make room for an emergency delay. If you plan to finish your English assignment in three hours, better plan four hours. The same principle applies to every task on your list.
One more tip? Make sure to include everything you need to do – from taking a morning run to visiting your counselor in the evening – amid online classes and homework assignments. With a vivid plan for a day, you are sure to meet your deadlines and master the art of time management quickly. Google calendar or Notion are both perfect for keeping your errands in order (although Notion is a bit tricky and may require extra effort to get used to).
#3. Make It Fun and Skip the Boring
Any process can be transformed into a fun one with a touch of creativity. Although learning has little to do with fun, there are ways to add some excitement to your study routine.
For example, you can set a goal and turn the process into a competition. With online studies, it is always easy to lose focus. Make a roadmap of study cornerstones and challenge yourself daily toward the goal. You can actually draw or print a score table to see your results and achievements vividly.
Another fun and simple idea is to engage other students to learn together. Studying as a group can be beneficial for people of extroverted nature. It motivates them and enables them to perform better. But if you are more of a loner, joint studies might be an option for you.
#4. Change the Scenery, not Your Classes
Sometimes you may feel demotivated when working on a particular subject. However, it might not be the subject that decreases your motivation. Have you ever considered studying somewhere else than at your usual spot? Changing places can help you regain motivation and change your attitude toward the subject.
Even within your place, you can try to re-arrange tables and chairs, maybe change the furniture, add colors or decorations. Make it a cozy space or – on the contrary – add a serious vibe to your study spot. Experiment, don't be afraid.
#5. Keep the Balance, No Matter What
The thing with motivation is that it consists of more than just your interest in the study process. Your emotional and physical states matter the same, so do the surroundings around you. If you lack sleep or fresh air, you lack social interactions or rest… All these reasons can contribute to demotivational factors and ruin your inspiration at the core.
So what do you do? Remember to take care of yourself first. Your academic results matter but not as much as your health. Make sure to get sufficient sleep, outside time, physical exercises, entertainment, etc. You can't devote your life to classes and never leave the online realm. The offline world exists – and it is exciting!
Don't forget to check in with the reality that waits for you outside e-learning processes.

This content is brought to you by the FingerLakes1.com Team. Support our mission by visiting www.patreon.com/fl1 or learn how you send us your local content here.