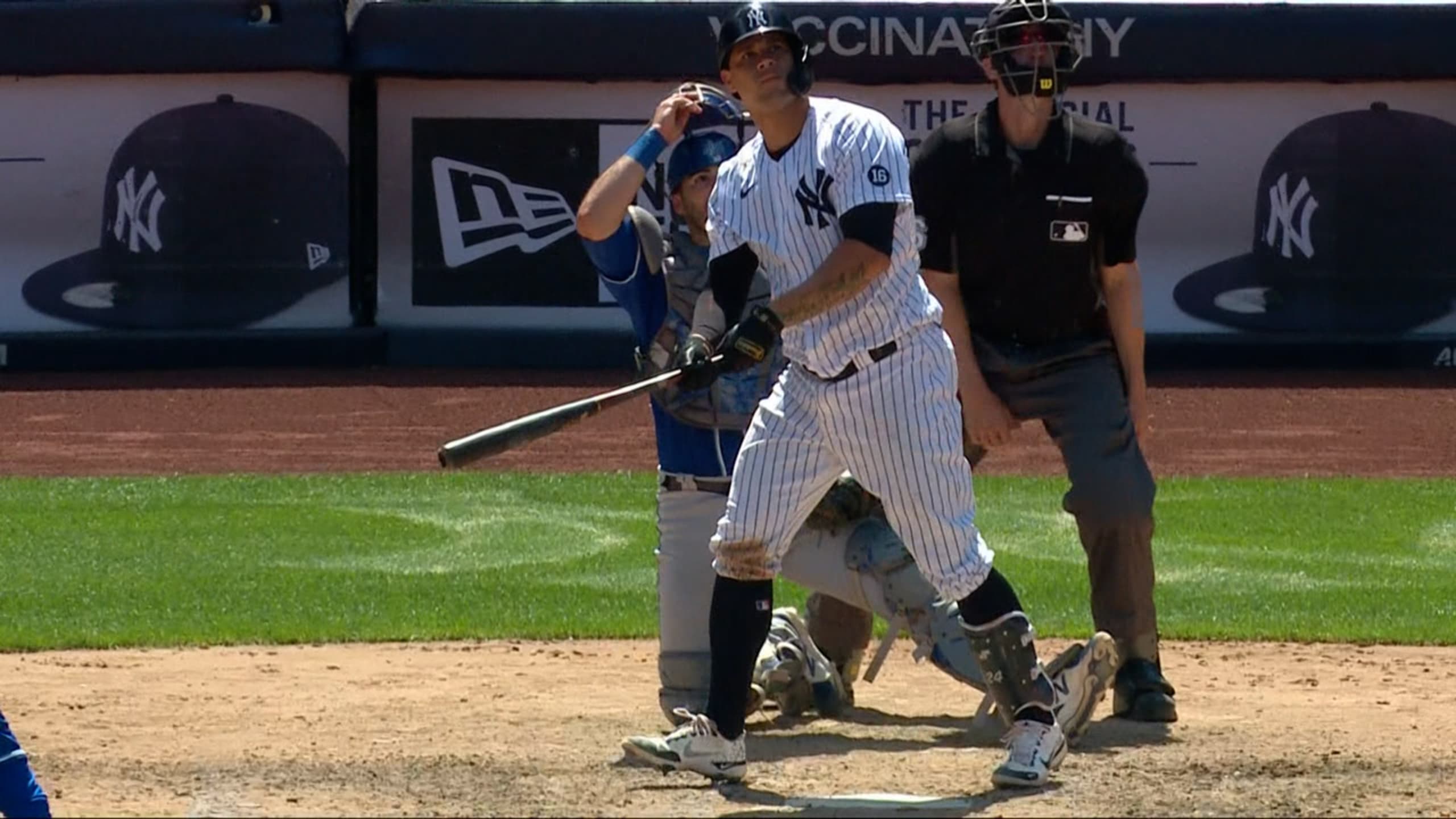 Gary Sánchez's future in Yankees pinstripes prompted debate within the front office last winter, an underwhelming season providing pause before the club ultimately decided to give the catcher a 27 percent pay raise. A year later, he remains in pinstripes for the foreseeable future after the Yankees tendered Sánchez' a contract prior to Tuesday's deadline.
Despite speculation around Sánchez's status, bringing him back makes sense considering a thin free-agent catching market and few internal options for replacement. Yankees general manager Brian Cashman recently lauded Sánchez's 2021 performance, a season in which he batted .204/.307/.423 with 23 home runs and 54 RBIs in 117 games, but lost playing time to backup Kyle Higashioka for a period. Sánchez turns 29 on Thursday.
"He worked his tail off," Cashman said on Nov. 18. "I thought his catching, without a doubt, got better. In the very end, he had some struggles which got magnified, which is almost like picking the scab and making everybody remember what it was like in the past. But I think overall he was significantly better at the catching position defensively last year than [2020], so I've got to give him a lot of credit for the hard work and the dedication that he had toward trying to improve."
Sánchez did not start in the American League Wild Card Game, with Higashioka catching right-hander Gerrit Cole for the Bombers' season-ending loss to the Red Sox at Fenway Park. The Yankees altered Sánchez's catching style in 2020, aiming to improve his pitch framing, and according to Statcast, Sánchez ranked in the 17th percentile among MLB catchers in 2021.
"As of right now, Gary Sánchez and Kyle Higashioka are our catchers, unless we run into something that we feel can upgrade [the position] and make it better," Cashman said on Nov. 18. "We are obviously having conversations to see if there's options. Catching is a very thin market — it was last year, and I would say it looks like it's that way this year again. But it doesn't preclude us from exploring potential options that exist out there."
The free-agent catching market stayed active Tuesday, when the Cubs reportedly signed Yan Gomes to a two-year deal and the Pirates reportedly reached an agreement with Roberto Perez after dealing Jacob Stallings to the Marlins. Manny Piña previously signed a two-year deal with the Braves, leaving Luke Maile and Stephen Vogt as the best backstops still available.
Of course, shortstop remains a priority for the Yankees, even as they have seen superstar options like Corey Seager, Marcus Semien and Javier Báez move off the board this week.
The Yankees are monitoring the marketplace. Managing general partner Hal Steinbrenner, Cashman and manager Aaron Boone have all spoken openly about their admiration for Carlos Correa, but the club seems hesitant to issue a nine-figure contract before MLB's Collective Bargaining Agreement is resolved.
The Yankees' other non-tender decisions involved first baseman Luke Voit and infielder/outfielder Miguel Andujar, both of whom are arbitration-eligible as they come off injury-marred campaigns.
The Yankees recently checked in with free-agent first baseman Anthony Rizzo, who played 49 games for New York after being acquired in late July, and have discussed a blockbuster trade for Athletics slugger Matt Olson.
A 40-man roster space was cleared Monday with the release of first baseman Chris Gittens, who played in 16 games for the Yankees last season. Gittens turns 28 in February and is expected to pursue a playing opportunity in Japan, according to The Athletic. Clint Frazier and Rougned Odor, whom the Yankees released last week, on Tuesday were reportedly nearing one-year deals with Cubs and Orioles, respectively.

Kyle leads sports coverage and hosts the Concrete Jungle podcast. Have a lead or question? Send it to [email protected].