"I am hereby issuing my resignation from Geneva City Council, Ward 6, becoming effective August 31, 2021."
That's how the letter authored by Geneva City Councilor John Pruett, which was submitted to Mayor Steve Valentino last week begins.
Pruett's term was merely reaching the halfway point when he decided that, for many reasons, he would not continue forward.
"The commonly underproductive and often hostile working environment in Council creates an unaccepted level of disappointment and anxiety for those who truly strive for civic achievement, and I am one," Pruett continues. "Now that more than one physician is advising that I diminish stress in my life or suffer consequences, I am compelled to leave office. Feeling as I do, without hope or expectation for the possibility of truly meaningful accomplishment, it would be less honorable to remain in office than to depart, and at happiness and health cost that is unacceptable personally."
Geneva City Council's struggles over the last two years have been well-documented.
"I Hope whomever takes my seat can be more effective, because I worry for the future of our fair city," Pruett continued in his letter. "However, until fresh, outside influence can be brought in to government, I suspect the status quo will prevail. The city has been declining for decades, and only fools argue otherwise. Presently in government, I can think of no executive manager who has executive business management or multi-departmental budget experience. Way too much in my Council experience has been personality versus issues focused at all levels. Fresh thinking could benefit the city and its citizens."
Pruett concludes his letter noting that he would remain available to assist with the transition- and wishes Geneva the best.
The letter was initially sought by FingerLakes1.com after the Finger Lakes Times reported components of it after Pruett's intensions became clear and public. Mayor Valentino said via email that he would not release the letter to FingerLakes1.com without Councilor Pruett's go-ahead. While FingerLakes1.com reached out to Pruett for the letter, a FOIL request was filed with the City seeking the letter as a matter of transparency.
#Update: The full resignation from Geneva City Council member John Pruett who is resigning. https://t.co/tI9jdoWwKv pic.twitter.com/I2OnF0BeC3

— Josh Durso (@FLXJosh) August 25, 2021
On Wednesday, August 25, 2021 – just four days before the conclusion of Pruett's service – the letter was released. You can read it in its entirety below.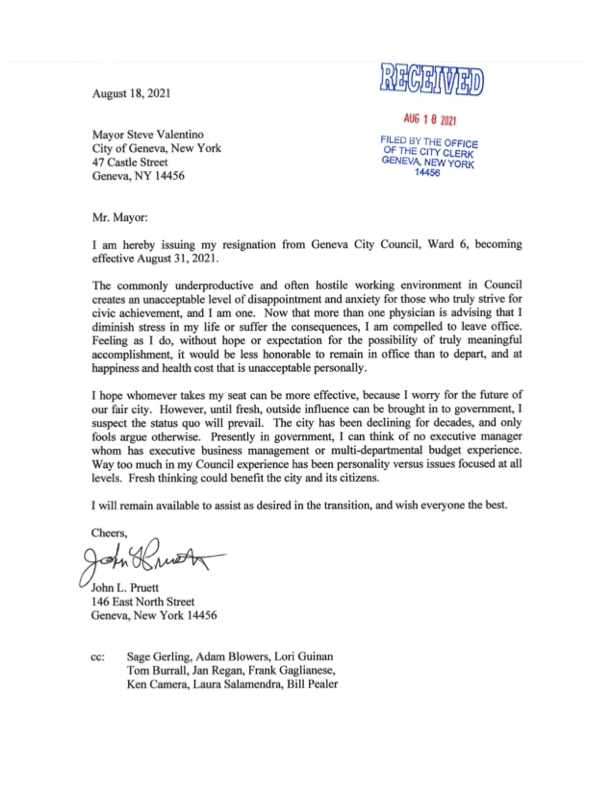 ---
---