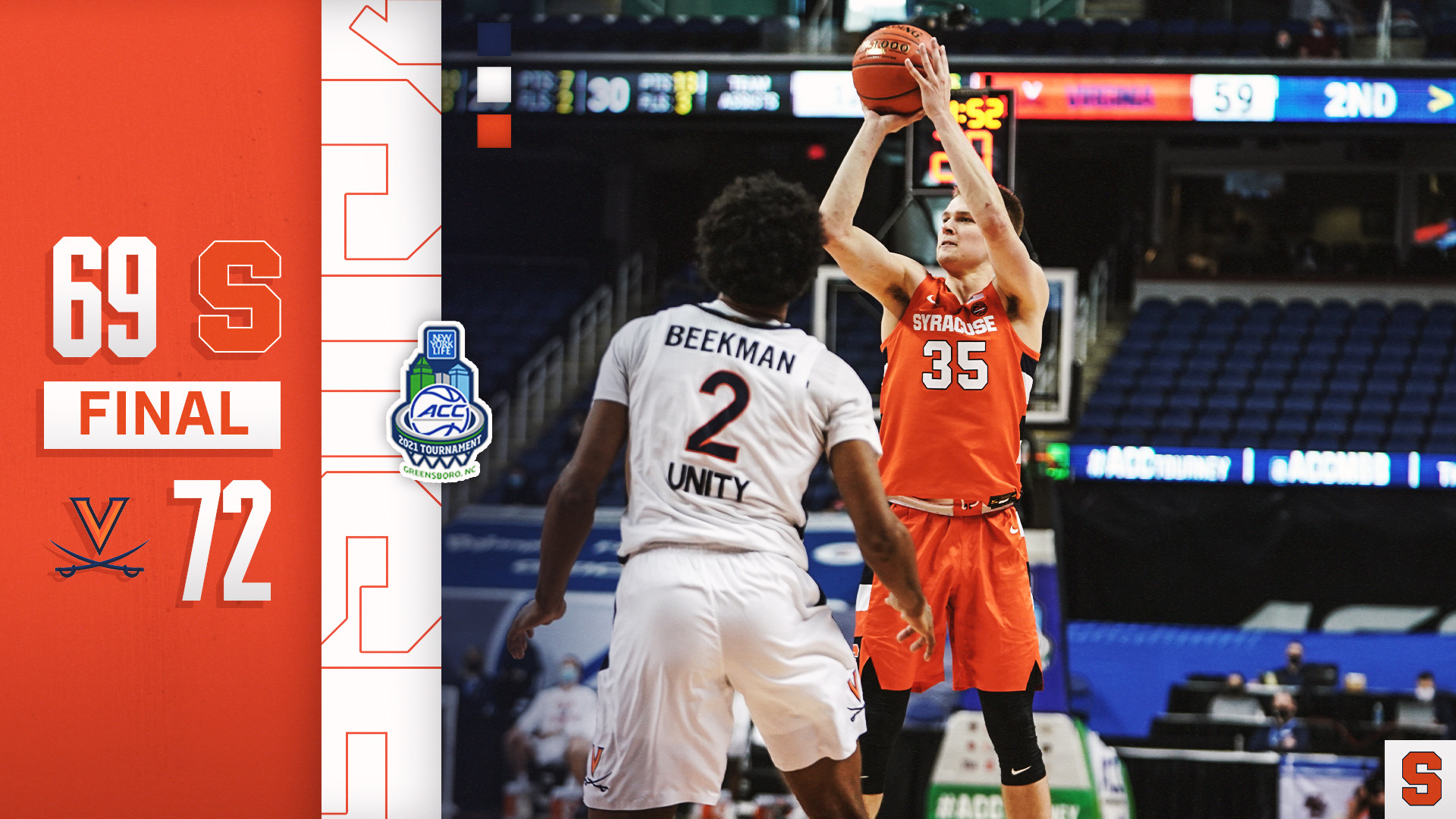 The Syracuse Orange suffered a heart-breaking 72-69 loss to Virginia on a last-second 3-pointer in the quarterfinals of the ACC tournament on Thursday.
Syracuse had rallied from a 6-point deficit in the final two minutes, tying the game on Buddy Boeheim's two free throws with 28 seconds remaining.
On its final possession, Virginia guard Kihei Clark drove into the lane and then kicked the ball out to Beekman on the wing. Beekman hadn't made a shot the entire game, missing all five of his attempts.
But his 3-pointer splashed through the net just as the final horn sounded.
Beekman raced to the opposite end of the court as his teammates chased him down in celebration.
Meanwhile, the dejected Syracuse players solemnly walked off the court, wondering how that stunning 3-point shot would affect their NCAA tournament hopes.
Syracuse entered the ACC tournament knowing that it had to win at least one; and maybe more games in order to earn an NCAA at-large bid. The Orange throttled North Carolina State 89-68 on Wednesday and then took Virginia, the ACC's regular season champion, to the wire on Thursday.
Syracuse must now anxiously wait until the NCAA bracket is revealed on Sunday to see if those two performances were enough to earn an NCAA bid.
Boeheim tied his career-high with 31 points, including eight of Syracuse's last 10 points.
GAME RECAP LINKS:
GAME HIGHLIGHTS:
JIM BOEHEIM'S POSTGAME PRESS CONFERENCE:
MEDIA:
Oh boy, that was well executed at the end. Virginia 72, Syracuse 69

The Orange are now 16-9 and 10-8 in the ACC. Buddy Boeheim's 31 points (career high) are the most for a Syracuse player in an ACC tourney game.

— Matthew Gutierrez (@MatthewGut21) March 11, 2021
Well that sucked. Have to sweat out Sunday now. They certainly looked like a tournament team today, but have to hope no more bids are stolen.

— Sal Capaccio ? (@SalSports) March 11, 2021
That was a 10 second violation. https://t.co/sgJtuMrl20

— Andrew Siciliano (@AndrewSiciliano) March 11, 2021
The Syracuse team we've seen the last 3-4 weeks is the team I thought/hoped they'd be to start the season. Just hope it wasn't too little, too late now. Also, would have really liked to have one of those chances against Louisville. Two huge cancellations for both teams.

— Sal Capaccio ? (@SalSports) March 11, 2021
https://twitter.com/thadbrown7/status/1370086892268630017?s=20
Career day for @Buddy_Boeheim35!

?31 points pic.twitter.com/ED2vtELCSN

— Syracuse Men's Basketball (@Cuse_MBB) March 11, 2021
??? pic.twitter.com/x2KW9sydDI

— Syracuse Men's Basketball (@Cuse_MBB) March 11, 2021
---
GAME PREVIEW:
Syracuse opened its Atlantic Coast Conference Tournament with an 89-68 victory over NC State, using 27 points from Buddy Boeheim and 14 from Joe Girard III to outscore the Wolfpack by 16 in the second half. The Orange connected on 48% of their 3-point attempts and shot 57% from the field to reach their second-largest margin of victory in the ACC's postseason tournament.
SU advanced to the quarterfinals, where it'll face top-seed Virginia — which ranks No. 16 nationally — at 12 p.m. on Thursday. The Cavaliers lost three of their last five games, but back-to-back victories over Miami and Louisville, coupled with Florida State's loss against Notre Dame, secured the top seed for them.
GAME PREVIEW LINKS:
MEDIA:
Keep it rollin'‼️ ?#ACCTourney Quarterfinal
? Virginia
? Thursday
? 12 PM ET
? ESPN/2
? @TKClassicRock @tunein pic.twitter.com/7Be1icFLgw

— Syracuse Men's Basketball (@Cuse_MBB) March 10, 2021
Handled our business ?

…on to the next. pic.twitter.com/VD6cKRoeyc

— Syracuse Men's Basketball (@Cuse_MBB) March 11, 2021

Kyle leads sports coverage and hosts the Concrete Jungle podcast. Have a lead or question? Send it to [email protected].