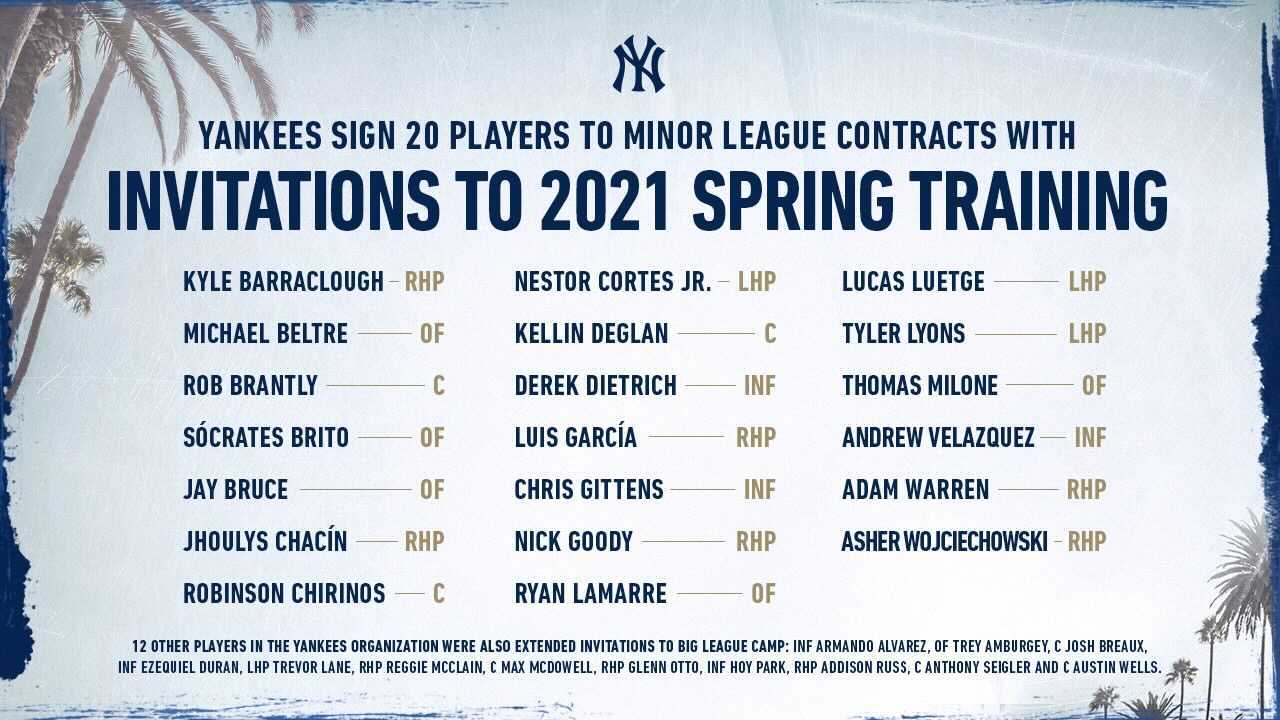 The New York Yankees announced today that they have invited 32 players to 2021 Major League spring training. The number of players scheduled to report to spring training is 72.
Of the group, 20 players were signed (or re-signed) to minor league contracts for the 2021 season: RHP Kyle Barraclough, OF Michael Beltre, C Rob Brantly, OF Sócrates Brito, OF Jay Bruce, RHP Jhoulys Chacín, C Robinson Chirinos, LHP Nestor Cortes Jr., C Kellin Deglan, INF Derek Dietrich, RHP Luis García, INF Chris Gittens, RHP Nick Goody, OF Ryan LaMarre, LHP Lucas Luetge, LHP Tyler Lyons, OF Thomas Milone, INF Andrew Velazquez, RHP Adam Warren and RHP Asher Wojciechowski. Brantly, Deglan, Gittens, Lyons, Milone and Warren spent time in the Yankees organization last year and return in 2021 after signing new minor league deals.
Twelve other players in the Yankees organization were also extended invitations to big league camp: INF Armando Alvarez, OF Trey Amburgey, C Josh Breaux, INF Ezequiel Duran, LHP Trevor Lane, RHP Reggie McClain, C Max McDowell, RHP Glenn Otto, INF Hoy Park, RHP Addison Russ, C Anthony Seigler and C Austin Wells.
The 32 non-roster invitees consist of 13 pitchers (four left-handers, nine right-handers), seven catchers, six infielders and six outfielders. Seventeen of these players have accrued Major League service time: Bruce (12 years, 125 days), Chacín (9 years, 87 days), Chirinos (8 years, 103 days), Warren (7 years, 36 days), Dietrich (6 years, 112 days), L. García (5 years, 92 days), Goody (4 years, 105 days), Lyons (4 years, 75 days), Barraclough (4 years, 20 days), Wojciechowski (2 years, 151 days), Brantly (2 years, 31 days), Luetge (2 years, 15 days), Cortes (1 year, 139 days), Brito (1 year, 123 days), Velazquez (1 year, 70 days), LaMarre (1 year, 62 days) and McClain (1 year, 6 days).
Of the Yankees' non-roster invitees, 13 are homegrown players. Eleven were originally drafted by the club: Alvarez (2016, 17th round), Amburgey (2015, 13th round), Breaux (2018, second round), Cortes Jr. (2013, 36th round), Gittens (2014, 12th round), Goody (2012, sixth round), Lane (2016, 10th round), Otto (2017, fifth round), Seigler (2018, first round), Warren (2009, fourth round) and Wells (2020, first round). Two were signed by the Yankees as non-drafted free agents: Duran (July 2, 2017 out of San Juan de la Maguana, D.R.) and Park (July 2, 2014 out of Seoul, South Korea).

Kyle leads sports coverage and hosts the Concrete Jungle podcast. Have a lead or question? Send it to [email protected].