It was a weekend of two meetings, one held in public and another in private – each ending with two different outcomes as Geneva preps to fully consider the possibility of a police accountability board with an upcoming public hearing set for early August on the subject.
Starting with 67 strong and peaked at more than 80, plenty of faculty and community actors and a handful of students jumped-in as a part of the "Education for Transformation: What All Genevans Need to Know about Police Accountability" at 11 a.m. Saturday morning for more than two-hours.
As a part of their teach-in series, the Colleges' sponsored a platform intended for the public, one that centered community dialogue at the forefront ahead of August 5th, the upcoming Geneva City Council meeting and public hearing.
Although the Colleges sponsored the event, public input and participation were both prevalent and prominently on-display.
Even some of the city's officials were present for the duration of the event including councilors Tom Burrall, Bill Pealer, Jan Regan, Laura Salamendra, and John Pruett, At-Large City Councilor Frank Gaglianese as well as City Manager Sage Gerling.
All elected officials were personally invited by Vice President of Diversity, Equity, and Inclusion Khuram Hussain and a few were unable to join: Ward 4 City Councilor Ken Camera and At-Large City Councilor Anthony Noone.
Additionally, Mayor Steve Valentino and President Joyce P. Jacobsen were unable to attend but Hussain spoke to both of them separately before the session started.
Jacobsen wrote the following statement to Hussain about her thoughts about the possibility of a police accountability board in Geneva, stating, "I'm very sorry to hear that anything I have said would be construed by anyone in any way as being counter to the aims and approaches of having a policy accountability board in Geneva. Having followed discussions about both police accountability boards in other communities and about the movement to set one up here, police accountability boards sound like a good idea in principle and I have no reason to believe that such a board would not be a good idea to establish here in Geneva, nor any reason to advocate against having one."
"We should by no means be setting the agenda for Geneva." – Vice President of Diversity, Equity, and Inclusion Khuram Hussain
In truth, Saturday's event sought to establish a starting point for knowledge creation before August's public hearing.
"So, we are not setting the agenda, nor should we, and I want to be extremely clear about that. We should by no means be setting the agenda for Geneva," Hussain told FingerLakes1.com.
Instead of propelling forth an agenda, as some opponents may suggest, this public event encouraged exploration in the fields of history, sociology, criminology and how these studies are applicable in creating knowledge systems about the subject of police accountability for Geneva.
On the heels of Rep. John Lewis' recent death, the organizers ensured to honor his legacy, playing a song of empowerment to open the session and brief memoriam of his mission to fight for social justice.
Kendra Freeman, associate professor of sociology set the rules for the event in an attempt to foster empathy and mutual respect.
"Remember we're here to learn together," she said.
Freeman event outlined that participants may be asked to leave or step-out if the guidelines are not followed accordingly.
Fortunately, no one had to be removed from the call and the event transitioned smoothly from panel to panel starting with a brief historical overview of the situation surrounding police accountability in Geneva with Jackie Augustine, a former multi-time city councilor and graduate of the Colleges.
Augustine asked those in attendance, "How are we engaged in policing? What does this mean for policing?"
In her opinion, Augustine believes that the creation of a PAB is "an essential part of the solution" but not solely sufficient in resolving the policing issues that are prevalent in Geneva.
Pivoting to Akim Hudson, one of the lead organizers of the People's Peaceful Protests, he served as the moderator for a panel consisting of Jim Sutton, associate professor of sociology as well as the Sidney Moore and Lucille Mallard, both of whom are members of city's NAACP chapter.
The speakers of this panel spoke about the histories surrounding police forces and the challenges that come with police reform, even in Geneva.
Mallard, the president of the NAACP, remembered Damon Propst, the first Black police officer who served on the Geneva Police Department and how he eventually moved to Florida, which she considered "not a pleasant situation that he left under."
At the same time, however, Mallard remembered being asked by former President Mark Gearan to join him on-stage and holding hands after the late Lewis delivered his commencement speech to the Classes of 2007 – a juxtaposed duality that she personally acknowledged on-call.
Steven D'Alterio, a current student at the Colleges then moderated another panel that included Shani Wilson, a seven-year medical health professional and the Rochester Police Accountability Board chair; Ted Forsyth, an independent journalist and Cliff Chan who formerly sat on the Geneva Community Compact police training subcommittee.
Panelists spoke about the distinctions between a civilian accountability board and police accountability board.
Forsyth considers the PAB "a possibility," an open question, claiming that this body attempts to bring balance to Rochester and equitable power.
Ultimately, the underlying difference between the CAB and PAB lies in the "power."
Chan, who no longer lives in Geneva has been inspired by "so much change and progress in recent days."
The police subcommittee started when police killing of a Corey Jackson, an unarmed Black person in Geneva, some nine years ago – signifying an agreement to build positive relationships between the police and the greater public.
In 2016, the Community Compact addressed direct concerns regarding cultural competency, implicit bias training and even trying to get more local Genevans to join police academy in order to diversify the police force, according to Chan.
One issue that kept arising, however, resting in how the Community Compact "does not review complaints," a decision that must be agreed upon by all members.
In 2017, when Geneva Police Officer Todd Yancey had been found with a Confederate flag on his Facebook page, the Community Compact "refused to put that idea on the table for discussion," according to Chan.
"The Community Compact does good work but can really only discuss what the police and city want to talk about," he emphasized.
Chan explained that each meeting, the total number of complaints are revealed, suggesting that at most eight are made each year.
"There really is no power to review police complaints or have any accountability," he elaborated.
As for Rochester, Wilson suggested that those who sought to file complaints were intimidated to not make statements, expressing that "cases are just sitting there and not being addressed."
Still Chan believes that "the community and police can co-produce good policing, co-produce good professionalism."
In their eyes, a way to achieve that is through the construction of a police accountability board.
Speaking from her own experiences in Rochester, Wilson's strongest recommendation insisted on keeping the Geneva City Council at arm's distance away from the PAB processes, allowing the people to decide who sits on the board and how they are appointed.
"It starts with the people and ends with the people," she asserted.
Wilson insisted that selectivity must be present among those who are involved and may "may or break" the prospects of a police accountability board in Geneva.
As for Forsyth, he challenges Genevans to "don't negotiate or water down legislation before you get to the table."
"If there are limits, I think we should look beyond them," he added.
He also suggested that the strategies and tactics of the Geneva collaborators must be dynamic and not stagnant, just like in Rochester, causing a "tipping point" for the PAB to pass while "changing expectations."
For Chan, he had been concerned with filling the "trust gap, credibility gap" when it comes to community police relations, which "leads to tensions that go unaddressed."
In an effort to restore enhanced transparency, Chan asked how should the community address this trust gap?
In the closing moments of the open dialogue, Mallard agreed that the accountability board is important.
Mallard claimed that some progress has been made in the aftermath of Corey Jackson's death, and she shared her own perspective – one she openly admittedly that others may disagree with.
"We need the police department as much as the police department needs us," Mallard noted.
She also agreed with Wilson's remarks that city council cannot vote for PAB appointments, claiming that the community has to be "more responsible" for that collective decision.
Similarly, Moore explained that the PAB is "absolutely essential" and insisted that this is not the end of this conversation, but rather the continuation of an ongoing discussion.
In its closing moments, Hussain considered this teach-in a monumental success, one that is "so edifying and so inspiring."
Leaving the community dialogue, Hussain felt "inspired, humbled, and encouraged" to push forward and continue keeping the conversation alive about the prospects of having a police accountability board in Geneva.
Before everyone signed-off from online, the chat filled with words of hope and inspiration like justice, unity, love, and peace – ending the teach-in on a positively promising note, and some city councilors even agreed.
Regan considered the session as "a very positive bonding experience," one that left an impressionable warm feeling at its conclusion.
"There was so much knowledge and expertise on the call and I was glad to be invited. I am impressed with how all people interested in justice are working towards a common goal, a PAB with teeth," Salamendra told FingerLakes1.com.  
Even Pruett expressed his gratitude and admired the "good experiences and passion" that were shown that Saturday, even if there wasn't as much available time left.
"The panel of attendees is impressive.  I was awaiting the promised time for questioning, which didn't come before the end of the two hours I had allotted," Pruett added.
Although he enjoyed the event, he was still left with many unanswered questions.
Editor's Note: Councilmembers Burrall, Pealer, and Gaglianese, all of whom were in attendance did not answer FingerLakes1.com's repeated requests for comment following the Colleges' teach-in session.  
"I don't know what I expected. It wasn't what I expected." – Ward 3 City Councilor Jan Regan
A day later, the city's NAACP chapter hosted two separate sessions, each one consisting of four members from the Geneva City Council, constituting them as non-quorum meetings.
The non-quorum meetings, which were by definition not open to the public and unannounced – were not even on the radar of City Manager Sage Gerling asince she did not get an invitation, according to Regan.
The first session included Ward 3 Councilor Jan Regan, Ward 6 Councilor John Pruett, At-Large Councilor Anthony Noone, and Mayor Steve Valentino.
The second session consisted of Ward 1 Councilor Tom Burrall, Ward 2 Councilor Bill Pealer, Ward 5 Councilor Laura Salamendra, and At-Large City Councilor Frank Gaglianese.
Mallard attended both sessions as well as some other members from the NAACP.
Following the second session, Salamendra shared her disappointment with how the non-public session went, claiming that she was yelled at for 45-minutes after "rushing and not respecting" the NAACP's request to extend the PAB process.
The NAACP sent the following memo ahead of the resolutions before the July meeting when the PAB resolution passed 5-4.
Salamendra shared the memo insisted that the NAACP "needed more time to hear from stakeholders."
However, Salamendra felt confused by this claim, suggesting that the resolutions back in July were intended for that reason.
"Today they just asked us why we didn't listen to them and respect their request. They just basically asked us over and over again why we didn't wait, and how much time we spent on it," Salamendra told FingerLakes1.com.
For Salamendra, the situation seemed unbearable, and she left the session earlier around 7:15 pm. all the while claiming, "They were all apologizing, and I said I stand by what I did."
Originally, Mallard had no recollection about Salamendra's early departure.
"She didn't give us any reason about why she had to leave," Mallard told FingerLakes1.com.
Being a part of both sessions, Mallard explained that she did not feel that Salamendra had been targeted and that heated discussions occurred throughout the entire Sunday.
However, Mallard later admitted that one confrontation in particular stoked the flames during the second session.
"The heated discussion occurred when a person from the fifth ward said to Laura that she did not represent people from the fifth ward because her neighbors did not even know of the resolutions or not contacted by her," Mallard eventually recalled.
"Everybody in that the building were not yelling and trying to push Laura back, but we felt we needed more time to discuss those resolutions," she further elaborated.
Ultimately, however, Mallard felt confident about the non-quorum sessions that occurred on Sunday, even though tensions flared-up from time-to-time.
"Overall, I think it went well. There was some heated discussion," Mallard shared following the two sessions.
Although she believes that the meeting was productive from the NAACP's standpoint, she does not plan on scheduling anymore ahead of the public hearing.
As for Regan, she felt that her session would entail "more forward looking" in the pursuit of progress, but that did not seem to be the case to her either.
"I don't know what I expected. It wasn't what I expected," Regan told FingerLakes1.com.
Regan explained that the NAACP "were concerned about the process," and she understood their position.
Now looking back, however, Regan firmly believes that waiting any longer still would not have impacted the July vote regarding the PAB resolution.
"I don't think waiting would've been a difference," Regan claimed.
She like Mallard acknowledged that there was "a level of tension" even during her private session among fellow councilmembers.
While leaving, she even asked on the way out who's at the next session, and that's when she found-out who's in the other grouping, which included Salamendra, Pealer, Gaglianese, Burrall, and even Akim Hudson, a standout organizer of the People's Peaceful Protests.
Politically speaking, Regan considered her initial session more entuned and cohesive on the subject, even though heated debates did in-fact still arise.
"We were more aligned than the second group," Regan shared.
The decision for the groupings were coordinated by the NAACP and based on who signed-up for what time slot on that Sunday, and not to pit opposing sides against each other.
This notion was made abundantly clear when Mallard told Regan, "I didn't want to decide who appeared with who," as she left the first session that earlier afternoon.
On the whole, Regan felt that her session was still productive, insisting that another non-quorum is necessary ahead of August's city council meeting and the public hearing.
"I really think we kind of need it," she admitted.
Most of all, Regan seems convinced that the NAACP and People's Peaceful Protests should be speaking together in some official capacity before the meeting as well, with or without the presence of city council.
"I welcome the education from what people are thinking about this, and I learned a lot this weekend. Both of the sessions were worthwhile. I think you can't hear enough from people," she added.
While Regan thought the both sessions were valuable, Pruett strongly opposed this perspective, claiming that the meeting was "not that useful, helpful, or productive" for him – and he sat in the same room as her.
He considered the NAACP meeting "aggressive," one that lashed-out at city council, asking about their past actions, calling it a "severe scolding."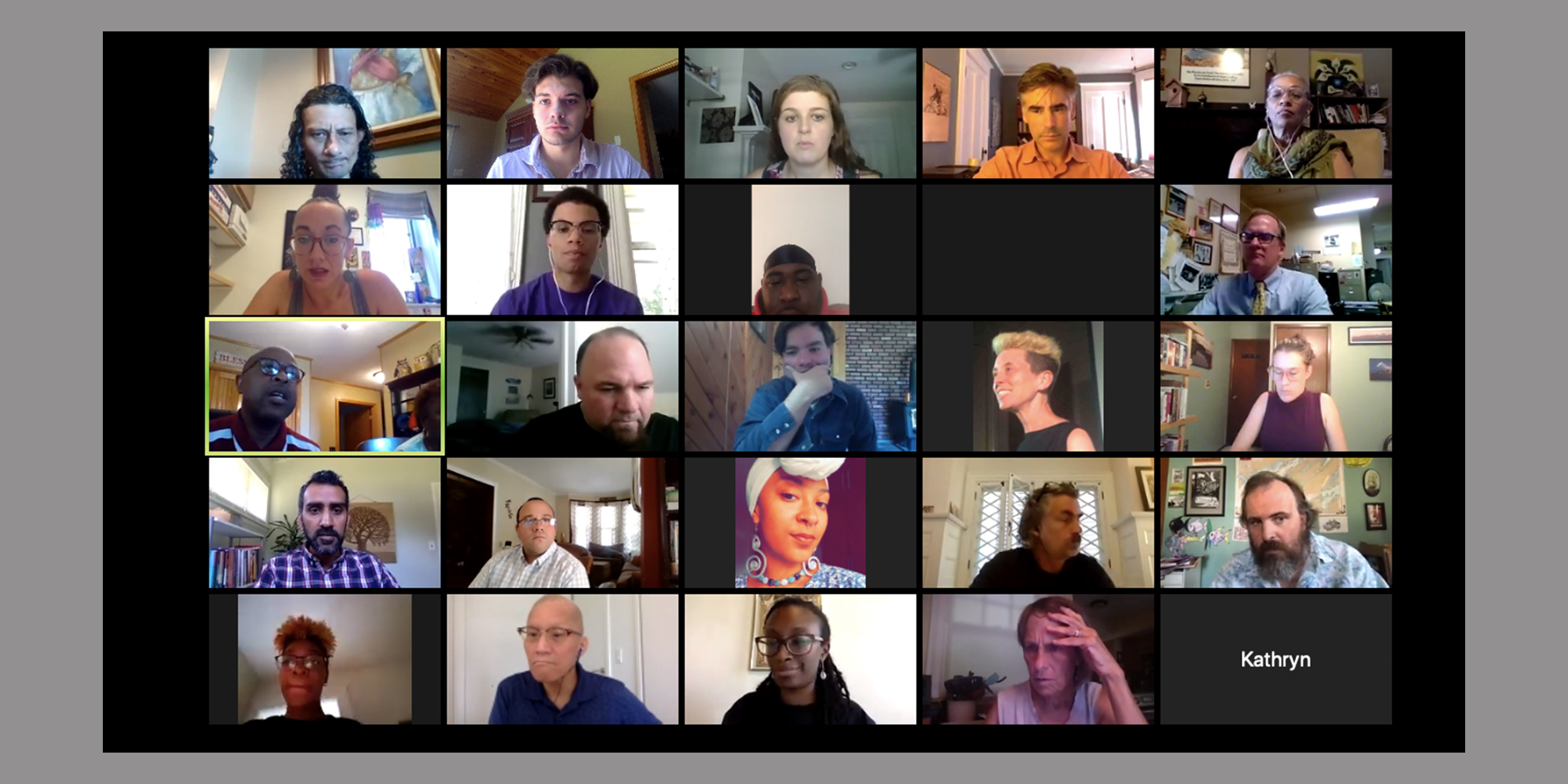 "It felt that it was sprung on ourselves," Pruett told FingerLakes1.com.
The NAACP seemed "very concerned" about the process behind public comments from July's city council meeting, suggesting that the comments made were not representative of the Black community in Geneva, according to Pruett.
Regan and Salamendra aired similar statements about the issues of public comment for the NAACP, especially among those who are affiliated with Hobart and William Smith Colleges and speaking at the latest city council meeting.
In a similar vein, it sounded like the NAACP "sort of felt left-out," and they were voicing their concerns to members of city council, according to Pruett.
However, Pruett stands by his own opinion that "no one was left-out" and city council is not in control of the procedure behind public commenting.
During his session with Regan, Pruett even asked how city council and the NAACP can move forward together, and they responded, "Keep us informed."
In the end, Pruett revealed that the NAACP promised that they will bring more voices of color and unique perspectives to the public hearing in August.
Reflecting on yesterday's session, Pruett firmly believes that it's the responsibility of the Mayor Valentino to help organize these voices in constructive ways through subcommittees and other forms of engagement on the issue.
But this organizational planning and leadership seems lacking at the moment from Pruett's perspective. "The leadership is not put together," he ended.
All politics aside, however, Mallard affirmed the city's NAACP efforts to promote and support the prospects of a police accountability board, and so does Salamendra.
"I'm happy to hear that the NAACP is fully in support a PAB with teeth and I look forward to working with them as we make it a reality," she concluded.
---
---