– By Josh Durso
The Seneca County Board of Supervisors held its May meeting virtually amid the Coronavirus Pandemic.
While none of the public was in attendance, it was streamed on YouTube for the public to access.
Aside from an executive session to address a pair of outstanding matters – including the appointment or re-appointment of a person employed by the county, and two matters currently in litigation – the supervisors focused much of their discussion on the County's ability to begin reopening on Friday.
While the video cut off, the supervisors entered that executive session pursuant to section 105 of the Open Meetings Law.
The motion to enter executive session included an invitation to the County Manager, County Attorney, County Personnel Director, County Finance Director, and Commissioner of Human Services.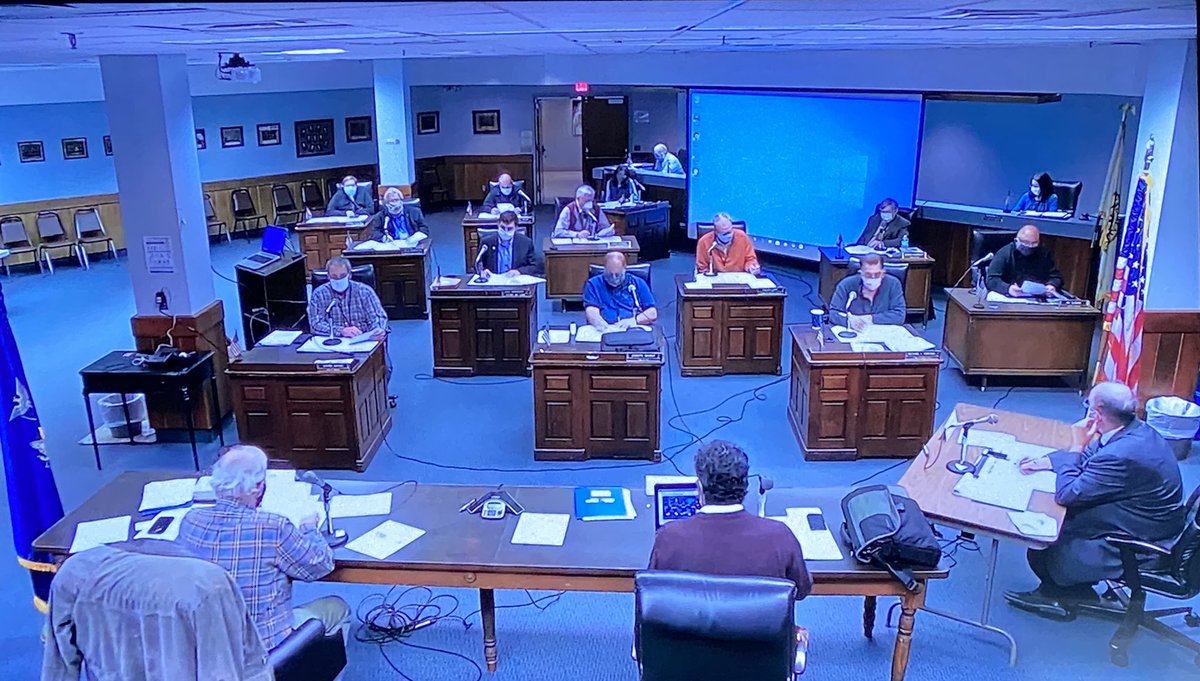 As the meeting got underway, Chairman Bob Hayssen, R-Varick, outlined his recent communication with the Waterloo Premium Outlets, located on State Route 318. The outlet mall serves as one of the largest drivers of sales tax, and this week – management expects to begin reopening.
However, Chairman Hayssen noted that the reopening will be for curbside pickup exclusively.
Supervisor Mike Ferrara, R-Seneca Falls, then inquired about the County's authority to 'reopen'. While it wasn't immediately clear what prompted the question – FingerLakes1.com later learned that the supervisors received more than three dozen emails each from concerned citizens.
One of those letters, obtained by the newsroom read:
"Based on the positive cases of coronavirus in Seneca County currently and over the past two months, I strongly do not believe our county should be closed, nor do I believe we should reopen in phases. Our residents have a fundamental right to work and provide for their families. Please support the people of Seneca County by passing a resolution declaring Seneca County open for business effective immediately."
Supervisor Ferrara's question was directed at County Attorney David Ettman, who explained that fundamentally there isn't a ton an individual county can do. The region's leadership structure, appointed by Governor Andrew Cuomo, will ultimately dictate the pace of reopening.
Chairman Hayssen serves on that regional committee for the Finger Lakes.
"What would happen if the supervisors passed a resolution by majority vote to reopen the County?" Supervisor Don Trout, R-Waterloo, asked of Ettman.
"It probably wouldn't be good," Chairman Hayssen responded, pointing out that following the steps and protocols is the best way to effectively reach reopening.
"I'm hearing from people every day," Supervisor Trout responded. "They are dead broke, using the food banks, and they haven't gotten any stimulus. That's why I'm asking." He said local businesses – like wineries are struggling to remain flush.
At that point, Supervisor Kyle Barnhart, of Lodi, entered the discussion. "It probably wouldn't be wise to invite hundreds-of-thousands of people to local wineries," he said. "I guess my response to [Supervisor] Don [Trout] would be 'I'd rather be dead broke than dead'."
The supervisors did not take up any resolutions to call Seneca County reopened, or open for business. Rather, the County's leadership doubled-down on the state's plan to reopen in phases, pointing out that it's possible the process gets accelerated if various markers and standards are met over the next 2-4 weeks.
Supervisor Paul Kronenwetter, R-Seneca Falls, inquired about when the New York State Canal Corp. might reopen local waterways, but as previously reported on FingerLakes1.com – no date has been set down from New York.
Prior to entering executive session, the Board noted that a drive-up COVID-19 testing day would be held Saturday, May 16th from 10 a.m. to 3 p.m. at the Seneca County Office Building.
That session will be by appointment only.
Seneca County COVID-19 Drive Thru Testing this Saturday May 16th, 2020 ***BY APPOINTMENT ONLY***.

Testing will take place at the Seneca County Office Building South Lot from 10am to 3pm.

registering online at https://t.co/WMgJGy3Afd or by calling the SCHD at (315) 539-1671. pic.twitter.com/IlZubkxArk

— SenecaCntyHealthDept (@SenecaCountyDOH) May 12, 2020
The County's next session would be in two weeks to hold committee meetings.
---
---