The Town of Seneca Falls is the latest winner of $10 million under New York State's Downtown Revitalization Initiative. 
Lieutenant Governor Kathy Hochul arrived in Seneca Falls this Wednesday morning to issue the announcement that Seneca Falls was selected as the Finger Lakes Region's recipient of the DRI award.
State, county and local officials gathered with Seneca Falls business owners and residents visited the National Women's Hall of Fame new site for a ribbon-cutting ceremony at the Seneca Knitting Mill.
Seneca Falls Town Supervisor Greg Lazzaro, former state senator Michael F. Nozzolio [R-54], Seneca Falls Town Supervisor elect Michael Ferrara and many others were in attendance for the landmark announcement.
Kate Bennett, president of the National Women's Hall of Fame reflects on the long journey to refurbish the historic mill, which will eventually serve as the hall's new permanent space.
"We have been working to make this building habitable since 2009," Bennett said.
Bennett called the revitalization of the Seneca Knitting Mill as a collective project among local businesses and collaborators that allows for the community to tell its collective story of progress and equality.
"We are committed to telling the stories of great American women," Bennett stated.
Lt. Gov. Hochul was then introduced and assumed the podium, contributing to Bennett's tale of remodeling the mill from her memory.
"Oh yeah, she's a visionary! She sees a future that I'm not sure I see but you never gave up; and you and your entire community never gave up. You carried on the legacy of the suffragettes together here in 1848 because they never gave up," Lt. Gov. Hochul stated.
"It is that resiliency that's in the DNA of the women of Seneca Falls that carried to this day," she continued.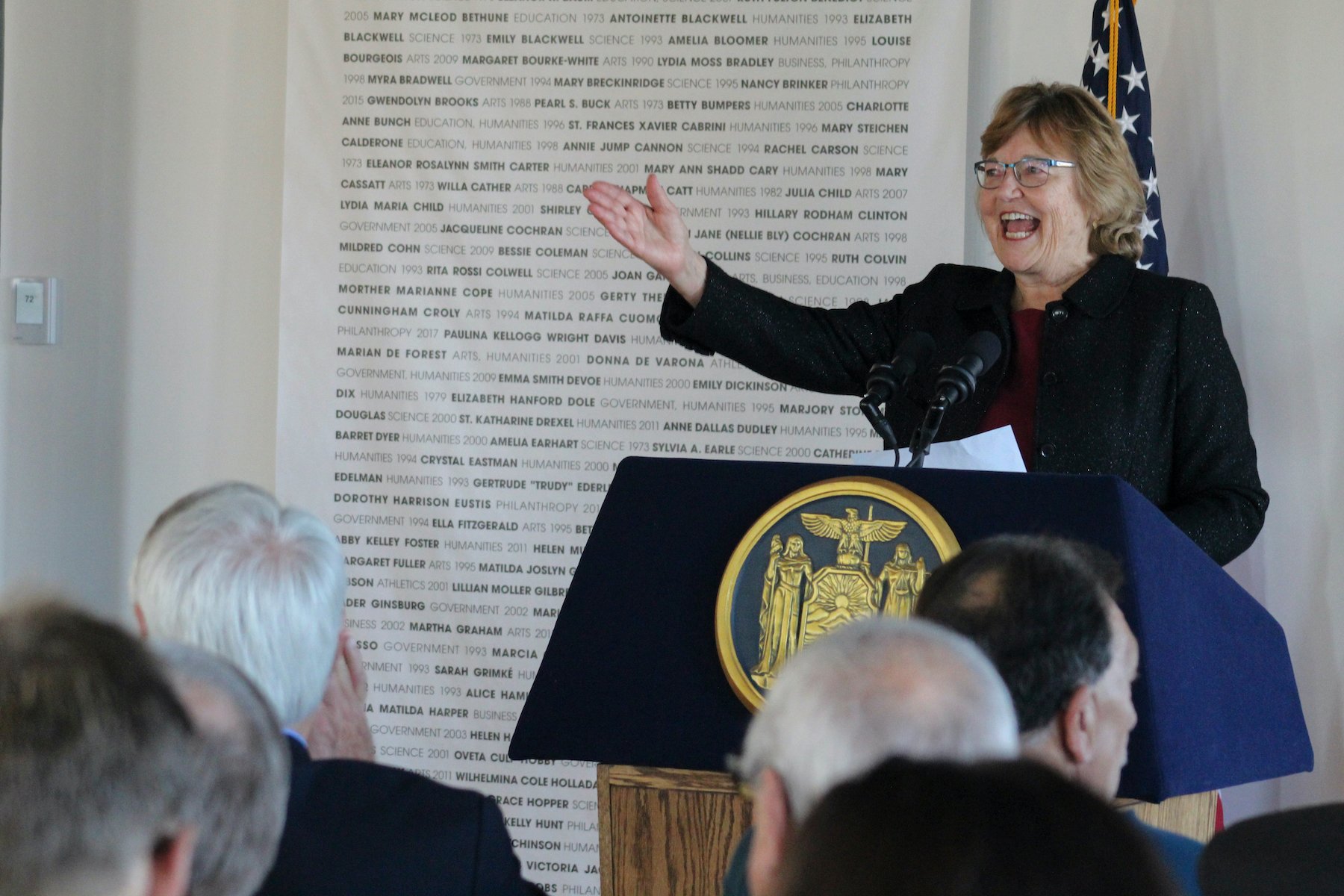 Calling Nozzolio a "champion" for this organization, Lt. Gov. Hochul was grateful for him being in attendance and a part of their history.
Falling upon the heels of this municipal election, Lt. Gov. Hochul also thanked members of town government both old and new for their service from her perspectives as a former local public servant for 14-years.
Lastly, Lt. Gov. Hochul extended gratitude toward Vinny Esposito, the Finger Lakes regional director of New York State Economic Development Council.
"No great project happens in the Finger Lakes without the fingerprints of Vinny Esposito," she said.
Lt. Gov. Hochul reminisced about her many visits to Seneca Falls, even admitting that she has probably returned to this community far too many times than she was willing to admit.
Acting as Governor Cuomo's trusted hand for Upstate New York, Lt. Gov. Hochul recognizes that while policy is crafted at the capital, the best ideas come from the people and competition.
"We have a lot of good ideas in Albany, but the best ideas are going to come from you: the community," Lt. Gov. Hochul said.
While she considers herself and Governor Cuomo as competitive, but not against each other, Lt. Gov. Hochul claims that the DRI competition acts as a way for communities create a "common vision" for economic development.   
Aside from seeing the immediate impacts of the DRI, Lt. Gov. Hochul closes her remarks while considering how the DRI shall drastically change the Town of Seneca Falls in the long-term, even a century from now.
"You're going to look back to this day, this beautiful fall day in 2019 and say: our work paid-off; and this will be the legacy that you will build upon 100-years from now and say: they did good for our community," she concluded.
Joell Murney-Karsten, board chair of the Seneca Falls Development Corporation sees the DRI allocation as a fresh-start to "realign and refocus the economic development engine of Seneca Falls."
Alongside herself, Murney-Karsten acknowledged members of the DRI presenting committee naming Seneca Falls Town Council member Doug Avery and Bob McKeveny; retired Seneca Falls Central School District Superintendent; Jessica Lorenzetti, a Mynderse Academy teacher; and Seneca Falls Development Corporation Director Greg Zellers.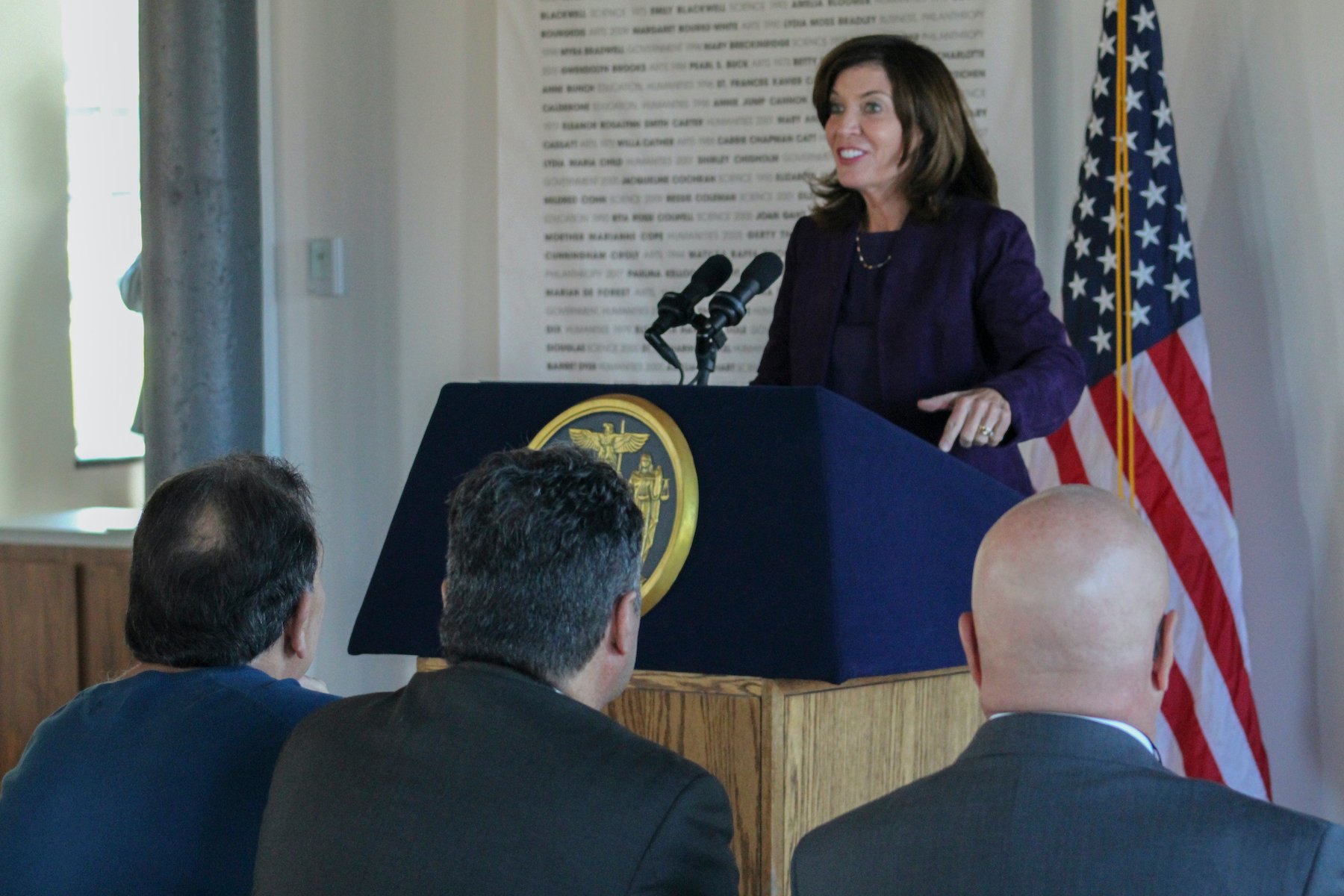 She added that this investment shall "strengthen and accelerate these revitalization efforts" for Seneca Falls and affect its surrounding communities.
Murney-Karsten looks forward to partnering with Geneva and Auburn, former DRI recipients in their own right, but also with their neighbors in Waterloo to create "a fantastic Finger Lakes corridor" for both communities.
Additionally, Murney-Karsten in collaboration with Nozzolio aim to "foster more regional collaboration" in branding Seneca Falls through organizations like Locate Finger Lakes.
"Thank you, Lt. Gov. Hochul, and please convey our thanks to Governor Cuomo for believing in Seneca Falls and recognizing the importance of smaller municipalities within the Finger Lakes region," Murney-Karsten stated.
For her, Murney-Karsten seeks to rekindle the American dream in Seneca Falls as an attainable reality for future generations of town residents.
"The challenges we face today did not surface overnight and they will not be solved overnight, but today we remain committed to working for the future while embracing our heritage throughout the process. Together we will honor our history by writing our way for future generations to live the American dream write here in Seneca Falls," she concluded.
"One of our key priorities was to better showcase the rich heritage of Seneca Falls while also communicating its promise and potential," shared Greg Zellers, SFDC Director. "This is why we chose to put forth a homegrown application that was rooted in community collaboration rather than hiring an outside firm. We felt this was the best way to capture and convey the heart and soul of Seneca Falls."
"I want to personally acknowledge the team of Greg Zellers and Joell Murney-Karsten who spent hundreds of hours on research and preparation for the DRI push," added Supervisor Lazzaro. "Their commitment throughout the DRI process helped bring us to this remarkable day, and it's an accomplishment our entire community shares in."
Zellers further added that the DRI award is the culmination of ongoing collaboration among the SFDC, the Town Council, local businesses, and residents.
Following the ceremony, a ribbon-cutting took place inside the mill itself as a symbolic opening and FL1 News reconnected with Ferrara and Avery, asking them both about what the DRI means for the future of Seneca Falls.
As Seneca Falls Town Supervisor elect, Ferrara aims to cooperate with the SFDC committee.
"I can take no credit for the DRI and I only hope to work with the committee and join our forces together and provide some ideas and vision," Ferrara said.
Avery, Ferrara's former opponent for town supervisor, mentions that the DRI can "spread the wealth and try to address a whole lot of needs" on behalf of Seneca Falls.
He also considers the DRI as a "vote of confidence" for Seneca Falls, signaling hope toward realizing a landfill-free community for the town, despite his recent loss against Ferrara for Seneca Town Supervisor.
"We got the DRI in spite of the landfill and someone out there has confidence in us in the direction that we want to take to become that landfill-free community," Avery concluded.
While Seneca Falls was a finalist for the DRI award in 2018, Penn Yann was selected as the region's winner. Undeterred, the SFDC worked to strengthen their application by securing additional community input and focusing on the enhanced branding and messaging of Seneca Falls.
The first monies allocated through the $10 million award will be $300,000 for initial planning. In the coming months, the SFDC will work alongside State officials to create community workshops and programs where businesses and residents can submit proposed projects for consideration. 
The State will ultimately decide which downtown projects are funded, and the SFDC plans a series of community gatherings to explain and help facilitate the DRI process.
The initial proposed projects for consideration included funding for downtown improvements, repurposing existing structures, adding tourism amenities, expanding cultural arts, small business assistance, extending walking trails, improving parking and walkability, canal-side development, streetscape enhancements, and other projects. 
While the DRI is intended to focus on downtown revitalization projects, the award has historically become a catalyst for economic development, commercial interest, and growth beyond the downtown corridor.
The SFDC will be publishing a DRI section on Monday, November 11 and will be accessible to the public by visiting www.senecafallsdevcorp.org.
Those who may have questions regarding the DRI and the upcoming process are urged to contact SFDC Director Greg Zellers by emailing him at [email protected].
---
– Reporting & Photos by Gabriel Pietrorazio
An undergraduate student at Hobart and William Smith Colleges, Pietrorazio has written for the Town Times of Watertown, Connecticut and Finger Lakes Times in Geneva, New York. He's currently a reporter for FL1 News, and can be reached at [email protected].