Governor Andrew Cuomo's ban on e-cigarette vaping products has become problematic for many tobacco and vaping businesses in Geneva, but not for Above All. The city's former cornerstone tobacco shop underwent a cultural shift many months prior to the ban and currently only sells CBD and hemp-based products.
"I don't associate with tobacco or anything like that anymore," Derek Sandroni, CBD specialist and owner of Above All said.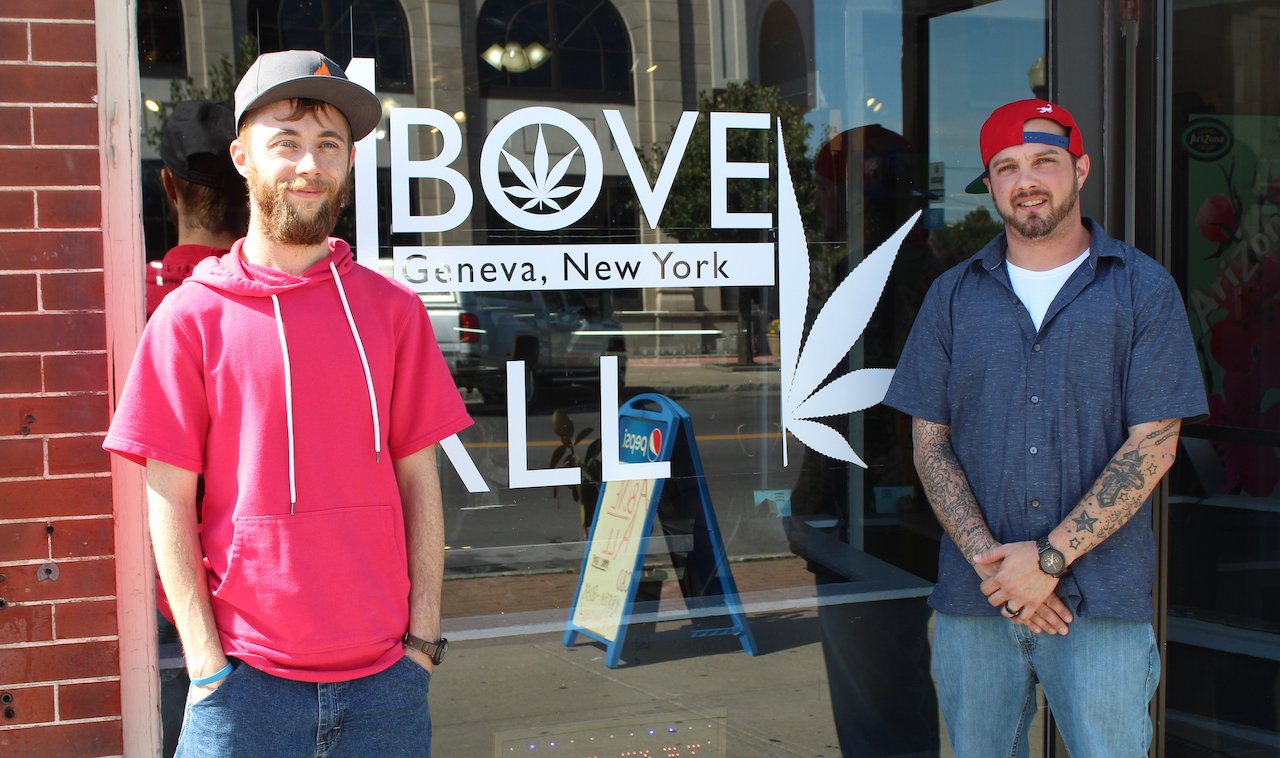 After receiving a Microenterprise Assistance Program grant from the City of Geneva this last summer, Sandroni plans to replace the exterior façade for next year and prime the interior for a long-term aesthetic overhaul.
Sandroni admits to exiting the tobacco and vaping business two-years ago after he stopped reordering products but has since cleared his shelves of all tobacco products within the past eight or nine months.
He believes that CBD and other cannabis products are the future of the industry, not tobacco and Sandroni is adamant about putting his beliefs into action by backing products and people that he fully believes in, even if it costs him financially.
But back to investments and trust, Sandroni placed his capital behind Timothy Wright, a former North Carolinian and the founder of Sibannac, a company that specializes in cannabis and hemp-based products.
Up until this past July, Wright was still living in North Carolina until Sandroni invested in Sibannac to become a partner, which caused him to move-up shop to the Finger Lakes.
"It was kinda just waiting for funds and I was just like, let's do it," Sandroni said.
Sandroni attests to Wright's background in understanding CBD and how it affects the body.
Since then, Sandroni calls Sibannac's rise as "an uphill climb," one that is rapidly growing and gaining a major foothold in Geneva.
Most of all, Sandroni believes that his business has a responsibility to educate consumers about the products and their health benefits, something that has been lacking in the conversations surrounding CBD in the mainstream culture.
"It's a smaller product line and once you find your market, it's all about education and then it's just word of mouth," Sandroni said.
According to Sandroni, selling Sibannac is as easy as having Wright sticking a bottle of oil in their hands but there are challenges.
Sandroni says that virtually all insurance plans do not cover the costs for purchasing CBD products, which causes many customers to pay out-of-pocket without co-pay deals.
"I've seen a lot of people willing to give up their medication and spend the extra money just for something that doesn't make them feel sick," Wright said.
Sandroni calls CBD "an alternative towards a natural remedy" instead of dealing with the pharmaceutical industry.
It is clear that Sandroni and Wright care about the products they sell and the people they help who suffer from illnesses, diseases and addictions caused by substance abuse.
Each possess their own personal stories about the lives of friends and families who have been aided by Above All, the business that they love and cherish.
"It's not all about the mighty dollar," Sandroni said.
Sandroni admits that he is sometimes too honest with his customers about products, causing them to not purchase anything, but prioritizes cultivating industry knowledge among consumers instead.
Wright recalls many times where Sandroni would remove certain products from his shelves that he deemed to be substandard in comparison to his consumer expectations.
In alignment with his educational mission, Above All plans to host seminars for potential consumers to learn more about CBD and hemp products in their own curated product interviews at their storefront.
Sandroni intends on sharing free samples of oils, lotions and even food during the product interviews.
"One thing that I thrive on is incorporating CBD into food," Sandroni stated.
But as for the current 90-day ban on most e-cigarette flavors and vaping products in New York State, Above All intends to rise above by simply ignoring it.
"The ban is not going holding us back," Sandroni concluded.
---
– Reporting & Photos by Gabriel Pietrorazio
An undergraduate student at Hobart and William Smith Colleges, Pietrorazio has written for the Town Times of Watertown, Connecticut and Finger Lakes Times in Geneva, New York. He's currently a reporter for FL1 News, and can be reached at [email protected].