Peter Koch, who has been involved in an ongoing dispute with the Town of Seneca Falls' Heritage Preservation Commission took to Facebook to alert residents of an upcoming meeting of the Town Board.
At that meeting, Koch says the Town Board will see a request to spend more taxpayer dollars appealing a court decision issued in July that the Commission did not have the authority to prevent sale of the Huntington Building.
Koch said in part, "They lost the suit. This Tuesday night August 6th, at 6PM in the Seneca Falls Town Hall, the Heritage Preservation Commission will ask the Town to spend even more money at hundreds of dollars an hour, to appeal the suit that they lost. We believe this is a waste of taxpayer money, ours included."
Koch added, "We believe that a historic community like Seneca Falls should have a trained and effective historic preservation committee because the history and fabric of our community has great value. The current HPC has lost sight of this. Instead they worry about paint colors and roof shingles and policing the property owners instead of promoting our heritage. It's not the specific commission members' fault. It's that we, ourselves included, haven't paid attention."
Joshua Larsen, a Republican candidate for Town Board in November's election says Koch and other residents have been heard.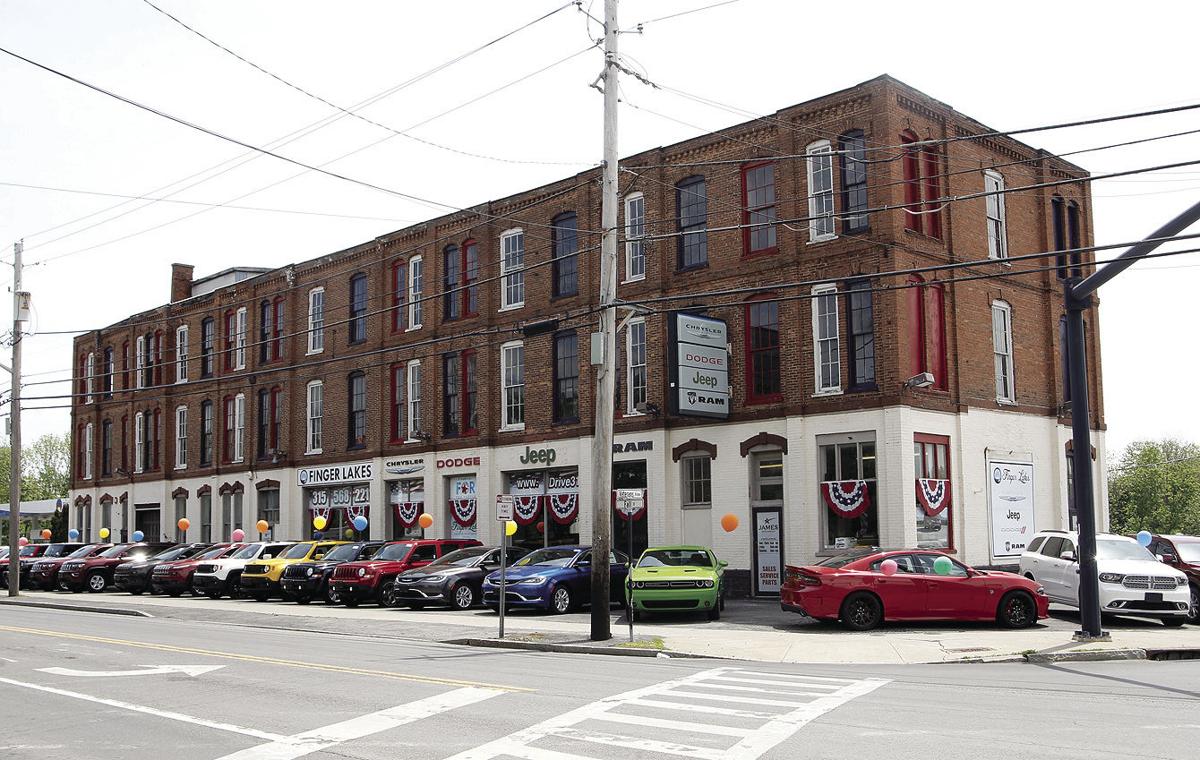 The controversy lies in a proposal by Circle K to purchase the corner property from Koch, demolishing the building. The sprawling corner lot would then be turned into a larger, centralized convenience store – replacing two older Circle K owned gas stations and convenience stores.
"Well said mr George Peter Koch I hear you and the town hears you.. We thank you for your dedication to this town and I couldn't agree with you more. I hope to make a change in this senseless spending by winning a seat on the Seneca Falls Town Board in November," Larsen explained. "I feel that the HPC should focus on making it easier for people to keep their homes up to code and presentable to the public other than hindering a home owner that falls into the 'historic district' by forcing them to use over priced and unrealistic materials for the upkeep."
He says that materials are not only more expensive, but less readily available, which has been a longstanding concern for those critical of 'historic' districts such as those in Seneca Falls.
"I feel that the current Town Board and HPC should honor the judges ruling and let Koch do what he pleases with his building," Larsen added. "The senseless spending to appeal the ruling could be useful money toward major infrastructure repairs that the town needs."
Christopher Lytle, who serves as Chair of the Heritage Preservation Commission, says the group is obligated by oath to monitor and oversee the town laws that pertain to historic preservation within the Seneca Falls Historic Districts.
He maintains that this has been the HPC's effort from the jump.
Reacting to Koch's statement and the messaging associated with his call for residents to show up at Tuesday meeting – Lytle offered his own version of clarification. "The Judge's recent ruling is not directly related to the demolition of the Huntington Building, but to eliminate the entire historic district based on a minor procedural technicality when the Villiage was being absorbed into the Town, and an appeal to this ruling is a normal and necessary step," Lytle explained. "The Town Board could easily and quickly act to correct this procedural oversight that occurred some eight years ago, but it seems, per the Town Attorney, that they prefer to eliminate the historic district entirely. In effect, if the Judge's ruling stands, anything can be built anywhere, any building can be demolished and any structure can be built at any time. Essentially, it's like solving an ant problem by burning down the house. The HPC has asked to meet with the Town Board to explain its position, but has yet to be invited. Considering the damage that this ruling would have on the future of Seneca Falls, the HPC feels that an appeal, and associated legal fees, are a small price to pay to maintain the legacy and heritage or our community."
Lytle says that Koch has never attempted to sell the Huntington Building, but rather applied to the HPC for demolition. "Again, following the Town Code (Chapter 173), before a building can be demolished the owner must demonstrate "hardship" for which there is a clearly defined process. One of the criteria is that Efforts to find a purchaser have failed. Mr. Koch never listed the building with a realtor, and didn't go through the other steps in the process. He may have been able find a buyer that didn't require demolition, as does Circle K," explained Lytle. " He made absolutely no effort other than to try to bypass the process and sue the Town rather than trying to establish Hardship. The HPC held numerous meetings as we went through the State Environmental Quality Review Act to which Mr Koch and Circle K were invited but then not only didn't attend, but sent no requested information required by the state SEQRA process."
Doug Avery, candidate for Town Supervisor and member of Town Board declined to comment ahead of Tuesday's meeting.
Emil Bove, Chair of Preserve Seneca Falls blamed Koch for the current situation in emailed remarks to Lytle, which were forwarded to FingerLakes1.com.
"He is so insistent with going forward with the project that he is willing to do away with the Town's Historic Preservation Law, the Heritage Preservation Commission, and the Historic District which have benefited the community for three decades," Bove said. "He has cost himself and the Town tens of thousands of dollars with an Article 78. Now he suggests that the Heritage Preservation Commission, charged with administering the Historic District, should not be allowed to appeal from a decision which eliminated its authority."
He says that the Town could stop the need for a 'costly appeal' if they made the area where the Huntington Building sits a 'historic district'. "Instead, they are committed to demolishing a historic building and replacing it with a three acre 14 fueling station project that is inconsistent in size, scope, and nature with the character of downtown Seneca Falls. It's hard to imagine a municipality would refuse to defend its code without a good reason," Bove added. "If the Historic District does not exist, anything could happen. Historic houses on West Fall Street could be demolished and replaced with a muffler shop, or worse."
---

This content is brought to you by the FingerLakes1.com Team. Support our mission by visiting www.patreon.com/fl1 or learn how you send us your local content here.