"The Young Americans" will hold a two-day performance workshop at Newark High School March 8th and 9th as part of a brand new performing arts workshop tour of the Eastern Region of the US and Canada for the entire month of March.
Young Americans Performing Arts Workshops employ an incredible combination of energy, teamwork, and confidence, using music as the tool and include everything from vocal and dance training to full stage performance.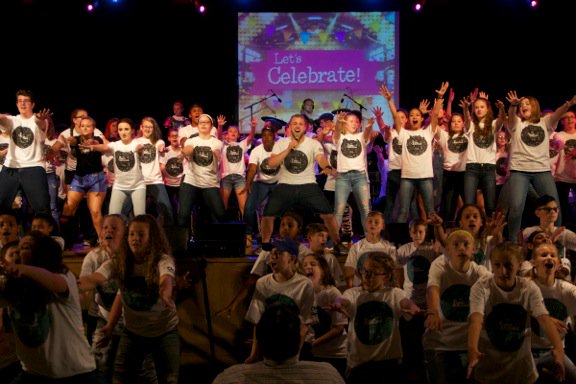 The college-aged cast of specially-trained performers/teachers provide a safe and exciting atmosphere for students in which to learn, create, and grow.
Founded in 1962, "The Young Americans" organization is dedicated to the promotion of understanding and goodwill among people throughout the world through music, dance, performance, academic education, and cultural interaction among student members and their audiences.
Student members are accepted into the organization based upon their talent and their interest in helping other students throughout America and the world attain self-confidence, self-esteem, and respect for others through music, dance, and performance.
Several NHS and other Wayne County high school graduates have become members of "The Young Americans" as a result of the workshops held in Newark.
Typically, Newark Central School District has hosted a YA performance workshop every three years for many years and the upcoming workshop here will mark the eighth time during the last 23 years that the famed national and international touring group has held a performance workshop at NHS that hundreds of grades 3-12 students
from Newark and other Wayne County schools have participated in.
NHS vocal music teacher Kate Flock, who is facilitating the event again this year as in October 2017, said the workshop being offered in 2019 by YA is an abbreviated version with only about half of the cast or 25 Young Americans.
Flock said the YA director who offered Newark the opportunity to hold a workshop this year said holding another one within two years, instead of three, keeps momentum going and boosts interest in participating.
However, because the workshop is being scaled back, Flock said it will be open mainly to Newark students in grades 6-12 and to only those involved in vocal or instrumental music programs.
With those parameters, Flock foresees between 75 to 100 NCSD students will participate and that it will be a very rewarding experience.
"As our music program continued to develop, this is a great opportunity for our students to dive deeper into performing arts,'' Flock said. "It really doesn't matter where their stills lie, but the experience will enhance their musicality within their performing ensembles."
Once "The Young Americans" roll into Newark for their two-day workshop here in March, the dynamic cast will immediately begin its ambitious schedule of working with students in rigorous workshops focusing on voice, dance and all aspects of performing. Students will be separated into middle or high school groups as they learn age-appropriate material.
The two-day event will culminate March 9th at 7 p.m. in an exciting, high-energy two-hour concert/show in the NHS auditorium.
The first hour will feature "The Young Americans" performers. The second will feature all of the NCSD and other Wayne County students performing their hearts out with the tour group.
Students interested in participating will soon be directed by their music teachers to register online at www.youngamericans.org. Flock is awaiting word on what the registration fee will be for the two-day workshop, but that information will be available shortly.
It takes an extraordinary amount of work on the part of students, staff, parents and community members, to successfully host the music outreach tour performance workshops, Flock said.
As in previous years, she hopes a dedicated group of parents and community members will open their hearts and homes to the performers and provide not only lodging, but also breakfast and packed lunches for them. Others will help provide meals at the school for the cast members. Anyone interested in helping Flock may call her at 315-332-3200, ext. 3332 or via e-mail at [email protected]

This content is brought to you by the FingerLakes1.com Team. Support our mission by visiting www.patreon.com/fl1 or learn how you send us your local content here.