Rehearsals for the March 1st-March 3rd  Spring musical production "The Music Man" began January 7th at Newark High School.
The early twentieth century story line centers around charming con artist Harold Hill masquerading as a boys' band leader trying to cheat the naive residents of River City, Iowa with his conniving scheme of offering to equip and train the marching band, then skip town with the money since he has no musical skill. His plan goes south when when he falls head over heels for a not-to-be-fooled librarian whom he is trying to keep from exposing him while he inadvertently enriches the town with a love of music.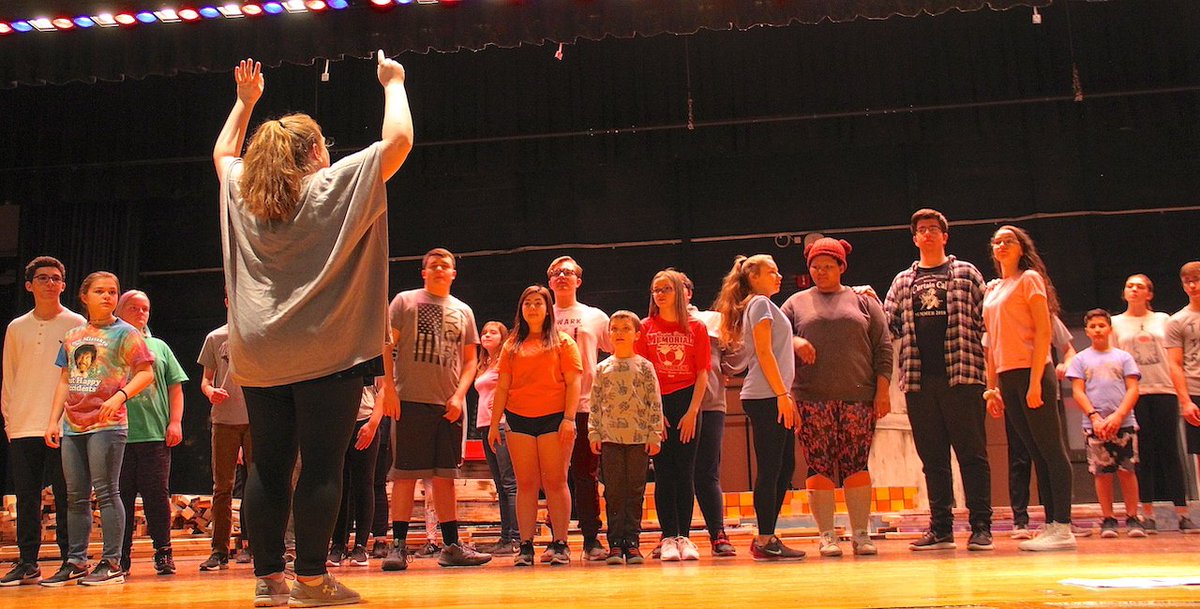 "Music Man has been on my "someday" list for show selection for several years," Director Emily Howard said. "We were just waiting until we had the right combination of young performers. Even though it is set 100 years in the past, there are still relevant themes that our actors will be exploring. They certainly know what it is like to grow up and live in a small town. I will be devoting some of our rehearsal time to creating families and relationships with all of the townspeople. We are particularly excited this year that the cast features 9 Kelley School and Newark Middle School students. I know that our audience community is very excited about this show. We look forward to sharing this classic piece of musical theatre Americana with everyone who joins us the first weekend in March!"
Howard, who is also the choreographer and artistic director for the show, is joined by NHS vocal music teacher Kate Flock as the vocal director for the show; NHS instrumental music teacher Bob Humphey as the orchestra director and Mary Lou Bonnell as the piano accompanist.
The cast features: Jaston Brooks as Harold Hill; Dylan Burley as school board/quartet member Jacey Squires; Cody Acquista as school board/quartet member Olin Britt; Jack Comella as school board/quartet member Oliver Hix; Joey Malach as school board/quartet member Ewart Dunlop; Ben Cepulo as Mayor Shinn; Carson Jordan as Marcellus Washburn; Anisha Stallworth as Eulalie Mackecknie Shinn; Isabella Bailey as Alma Hix; Kelsie Bushart as Maud Dunlop; Isabelle Figueroa as Mrs. Squires; Bria Dano as Ethel Toffeimier; Natalie Acquista as Marian Paroo; Cherylanne Garrett as Mrs. Paroo; Addison Burgess as Amaryllis; Braydan Sherman as Winthrop Paroo; Medina VanDuyne as Zaneeta Shinn; Gabriella Taylor as Gracie Shinn; Ashton Keene as Tommy Djilas; Ryan Hermenet as Charlie Cowell; and Liam Childs as Constable Locke.
River City townspeople include: Rebecca Atwell, Tanner Blaisdell, Anna Bouwens, Grace Casler, Phillip Collom, Ella Crowder, Emma Healy, Ryan Hermenet, Tyler Jewett,  JJ Fontanez-Orwen, Samantha Johnson, Lauren MacTaggart, Elijah Malach, Ethan Meeks, McKinley Miller, Paris Morris, Nadia Rothpearl, Brenna Stefanides, Veronia Swann, Anna Szarek, Deborah Szarek and Emma Whiting.
River City children, in addition to Winthrop and Amaryllis, include: Molly Bailey, Maggie Cornwell, Mariah Cruz, Beatrice VanRiper, AJ Comella, Talen Kanaley and Henry Klemann.
The crew includes: Liberty Faliveno, Talissa Rodriquez-Ramos and Kayla Williams as the stage management team; Preston Precourt as the light board operator, Lauren Mays as the sound operator; Blake Aldrich and Abigail Nezelek, fly; Alex Collom, Chloe Weichbrodt and Deontae Tarver, deck crew; and Jacob Stalker and Rachel George, spotlight operators.
Student pit band musicians include: McKenna Briggs, reed 2; Mallory Williams, trumpet 2, Brendan Briggs, trumpet 3 and Stephen Skvarek, violin on synthesizer.
Dave Howard is in charge of set design and Linda Whiting is in charge of costumes.
The show will be presented March 1st and 2nd at 7 p.m. in the NHS auditorium and at 2 p.m. March 3rd. Tickets are $7 for adults and $5 for children.
Senior citizens may attend the final dress rehearsal of the show for free February 28th at 3:30 p.m..

This content is brought to you by the FingerLakes1.com Team. Support our mission by visiting www.patreon.com/fl1 or learn how you send us your local content here.