Home »
Leslie Danks-Burke
On Wednesday, Leslie Danks Burke said that she was not conceding in the State Senate race shaping up in the 58th District. It includes a chunk of the Southern Tier and Finger Lakes. After Election ...
more
Leslie Danks Burke is running for New York State Senate in the 58th District again. It's not the first time, but she says challenging incumbent Republican Tom O'Mara was necessary. "We need our elected leaders ...
more
The Chemung County Democratic Committee unanimously voted to endorse Leslie Danks Burke in her bid to represent New York's 58th State Senate District. "For decades, only Republicans have represented Elmira and the Chemung County area ...
more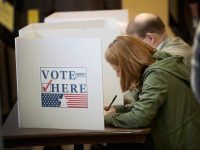 This year was always supposed to be a significant one. Not only is there a census happening, but a number of high-profile elections. Now, it's all been turned upside down by the Coronavirus. Today we ...
more
When Leslie Danks Burke set out to run for New York State Senate in the 58th District she could not have imagined what this campaign would look like. Even the most-astute politicians have been thrown ...
more
Government transparency. They are two words frequently debate, and discussed within the realm of politics, but one group says they're working harder than any other in the region to restore faith in elections through civic ...
more